by Liz Stevens, writer, The American Mold Builder
The range of data available from manufacturing machinery is wide, and different data gives insight into different aspects of operations. Fundamentally, there is production data (what the machine did or made, and whether the quality was acceptable or not) and there is condition data (the machine's state of operational health).
Software packages offer ways to slice, dice and present the big data captured, and also offer analysis tools for identifying trends and anomalies. Data presentation might include high-level views of single or multiple machines, graphics showing elapsed time (time in production, at idle, during maintenance) or a single job as it moves from workstation to workstation. Maintenance data likely will be available in some form that allows for scheduling regular maintenance tasks. A suite of standard reports will summarize data by time period or equipment type, and there may be drill-down features or query tools. There are many ways to share the data and analysis, including via plant floor-based displays/workstations, through equipment-side terminals, and by PC-, tablet- and smartphone-based applications.
All of that data capture, transmission and reporting are useless unless the data leads to action. Many Industry 4.0 software packages include alerts that can be programmed to send a message automatically if a machine's sensed characteristics fall below or rise above a certain level, giving operators a heads-up that production has stopped or that an equipment failure may be imminent. Maintenance-oriented alerts and maintenance task management can be found in many systems.
The American Mold Builder talked with four companies that address smart factory issues: Akshat Thirani, CEO of Amper, Chicago, Illinois; Gisbert Ledvon, director of business development, machine tool, Heidenhain Corporation, Schaumburg, Illinois; Sujit Sheth, monitoring systems manager, Progressive Components, Wauconda, Illinois; and Edward Bassous, management/optimization consultant, R.E.R. SOFTWARE, INC., Rochester, Michigan.
In this article, the companies present a high-level rundown on some of the data to be captured, the connectivity options, the analysis tools and the digital aids for taking action to optimize the plant floor.
Akshat Thirani, Amper
Amper offers hardware and software for machine monitoring of equipment status and for capturing machine production information. The company's software system offers operational analytics tools, automatic alerts based on flexible criteria, an Andon-like communication app and digital tally sheets. Add-ons are available, including cycle counting features, a complete maintenance system and custom integration to ERP systems. Amper touts easy-to-deploy real-time shop floor data visibility and operational tools.
The core of Amper's hardware and software is device-independent; that is, it can be used on any type of electrical manufacturing equipment, including mold building machines and injection molding machines. Amper monitors a machine's electrical load via an interface device that attaches to the power cord. Additional data from machine operators can be added through other system interfaces to provide details, for instance, on downtime reasons or good vs. scrap parts. Amper recently expanded its ability to capture machine data by tapping into cycle times and piece counts from machine PLC outputs, and the company will add more types of PLC data capture in the future.
Amper's hardware and software can be used on new and even relatively old equipment. "We started the design process wanting to be agnostic of the machine," said Amper's CEO Akshat Thirani. "We found that a lot of industrial equipment – whether it is a CNC or an injection molding machine – has digital outputs on the PLC. Even older machines have that kind of signal." The Amper software system is primarily cloud-based, although some processing is done locally on the IIoT sensors.
Amper's machine state sensor hardware includes electrical sensors, sensor aggregators and telecommunications gateways that transmit data to the cloud via wi-fi or cellular connectivity. The sensors take only minutes to install and, when connected to the software system, the application goes through a self-calibration period. Amper maintains a database of machine characteristics and proprietary algorithms for interpreting each machine's sensed data. "Let's say a company has a CNC machine," Thirani explained. "It installs a sensor onto the machine itself and then, in the app, describes the equipment as a CNC mill of this particular brand. Amper's algorithms interpret the type of machine and perform a week-long calibration period, learning the machine's patterns and building a baseline. Then data in real-time begins to be captured for display and reporting."
The system captures machine state (without PLC integration) and also can capture some production data (via PLC outputs). Users can set up preventive maintenance schedules and the system also handles ad hoc maintenance requests. Machine status alerts can be sent automatically to targeted recipients. "Let's say an operator is running a five-hour machining operation and has walked away from the machine, said Thirani. "There could be an alert set up for the machine so that if it is down for more than 10 minutes (with a broken tool or some other issue), the operator is notified by a text message immediately, instead of returning to the machine at the end of the shift to see that the machine is down and only 20% of the job was completed."
The application gives management high-level views of the shop floor, including by machine, via scoreboards, on a KPI dashboard and through a downtime console. Reports are available for drilling down to the details or for watching trends that develop over time. System users can examine utilization, downtime, setup and call response information. And as an add-on, Amper offers customized integration with ERP systems.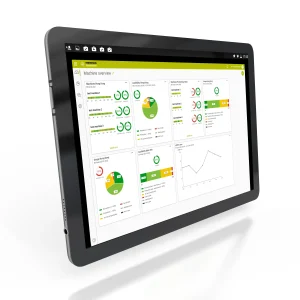 Gisbert Ledvon, HEIDENHAIN CORPORATION 
HEIDENHAIN, with headquarters in Traunreut, Germany, and US offices in Schaumburg, Illinois, manufactures linear encoders, angle encoders, rotary encoders, digital readouts and CNC controls. The company also offers a scalable suite of software solutions – namely, Digital Shop Floor. Digital Shop Floor includes options for collecting and monitoring individual machines and for managing data from combinations of machines, analyzing the different processes used to complete a job, managing machine maintenance and collecting and analyzing additional PLC data.
Heidenhain's software is device-independent; it works with Heidenhain PLCs or other PLCs on CNC machines by tapping into the PLCs' outputs via the existing Ethernet connections. Heidenhain's software packages collect production data and maintenance data for CNC machines and can model the entire CNC process chain from job orders to machine maintenance.
Within the Digital Shop Floor package, mold builders can track five machines with StateMonitor's basic option (up to 30 machine tools per seat) or track the whole plant with PlantMonitor. Optional modules include MaintenanceManager, for scheduling maintenance and issuing alerts; 5 Signals, for capturing additional machine data, such as coolant levels, spindle temperature and ball screw resistance; and 5 Machines, for expanding the number of machines tracked via StateMonitor.
StateMonitor covers machine status, maintenance plans, malfunction notices and KPI data. "Users can see the performance of the machines, spindle times and, for example, whether machines were manipulated by having their speed overridden by the operator," explained Gisbert Ledvon, Heidenhain's director of business development, machine tool. The company's PlantMonitor module centralizes StateMonitor data.
MaintenanceManager is used to schedule and track scheduled maintenance, and also routes unscheduled maintenance problems to one or more recipients – for instance, maintenance, programming or operations personnel. "Plants don't need to have one person receiving all kinds of messages and figuring out whom to send them to," said Ledvon. "StateMonitor does that based on the error messages that come from the machine."
Ledvon stressed the scalability of Heidenhain's software offerings, giving plant owners maximum flexibility in planning and implementing Industry 4.0 tools. "The beauty of Heidenhain's solution is that customers can grow with it," he said. "Customers can start out with maybe one or two machines, and then as a company learns from the data, it can decide what else to add to the StateMonitor. The concept is to start very small, to give customers enough initial data so that the analytics and statistics are very simply laid out for identifying the bottlenecks in the shop. Heidenhain's goal is to ease customers into digital manufacturing by taking it one step at a time and not bombard them with a huge package that includes unneeded tools."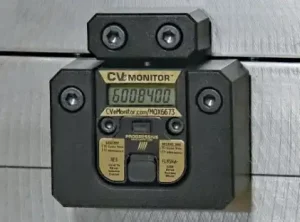 Sujit Sheth, Progressive Components
Progressive Components is a maker of mold monitoring devices and software, as well as mold maintenance software. While its hardware and software are geared toward manufacturing plants that use molds, mold builders can integrate Progressive Components' technology into the molds made to give themselves and their clients added value. Progressive offers a range of mechanical counters as well as a digital counter/monitor that can be retrofitted into the mechanical counter pockets. Other hardware includes press modules, QR asset tags and a device for transmitting data to the cloud.
Progressive Components counters and monitors are machine-independent. The CounterView series of seven-digit, nonresettable mechanical cycle counters include standard counters, insulator blocks and counters suitable for high-temperature tools, A- and B-side mounting options, retrofit brackets and attachment blocks for external mounting. CVe Monitor, the company's digital counter/monitor, tracks tool activity including cycle count, cycle efficiency and mold temperature. With this hardware, some data can be viewed in person and additional data can be captured, aggregated and analyzed with Progressive's software packages.
"There has been a switch over to the digital version," said monitoring systems manager Sujit Sheth, "especially as the capabilities of data transmission and IIoT grow, but there still is a place for the mechanical counters." Users of the CounterView mechanical counters have free access to Profile-System.com, Progressive's cloud-based profile asset management system for storing data about each mold, as well as for handling preventive maintenance and work orders.
With CVe Monitors, users can view eight present-time data displays in person. By using the company's free internet-based OnDemand software, a large volume of performance data can be accessed for performance info, uptime vs. downtime, preventive maintenance adherence, number of cycles and cycle time information. "By using OnDemand with CVe Monitors," Sheth explained, "different parameters can be displayed on reports, presenting much more than the current values shown when someone cycles through the monitor's screens." The OnDemand system also features comprehensive, historical service records for tools.
Also available as a CVe Monitor option is the more advanced ProFile software. "Think of it as building blocks," said Sheth. "A customer can use the hardware and software for as little or as much as needed." By installing a CVe Monitor by itself, a customer can walk up to the device and get basic real-time counts. "As a next step," Sheth said, "the customer can use the PC-based OnDemand software; plug into a CVe Monitor with a tablet computer, for instance, and get 52 weeks' worth of data automatically populated to reports. The next step would be to use ProFile, which requires a couple pieces of hardware that push data in real-time to the cloud." With ProFile, customers can access machine data from anywhere, and the software also includes an asset management system, a preventive maintenance system and a work order system.
Installing CVe Monitors on molds, said Sheth, can do more than provide the mold users with machine data. Info loaded into the monitor by the mold builder and the collected mold performance data can be valuable for mold builders. Sheth cited a possible scenario: "A mold builder delivers a brand-new mold with an uploaded PM schedule that says every 50,000 cycles the mold owner should do this PM and every 100,000 cycles the owner should perform that PM. If the mold builders, gets a mold back with a warranty issue, they can plug into the monitor and see, for instance, that this mold has run nonstop. Nobody has ever done a PM on it. There is a lot of data there that can help mold builders ensure against warranty claims that occur as a result of required maintenance not having been performed."
Progressive Components offers choices for plants at any level of Industry 4.0 sophistication. "A lot depends on the simplicity or complexity that exists at the plant," said Sheth. "CounterView is ideal for a plant where a manager walks around once a week, takes counts and enters that data into an Excel spreadsheet or another system. CVe Monitors and ProFile are a step toward an automated mold maintenance system."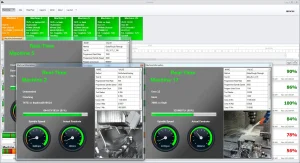 Edward Bassous, R.E.R. SOFTWARE, INC.
R.E.R.'s InFocus software suite is designed for improving shop floor operations efficiency, and for planning and oversight of work. The product suite includes three main solutions, two of which address machine monitoring: AutoTrack and SmartAlert. AutoTrack captures an unlimited amount of machine production data as well as quality data, presents real-time production data and historical information, and features reporting, job tracking and operations analysis. SmartAlert is a condition monitoring module that is capable of monitoring one or many conditions in real-time.
R.E.R. is equipment-independent, locally based software that draws information from PLCs, electrical load sensors or via the company's proprietary IIoT devices. "Priority is to go directly to the control of each machine, such as Fanuc or Heidenhain or Haas," explained Edward Bassous, management/optimization consultant. "Most newer machines and controls provide connections to communicate with, which in turn provide access to the machine data. If the machine is older or doesn't have an interface for communication, an IIoT device would be used."
Tapping into InFocus data can be done in a variety of ways. "R.E.R. provides a Windows application," said Bassous, "as well as scheduled reports, which can be emailed, raw-data-file-dropped or sent to TV displays on the plant floor over the network. Additionally, web interfaces for accessing the systems are available. One of the web tools is a powerful business intelligence tool in which R.E.R. built many dashboards. Each customer can create custom InFocus dashboards." Customers also can use the tool to create dashboards for other internal systems, such as
ERP systems.
AutoTrack is the company's production and quality monitoring package. It can accept data points from machines and other digital systems (CAD, CAM, machine, ERP). The machine monitoring capabilities do not stop at machine uptime and job information; data such as coolant level, electric cabinet temperatures, oil levels, tools used, part count and material type can be tracked. To gather quality-oriented data, the InFocus system can tap electronic CMM reports from CAD and data from probing operations that are physically performed on machines.
InFocus has reporting tools that provide visibility into areas such as job machining durations, tool usage, job costing, and maintenance and machining methods. "On newer equipment, by virtue of the data available from PLCs along with some R.E.R. magic," said Bassous, "users can track where a job is, what is being done to it and with which tools, people and machining strategies." R.E.R. also offers AutoPlan, a manufacturing execution system which, when combined with AutoTrack, constantly communicates with all equipment in real time, logging hours to each task automatically.
SmartAlert is the InFocus framework for the automation of given criteria to dynamic response. This condition monitoring software works via PLC data, sensors or R.E.R.'s IIoT device. It can be used as the basis for preventive maintenance or can be used to predict premature machine failure when an electrical overload is recorded consistently for a specific duration. "Once the criteria are met," said Bassous, "the system will send a notification to the manufacturer, the maintenance team and/or the customer, informing them of the issue." The system also can be used to send an alert when a task has reached 100% of its budgeted hours or to give the next department in a multi-step job a "heads up" that a job now is ready for its next step.
As shown by the variety of hardware and software options highlighted here, mold builders have many options for adding machine monitoring to their plants. By taking advantage of the big data captured and the operational analyses provided to create a smarter factory, and by taking action to improve their predictive maintenance, mold builders can join the IIoT and graduate to Industry 4.0. n
More information: www.Amper.xyz, www.heidenhain.com, www.procomps.com and www.rersoftware.com.