By Dianna Brodine, managing editor, The American Mold Builder
While the COVID-19 pandemic accelerated certain trends within the automotive tooling market, the wheels had been in motion throughout the past decade, said Laurie Harbour, president and CEO of Harbour Results, Inc. (HRI), during a recent webinar focused on the results of the Harbour IQ study on the current state of the automotive vendor tooling industry. On the heels of an 11-year expansion, during which technology investments and new OEMs lulled some tool builders into a sense of complacency, a softening economy and tariff issues began to impact manufacturing long before the pandemic placed additional pressure on the industry.
"We knew this year was going to be challenging for the automotive tooling industry but could never have predicted the effect a global pandemic would have on the industry," said Harbour. "2020 is a turning point for the automotive industry, with three key pressures impacting the future tooling demand. First is the financial strain COVID-19 and the global recession have placed on both OEMs and suppliers. This is impacting automaker profitability, which means platforms will be commonized and trim models will be eliminated. Finally, a large number of future vehicle launches in North America will be electric vehicles (EVs), which are costly to bring to market."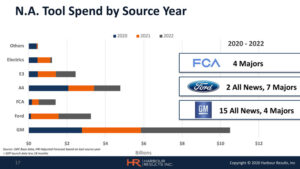 Harbour IQ analysis indicates that 2020 automotive vendor tooling spend in North America will be $6.4 billion, which is $0.4 billion less than originally forecasted in 2019 and 31% below the 2019 tooling spend. The key factor driving reduced tooling spend is the decreased number of North American vehicles that were sourced for tooling in 2020 – 49 total launches. Furthermore, the Detroit Three automakers, who source most of their tools in North America, sourced only 14 vehicles in 2020. Looking forward to 2021, the tool spend forecast is $7.8 billion, driven mainly by the entry of additional electric vehicles into the market.
These numbers, combined with a challenging economic landscape, may lead to a sobering future: HRI predicts that 30% of all North American manufacturers will close in the next 18 months, with 10 to 15% being mold and die shops.
What contributed to this? In April of 2020, a forced "stress test" occurred in the shape of the coronavirus. Tool shops saw reduced utilization, lowered their revenue forecasts, quoted less new work, saw more work put on hold and, in some cases, were forced to close temporarily due to state or local COVID-19 regulations. In an August study, 35% of tool shops were concerned that they would not make it through the current crisis. The pandemic has highlighted issues that already existed, including a lack of working capital, inefficient operations, pricing pressures and stronger competitors that are hungry for new business. Harbour pointed out that the Paycheck Protection Program and wage subsidies given by the US and Canadian governments may have given some shops a false sense of relief, allowing them to hold on to employees in the short term without the ability to maintain that staffing level for the long haul. These shops will be feeling a delayed impact and need to take immediate action to ensure viability.
Opportunities do exist, and tool shops are reporting additional quoting activity of tools that traditionally have been placed in China. However, not all tooling is coming back to the US, with some going to India or Vietnam. In addition, this reshoring activity may be somewhat short lived, so it's important to capitalize on this quickly and to ensure it is done profitably. Growth in the battery electric vehicle markets also provides opportunities, but tool shops must be willing to move quickly and price aggressively.
"As the tooling market contracts, it is important that shops position themselves for the future," she said. "Leadership needs to push for edginess and eliminate complacency. It also is important that tool shops continue to put plans in place to shore up weaknesses, maximize technology and talent, and control costs."