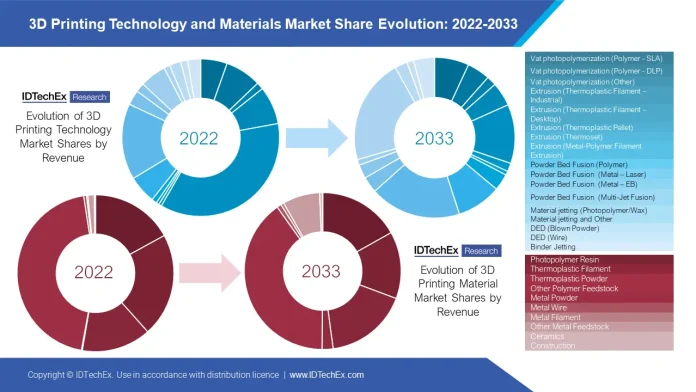 IDTechEx, Cambridge, United Kingdom, has forecasted that 3D printing's continued innovation and adoption will lead the additive manufacturing hardware and consumables market to surpass US$41 billion by 2033 in its latest report, "3D Printing and Additive Manufacturing 2023-2033: Technology and Market Outlook."
The report examines 30 individual 3D printing technologies and five major material categories, including 3D printing hardware, materials, software, post-processing and services. Given that established additive manufacturing technologies are decades old, it might be expected for the market to consolidate and stabilize from a technology standpoint.
However, new entrants are popping up every year, some of which are so unique that they don't fit into the classic seven printing processes framework. New technologies, which span polymer, metal, electronics, ceramics, construction and composite 3D printing, offer different advantages and disadvantages to incumbents. Parallel to these new technologies are more incremental improvements in established processes.
The new report from IDTechEx segments the market by eighty different forecast lines across 17 technology categories, four major material categories and eight material subcategories.
For more information, visit www.IDTechEx.com/3DP.