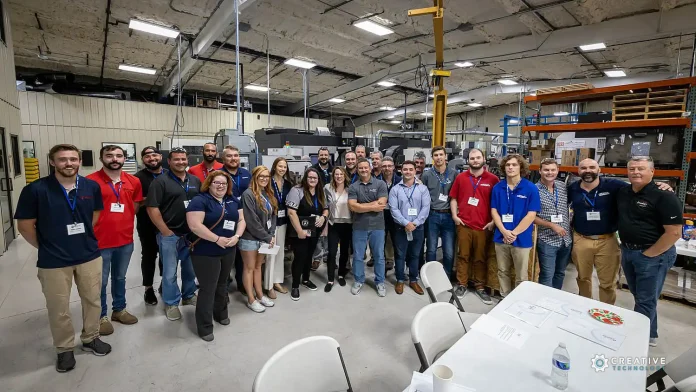 by Rachael Pfenninger, director of strategic execution, AMBA
Unlike seasoned industry executives, today's next-generation leaders don't yet have the same experience and intuition needed to provide effective direction and support to the rest of their teams; yet, there is a need to advance and elevate them, especially as more senior executives exit the workforce.
This need drove the AMBA to develop its inaugural AMBA Emerging Leaders Retreat, held August 10-11, 2022, in Evansville, Indiana, where 40(ish)-and-under industry professionals met with peers for an exclusive, limited-seat leadership training experience.
Facilitated by Alyson Van Hooser, leadership keynote speaker and author of Level Up, Accelerate Your Success and soon-to-be-released Infinite Influence, these management professionals met as a group to discover, unpack and embrace the leadership styles that define an effective leader in a post-pandemic workforce. By diving deeply into employee empowerment, delegation and time-management strategies through peer connection and reflection, these up-and-coming professionals were able to work through
the development of a personal leadership strategy that will guide and further their professional growth in the coming months and years.
During the Retreat, attendees addressed many critical components of management, including primary supervisory management functions, primary resources to be managed and management objectives to keep in mind. In particular, Van Hooser focused on the criteria that must be established in order to effectively plan and delegate in a manner that allows leaders to empower their teams and reach their goals.
"Leading in today's workforce is more challenging than ever. Couple that with new, inexperienced leaders and you have a recipe for confusion, frustration and burnout at every level of an organization," explained Van Hooser. "Many employees who are new to management and supervisory roles have the best of intentions…however, good intentions do not always lead to positive results."
New and emerging leaders often lack clearly defined leadership processes. They struggle to connect with their employees in a way that breeds cohesive teamwork and loyalty, and inspires improved performance. And if by chance they do hit the trifecta, because there is no clarity in their process, they only catch lightning in a bottle once.
For example, the group discussed how to achieve any objective with and through other people. In order to do so, the objective must be 1) specific 2) measurable and 3) worthwhile to the individual and to the team – with emphasis on the individual. Today's employees demand leaders who truly understand their personal motivation, are committed to their individual growth and can communicate effectively and consistently. Without correctly understanding employees, success is left to chance. It becomes increasingly impossible to effectively lead others when there is no mutual understanding. And in a world that is more diverse than ever, this becomes the game changer.
"The single greatest competitive advantage in today's business world is a highly engaged team and that starts with leadership, i.e., managers and supervisors," emphasized Van Hooser. "The leaders who can connect with people to lead them to a culture of empathy, adaptability and high performance will win – it's the future of work. These goal-setting or expectation-setting components and others are necessary parts of the leadership process required for success; but even though they may seem obvious to some, it's easy for new or even seasoned leaders to forget or not realize their importance in their pursuit of the goal."
When asked to describe his event experience, one attendee, shared that "the opportunity to learn from Alyson, and listen to what other members of the mold community found most relatable from her material was something I really enjoyed about this event. Networking and discussing issues with specifically younger peers in the industry also was very valuable. It seemed universal that developing leadership within companies was a focus across the board, and I think that the tools that Alyson provided to help address this will be very useful in the future."
In addition to the workshop programming, event attendees visited Prodigy Mold and Tool, a manufacturer of high-quality, close-tolerance, multi-cavity plastic injection molds and tooling for the medical, automotive, electronic, industrial and consumer goods industries. The event experience was complimented by an evening reception, which included a podcast session with Tony Demakis of the Alliance Specialties, Alyson Van Hooser and a panel of AMBA's Emerging Leader Advisory Board members.
To listen to the event podcast and hear more of Alyson Van Hooser's insights, subscribe to The Manufacturing Alliance Podcast on YouTube. To learn more about AMBA's Emerging Leaders Network and to get involved, visit AMBA.org. Interested parties also can hear more from Alyson Van Hooser and subscribe to her newsletter at www.VanHooser.com/blog/
—————————————————————————–
During the first day of the AMBA Emerging Leaders Leadership Retreat, Van Hooser outlined four key aspects that contribute to effective leadership and management styles.
The Art of Planning
Foundational Concept:
All other things being equal, planning makes the difference between success and failure for most personal and professional endeavors.
Planning provides direction and a sense of purpose. Therefore, planning essentially is a form of decision making.
The Art of Organizing
Foundational Concept:
Employee involvement, commitment and engagement are the cornerstones of effective organization.
Generally speaking, people ultimately will behave in such a way as to secure something they want or to avoid something they don't want.
The Art of Directing
Foundational Concept:
Appropriate delegation may be considered the highest and most impactful "art form" of management and supervision.
Delegation requires embracing who, what, when and how.
The Art of Controlling
Foundational Concept:
Controls are the necessary and appropriate measurements managers employ to track progress.
Managers always should remember, "What gets measured, gets done!"
Please note: All of the information contained here is the intellectual property of Alyson Van Hooser and Van Hooser Associates, Inc. To contact Alyson Van Hooser regarding leadership training and/or opportunities, visit www.vanhooser.com. Interested parties also can hear more from Alyson Van Hooser by subscribing to her newsletter at
www.VanHooser.com/blog/.