By Lara Copeland, assistant editor
The American Mold Builder
The vast majority of jobholders in the US value opportunities for professional development. Across the employed generations – Baby Boomers, Generation X and Millennials – many workers base a decision to stay at their current position on opportunities for job-related training and development. Skills training also is one of the most effective manners in which a company can improve its productivity, serving as a boost to an employee's career and a valuable investment for any ongoing business. Schoolcraft, Michigan-based Concept Molds and Fremont, Ohio-based Freeman Company recognize training as one of the most successful methods to retain employees. 
Access to engaging development opportunities
While flexible work schedules, a comfortable work environment and benefits packages certainly help motivate employees to remain with the company, offering engaging training may be the most important contribution, according to recent research. Retaining employees by incorporating opportunities for professional development is more important than ever, considering Millennials – the largest generation in the US labor force – desire access to such experiences. Some even cite a lack of access to professional development as a reason they would contemplate abandoning their position. These learning opportunities not only advance a person's growth, and therefore the work they produce, but as Concept Molds' Director of Technical Sales and Engineering Jason Sparks, said, "It helps give them a little more sense of worth at the company."
The emotional commitment that employees experience regarding their work and their employer is directly affected by the training and career growth opportunities afforded them. Ongoing training demonstrates, in ways other measures can't, that the employer is invested in its employee's future. In-house, online or off campus, training should be meaningful. For example, at Freeman, new hires are not "harnessed," to a senior worker for two years, as Mike Mullholand, general manager at the company explained. "Young people today need training to be fast and involved, which is why we want new employees pushing buttons within a few weeks of starting with us." He said getting them involved immediately communicates the message that they are contributing to the company, and seeing this progress right away is key to keeping them engaged. "If you're just hanging around in the shadows, learning information by osmosis or happenstance, you will lose interest quickly – it just doesn't work well. "
Training resources
One way Concept Molds engages its employees in training is by providing various perspectives and experiences from outside sources. Michael Rochholz, program manager at Concept, explained that the company often shares training responsibilities with its sister company, including taking turns hosting. For example, Concept recently brought in an outside software company to conduct training at the facility for its employees and those of its sister company.
"It was engaging because there were multiple individuals from two different companies who participated, and this offered personal conversation back and forth about how things worked at either facility." Rochholz continued, saying they are learning not just from the instructor but also from one another, "and that creates engagement."
Sparks added that to get away from the "this is how we've always done it" paradigm, employees need to visit other shops to look for avenues to do things differently. "Sending our employees to another company as part of our enterprise gives them an opportunity to see things from another perspective," he added.
Freeman also utilizes outside sources to promote professional development. "We pay for additional training and encourage everybody to do it," Mullholand said. Freeman is a SECO partner and offers opportunities for employees to take its classes for advanced training in terms of understanding tooling. "We pay for our employees to travel to their facility, learn new information and then bring back those ideas so we can implement them here," he stated.
The company also pays for groups of people to go to the International Manufacturing Technology Show (IMTS) in Chicago. "This is a chance for everyone to see the latest and greatest in terms of machinery equipment, and seeing things first-hand really gets people engaged." Additionally, employees are encouraged to take classes at the local university or remotely, and Freeman will pay 100% of tuition and books so long as the student earns a "B" grade or higher.
Value in cross-training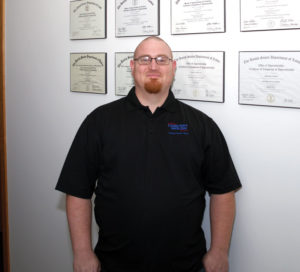 Both companies acknowledge cross-training as vital to their success in business believing it makes employees feel as if they are a part of something bigger, and offering them the chance to do something different and exciting. "It really prevents boredom," Sparks declared. "When an employee has the opportunity to learn one or a few departments across the shop, it gives them more perspective and makes them more valuable to the company." Cross-training also provides flexibility. Life happens and people suddenly quit, go on planned vacations, or take maternity or paternity leave.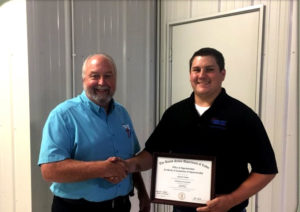 Because processes constantly demand skilled people, businesses are providing a sort of insurance for themselves by ensuring their employees are cross-trained. Furthermore, as Mullholand noted, "Cross-training prevents people from being one-dimensional and only able to do a single operation." Freeman splits its shop into zones – such as milling, large machine, precision, etc. – and everybody is cross- trained within those groups. "All our people move around to different machines all day long because we don't want someone just standing there watching a machine," he said.
Creating a culture for advancement
Attempting to instill confidence in its employees, Rochholz said Concept wants them "to be creative thinkers and have the ability to decipher, foreseeing and offsetting potential problems." He acknowledged that the company culture builds that confidence not only for managers overseeing the employees but for the employees themselves. "It allows them the comfort and reliability to know what they're trying to accomplish." Concept does everything it can to acknowledge an employee's growth, from regular reviews to small bonuses and raises. "We try to be uplifting, positive and motivating to our employees, and many of them put it on themselves to improve," he added.
At Freeman, training has inspired a sense of comradery among its employees. Mullholand explained that while some facilities' older and more experienced staff may look down on turning younger, newer hires loose on the floor, "people here love it!" He said Freeman welcomes new and interested employees with open arms. "Everybody can benefit from learning something, no matter what it is.
Though effective training can present some challenges – completing day-to-day activities, costs, etc., – its benefits typically outweigh them. "We must invest in training if we are to be afforded opportunities to compete effectively and efficiently in the future," Rochholz exclaimed. Mullholand added to this sentiment: "The better trained we are and the better our processes are, the better we do things that allow us to become advanced." Training is valuable for the employee and it's valuable for the company, too. "Everybody wants to contribute, feel like they are making a positive impact and see that they're making a difference."