By Dianna Brodine, managing editor
The American Mold Builder
On July 15, Larry Patten left Medicine Park, Oklahoma, on a motorcycle ride that would stretch across 10,000 miles and 22 states in 14 days. Patten, an AMBA member and co-owner of Dramco Tool in Grand Island, Nebraska, participated in the 2018 Hoka Hey Motorcycle Challenge, a cross-country endurance ride "designed to get participants out of their comfort zone and into places they might never go," according to the event website.
The 2018 ride had 113 participants at the starting line, although only half were expected to ride the full itinerary. The route followed winding two-lane roads, and riders were not allowed to use navigational devices, riding from one checkpoint to the next with only paper instructions. To add to the challenge, partipants were asked to sleep "rough," camping with their bikes each evening rather than staying in hotels.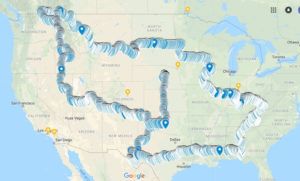 Riders were given written instructions at checkpoints along the route, but the instructions were sparse: Go 50 miles on Highway 64 and then make a left and then go less than a mile… "There was no east or north – no town names," Patten said.
"The mental challenge was concentrating on where you were – it was a constant thing," he explained. "Without GPS telling me where to turn, I always had to be concerned about where I was and what was coming ahead. And, when you're really tired, hot and worn down, those things can start playing with your mind."
Patten chose to ride for a cause, raising money for iWarriors with each mile he traveled. "The Hoka Hey organizers encouraged fundraising," said Patten. "iWarriors was perfect because so many of the riders are vets. It really kept me going when I felt like quitting."
Founded in 2011 by Tim and Kim Bartz, iWarriors provides iPad packages to wounded warriors from all branches of the US Armed Forces to aid in their recoveries and post-military lives.
On July 28, Patten was the 28th rider across the finish line. His ride raised $13,325.84 for the iWarriors organization.
"It's simply unbelievable!" said Kim Bartz of iWarriors. "We can't thank Larry enough for giving up 14 days to do this for our combat wounded. He's accomplished something few ever will, and by doing so, 30 wounded men and women will be receiving iPad packages."
Patten is grateful for the support, both for the fundraising and for the encouragement along the journey. "I was surprised at how many people were following along on the Facebook page," he said, "and I'm blown away by the amount of money that we're able to donate to iWarriors.
"A ride like this teaches you about yourself as you're pushing through," he concluded. "It took me so far out of my day-to-day life until all that mattered was the next turn – the next step. If I did that wrong, the destination didn't matter."