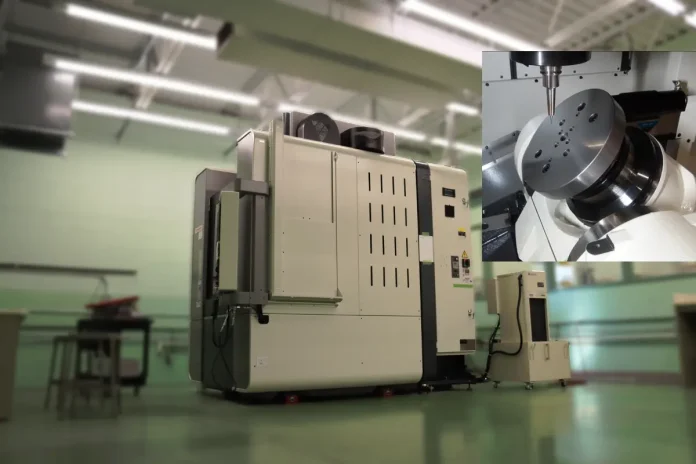 Micro Mold, Erie, Pennsylvania, has renovated to make room for its new investment in the Yasda YMC650 high-speed 5-axis milling center along with a 3R Workpartner automation cell. The 5-axis milling machine is extremely accurate to one Micron (0.000040"), ideal for high volume, ultra-precision tooling work.
Chris Hanes, Micro Mold general manager commented, "The new 5-axis mill will be used for electrode manufacturing as well as to finish hard mill applications. In addition to efficiency gains due to reduced setup requirements, the new Yasda will offer improved accuracy, the ability to manufacture components of increased complexity and capacity for larger workpiece sizes over the 3-axis mills currently employed."
This investment reflects the continuous reinvestment efforts Micro Mold strives to maintain to keep pace with the ever-changing and ever-improving technology advancements the industry has to offer. It also comes as a direct response to sister companies, Plastikos and Plastikos Medical, venturing into new markets since the beginning of the pandemic such as fluid connection for vaccine delivery as well as testing and diagnostics. With new portfolio growth comes new challenges that, in turn, inspire strategic reinvestment phases that include additional machinery to expand tooling and moldmaking capabilities.
Hanes continued, "A significant renovation project was also undertaken to repurpose existing shop space to accommodate the new equipment. A climate-controlled workspace has been created to properly house the new equipment and maximize its performance. The recent renovation project has also freed up space for future growth and equipment investments."
Ryan Katen, Plastikos Medical general manager adds, "This interior renovation project involved downsizing the grind room by 50%. This was a little bittersweet for me to remove six surface grinders from service knowing how many pieces and parts they created during their many years of use at Micro Mold. However, the removal of those machines gives us the opportunity to equip ourselves with a brand new, state-of-the-art EDM cell. It also frees up additional shop floor space for future investments in the latest technologies."
For more information, visit www.plastikoserie.com.