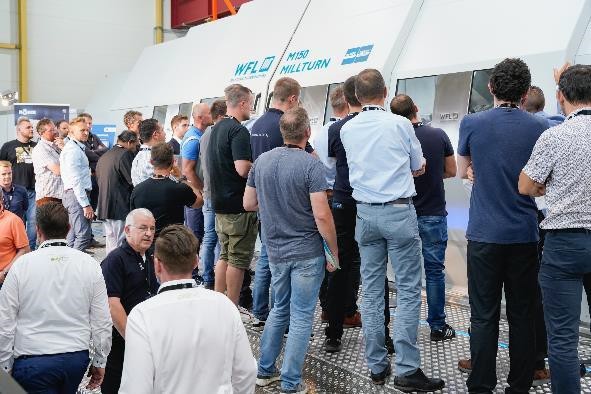 The WFL Technology Meeting took place in Linz, Austria, on June 21-23, 2022. Visitors experienced machine demonstrations, measurement technologies, automation solutions and expert discussions on the latest industry trends.
Featured demonstrations included heavyweight machining on an M150 MILLTURN, screw machining on an M50 MILLTURN / 4500mm and the presentation of the latest machine, the M20-G MILLTURN, which not only scores with its performance but also impresses in terms of operation and design. Key topics discussed included bin picking, scanning and picking of unoriented workpieces as well as systems controlled by a host computer or interlinking of machines. A highlight of the meeting was the mobileCELL in combination with the M65 MILLTURN. The mobileCELL is a robot on an AGV (Automated Guided Vehicle) that loads and unloads tools, clamping devices and/or workpieces. With processing times between 30 and 60 minutes, the competitive advantage can be fully exploited with this solution and the customer retains the full degree of freedom.
For more information, visit www.wfl.at/.