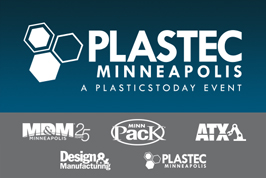 PLASTEC Minneapolis has announced that after close consultation with its industry partners, it has agreed that it is in the best interest of exhibitors and attendees to transition to a digital format in place of the 2020 in-person event originally scheduled.
PLASTEC Minneapolis knows that the opportunity to connect, learn, and grow one's business is critical, and though it is deeply disappointed that there won't be an in-person meeting this year, it is thrilled to announce the launch of Virtual Engineering Week—coming this Fall!
Virtual Engineering Week, taking place November 30 – December 4, 2020, was created to foster meaningful and productive engagement within the full design, engineering and manufacturing communities. This week-long virtual event will showcase exhibitors from six of Informa Market's engineering events, and feature a full line-up of digital activities, including keynotes, education sessions, product showcases and networking opportunities.
PLASTEC Minneapolis will return in its traditional format November 3-4, 2021, to the Minneapolis Convention Center in Minneapolis, Minnesota.
For more information, visit www.plastecminn.com/en/faqs.html.