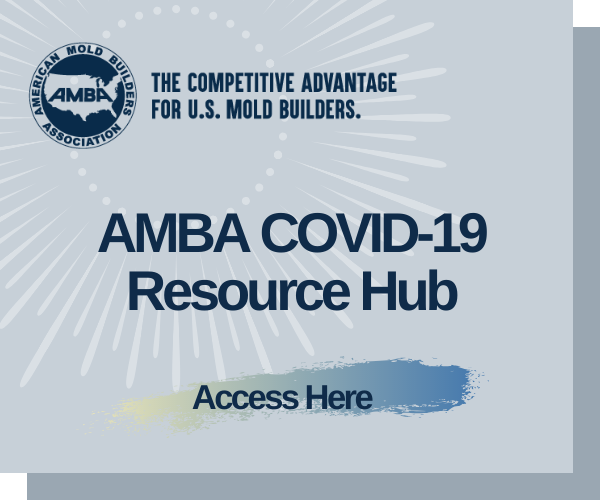 In response to industry-wide concerns that continue to mount over COVID-19 across the United States, AMBA's newly created COVID-19 Resource Hub is now open to the industry at large. This resource, updated daily, offers access to the following:
Past webinars, roundtable discussions and upcoming event opportunities
Recent benchmarking on over 88 COVID-19 company policies, procedures, action plans and related resources
Updated tax policies from Mueller Prost and Federated Insurance, including extended deadlines and tax relief
Amerimold Sourcing Assistance Project, which helps facilitate sourcing and procurement needs amongst manufacturers
Benesch Law COVID-19 Task Force and related resources
Additional resources, including CDC and other government-related documents
"This is an unprecedented event in our lifetime, and as mold manufacturers continue to navigate statewide 'Sheltering in Place' orders, new legislation and stimulus packages, providing access to resources has become more critical than ever," said Kym Conis, AMBA managing director. "We are working around the clock to identify industry needs and provide guidance in this ever-changing environment in an effort to connect mold manufacturers with the knowledge they need to care for their employees and manage their bottom line."
The AMBA staff will continue to add resources, discussion opportunities, topic-focused webinars and more to its COVID-19 Resource Hub.  To access the AMBA COVID-19 Resource Hub: https://amba.org/covid-19-updates-and-resources/. To see what other events are scheduled, visit the AMBA Events page: https://amba.org/events/.