by Lindsey Munson, writer, The American Mold Builder
The AMBA Tooling Trailblazer of the Year Award was established to recognize the accomplishments of an AMBA member company that have resulted in a notable impact in the area of education. This year's award recipient was CompuMold Tool & Design Inc. in Phillips, Wisconsin. It was a complete surprise for Brian Meives and Jason Grendys, co-owners of CompuMold, when their company was announced.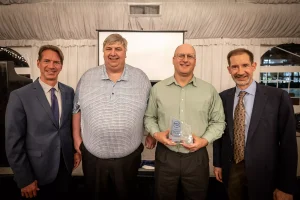 In 1984, CompuMold Tool & Design Inc. began building a foundation on educational outreach, commitment to designing and building high-quality injection molds, workforce development and exceptional customer service. Specializing in comprehensive mold manufacturing, CompuMold's moldmakers and staff took the industry by storm taking on complex projects and tools honing their craft with confidence, and beginning the hard work of protecting the future of the mold manufacturing industry.
Like decades ago, CompuMold Tool & Design Inc.'s goals remain the same with a focused approach on piquing interest in the industry, developing, engaging and educating students, and opening doors to opportunities for future moldmakers. "In early May, we had a girl who asked to do a job shadow and of course, we said, absolutely," said Meives. "When she was done with her job shadow, she was so excited to have learned about different technologies she didn't know about, like laser welding. It's fun to see that our youth are exploring the opportunities at their doorsteps and realizing the jobs that sit close to home."
Recognizing the importance of being involved in local schools, CompuMold got to work by inviting students into its facility, giving them full access to the shop floor taking in the production of molds and the machines, introducing them to the various job roles and one-on-one time with veteran moldmakers.
A big part of CompuMold's educational outreach program in the last year was the involvement in the industrial arts and fabrication lab classes at Phillips High School, which it plans to expand and grow throughout the next year. Through the teams guidance and teachings, CompuMold was able to bring in real moldmaking scenarios and show the key drivers behind the industry directly to the students and teachers. These interactions and conversations further pushed CompuMold's participation and leadership in the Student Assistantship program, – a program that allows students onsite at the facility for a semester to conduct a job shadow and learn as much as one can about moldmaking.
CompuMold's "trailblazing" culture gives the power of knowledge and exploration into the hands of the industry's future moldmakers. Currently, CompuMold has two astounding young employees in the Department of Labor certified Wisconsin Apprenticeship Program, who are individually on their way to becoming Journeyman Toolmakers. It is CompuMold's open mindset to new programs and a willingness to engage with its community that has allowed these apprentices to flourish and walk their path of leadership and mentorship.
CompuMold is a proud member of the American Mold Builders Association (AMBA) and the Phillips Chamber of Commerce. Through these two organizations, CompuMold has had access to a network of peers and a depth of resources, both of which have positively guided and assisted in the impact it has made over the years with students, its employees and the industry. Meives said, "The American Mold Builders Association is a great group of people. The value that the association provides from the virtual tool shop and tours to webinars and leadership training has been invaluable to our company."n