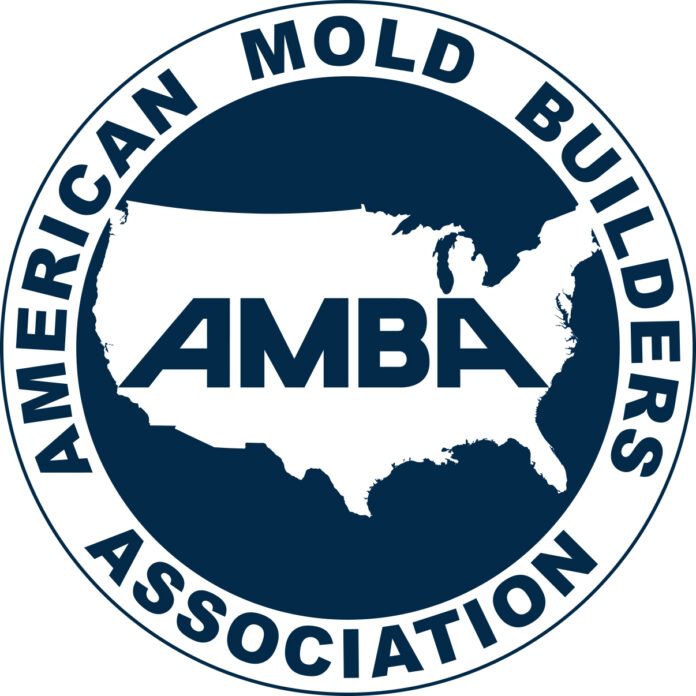 AMBA to Launch New Capacity Tool
AMBA is excited to announce its newest member resource – the AMBA Capacity Tool. The concept, conceived at last year's AMBA conference, is soon to become a reality. The online resource is designed to be an easy way to help level out the ups and downs in business by flagging times when members have excess capacity, so other members that need capacity can reach out. "This 'member helping member' resource is the strongest part of our AMBA association," stated AMBA President Don Dumoulin, Precise Tooling Solutions. This new value-added initiative will be available to AMBA members only. Look for details coming soon.
  Upcoming Opportunities for AMBA's Up-and-Coming Leaders, Teams and Executives
Registration Open – AMBA Emerging Leaders Retreat and Plant Tour | Aug. 10-11, 2022 | Evansville, Indiana
On August 10, 2022, executives and management of AMBA's Emerging Leaders Network (40(ish)-and-under AMBA members) will come together during the inaugural Emerging Leaders Leadership Retreat to learn how they can strategically embrace and implement early leadership and management styles within their teams and facilities. Alongside management trainer and coach, Alyson Van Hooser, attendees will spend 1.5 days exploring key methods that lead to employee empowerment, effective delegation and the execution of process and performance goals. All attendees also will have the opportunity to join an optional tour of Prodigy Tool & Mold, Inc. (Haubstadt, Indiana). Learn more and register at www.AMBA.org.
Task Force Creates Community Relationships Playbook
The AMBA Workforce Development Task Force met again in the second quarter of 2022 to determine AMBA's primary focus in workforce development in 2022. After gathering insights from this group of industry professionals, AMBA is moving forward with the launch of its third playbook, Cultivating Educator and Community Connections. This playbook – in addition to data gathered from AMBA members – will include templates for educator outreach, guidelines for marketing materials, recommended outreach timelines, strategic efforts and more. To participate in the survey process and receive a free copy of the final report, visit www.amba.org/events. The final publication will be available only to AMBA members.
Perspectives from the Top: Virtual Leadership Series
July – December 2022 | 12 pm – 1:30 pm EST
During the second half of 2022, AMBA's Emerging Leaders will join young professionals from two other manufacturing associations for a virtual leadership series dedicated to hearing the stories that have elevated manufacturing leaders to the top of their organizations. Topics will address cultural transformation, personal and professional career path guidance, leadership characteristics, training opportunities and more.
See all dates, speakers and topics at www.AMBA.org. Registration (includes all sessions): $59/attendee.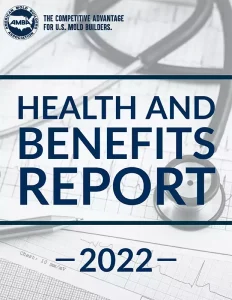 2022 AMBA Health and Benefits Report – Now Available
AMBA's benchmarking team has published its annual 2022 Health and Benefits Report, which benchmarks current benefits offered by manufacturers in three areas – mold manufacturing, plastics processing and rubber products manufacturing. Benefits reviewed include health, vision, dental and life insurance and retirement programs. The final report includes aggregate data for all surveyed manufacturers, as well as an appendix with data specific to each industry (See article on page 16).
Member cost: $109. Non-member cost: $209. Purchase at www.AMBA.org.
2022 Shop Rate Survey to Launch July 2022
Due to member demand, AMBA will soon launch its second 2022 AMBA Shop Rate Survey. This survey will allow AMBA members to benchmark their shop rates against AMBA's nationwide community of mold manufacturers, providing them with comprehensive data that will clarify on which services their shop is most competitive and how they stack up compared to the rest of the industry.
Participating AMBA members will receive this report at no cost. AMBA members who do not participate will be able to purchase the report at a separate rate. This report is not available to any non-member.
Webinar: Help Customers Find You – Developing an Effective Web Visibility Strategy
June 22 | 11 am EST
Between supply chain disruptions, labor woes and other challenges, processors are searching for new vendors and mold builders who can meet their needs. However, without an effective online presence, mold builders are that much more likely to be passed over, ignored or simply never found by the customers so desperate to connect with them. Join other AMBA members as the marketing experts at WayPoint Communications explain how an effective search engine optimization strategy will improve their web visibility and help them achieve their revenue goals.
Roundtable Discussions Address Pressing Industry Challenges
AMBA has opened registration for its next set of roundtable discussions on sales and marketing challenges and business strategies, where peers will meet on camera to discuss critical issues facing their businesses.
Topics will range from management of current and new customer relationships and sales tactics/techniques to continuing business, use of new technologies, management styles and more. For all dates, visit www.amba.org/events.
AMBA Members Join Board of Directors

Ed Frances, Crystallume
Ed Francis is currently vice president of Crystallume Engineered Diamond Products, where he has worked for the past 29 years in various positions, from manufacturing engineer to product manager to his current position. During that time, Crystallume was VC funded, went public and then was bought and sold three times. Crystallume has been owned by RobbJack, an employee-owned company, for the past 21 years. Prior to Crystallume, Francis worked in manufacturing and owned his own machine shop for 15 years. He served on the board of the Industrial Diamond Association of America from 2013-2018 and served as president in 2017. A California resident his whole life, he enjoys tinkering with machines and walking the coast.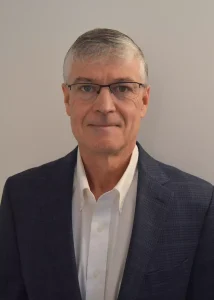 John Stocker, Swiss Steel USA, Inc.
John Stocker's 16-year career with Swiss Steel began as technical director, where he was responsible for activities relating to metallurgy and tool construction. This included the management of claims and the metallurgy laboratory, as well as customer relations. In 2011, Stocker became Swiss Steel's director of sales. He has over 30 years of manufacturing experience and a master's degree in engineering from Illinois Institute of Technology. Upon graduation, he worked as the vice president of engineering at Chicago White Metal, where he managed technical programs and sales, as well tool design, tool construction, process control and contract manufacturing. Stocker likes to stay active and enjoys several hobbies, including downhill skiing, fishing, hunting, cycling and creating culinary dishes for his family.
New Members
TJAR Innovations
1004 Cincinnati Ave.
Xenia, Ohio 45385
Ryan Arsenault, project manager
Phone: 937.347.1999
Email: [email protected]
TJAR Innovations strives to provide a full-service destination for its customers by turning ideas into reality. The innovative team will design, tool and build quality plastic injection molds and produce plastic parts that
will exceed expectations. TJAR uses cutting-edge technology, creative design and the latest plastic developments, with the goal of saving money and contributing to the success of businesses.
Pleasant Precision
13840 State Route 68 South
Kenton, Ohio 43326
Nicky Taylor
Phone: 419.675.0556
Email: [email protected]
Pleasant Precision, Inc. (PPI), specializes in the design and build of complex, high-quality, high-precision tooling while focusing to provide quality parts at reduced lead
times through cost-effective and lean manufacturing processes. The company's expertise allows it to build quality, multi-cavity tools while maintaining total consistency of tight tolerances among each cavity. PPI has experience in the automotive, medical, electrical, aerospace and consumer good markets.
Westec Plastics Corporation
6757 Las Positas Rd.
Livermore, California 94551
Tina Scheck, vice president of finance
Phone: 925.454.3400
Email: [email protected]
Westec Plastics Corporation was founded in 1969 and specializes in tight tolerance mold manufacturing and production. With its team of seasoned moldmakers, state-of-the-art technology and manufacturing expertise, the company can fabricate and maintain molds competitively. Both quality and customer service are top priorities, along with 100% customer satisfaction.