AMBA launches virtual plant tour workshop
AMBA has long believed in the power of touring another mold manufacturing facility to learn, improve and grow. In this tradition, AMBA is excited to launch its first virtual plant tour workshop at Dramco Tool Co., March 8, 2022, where attendees will tour a member facility, share best practices, problem-solve with peers and improve operations – all without
leaving the office. From its facility in Grand Island, Nebraska, Dramco Tool team members will share the following:
The company's "strategic path to lean"
The implementation of machine set-up efficiencies
The company's pursuit of a competitive advantage in the marketplace
Learn more and register at www.amba.org/Events.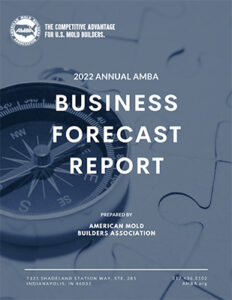 Key 2022 AMBA benchmarking reports available
Three key benchmarking initiatives that will help mold builders and suppliers alike prepare for 2022 now are available for purchase. The 2021/2022 AMBA Wage and Salary Report features high, low and average rates of pay across over 50 job functions commonly found in mold building (see article on page 16), while the 2022 AMBA Business Forecast Report provides an in-depth analysis of past, current and anticipated business conditions. The AMBA also has announced the release of its newest benchmarking initiative – AMBA Employee Attraction and Hiring Playbook – A Best Practices Guide – which features best practices in candidate evaluation, hiring
and onboarding gathered from the AMBA member community. Additionally, the playbook features key takeaways and industry insights. Visit www.AMBA.org/publications/browse to review each publication, access pricing and purchase.
Virtual Workshop: Engagement Tactics for Effective Recruitment and Retention
March 15 and March 22, 11am – 1pm EST
To help members address the fast-growing skills gap and labor challenges faced by the mold manufacturing industry, AMBA has worked with its Workforce Development Task Force to identify the focus for its newest opportunity – a two-part virtual workshop on identifying and implementing engagement tactics to help recruit and retain high-performing employees.
Split into two, two-hour sessions, this professionally facilitated event will explore the six phases of the employee value stream and identify the tactics that will enable owners, executives, department heads, human resource managers and team leads to more effectively attract and retain top talent for long term.
Participants and teams will walk away with effective strategies that, when employed during the employee engagement process, will help organizations
build a cohesive brand that attracts top talent through the initial "plan and align" phase,
understand how to develop effective recruitment and hiring strategies for today's candidate-driven market,
discover how to manage current employees productively so that their engagement leads to further recruitment and future candidate referral and
learn proven ways to empower new and existing employees for higher retention and existing employees.
Visit www.amba.org for more details and to register.
Sponsorship opportunities now available for AMBA Conference 2022
Sponsorship opportunities at AMBA Conference 2022: Shifting the View (May 11-13, Itasca, Illinois) now are available to industry suppliers. Secure a place amongst top-tier suppliers and mold manufacturers at this year's event at The Westin Chicago Northwest, where attendees will gather to take a fresh look at how seemingly persistent challenges can become opportunities for growth and positive change. Mold builder registration is now open. For additional event details, visit page 8 or register at www.ambaconference.com.
Health and Benefits Survey now open
AMBA has launched its 2022 Health and Benefits Survey, which will gather data related to health and benefits packages offered to employees by mold manufacturers across the US.
Collected data will include the following:
Company cost and employee participation
Strategies to control cost
Current plans offered to employees
Additional benefits and retirement programs
Compiled data and results will be shared at no cost to participants. To participate and gain access to the final report, contact Rachael Pfenninger at
[email protected]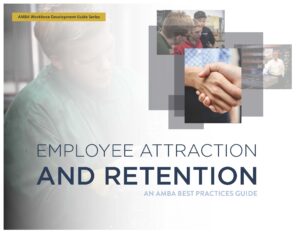 AMBA Mold Builder and Tooling Trailblazer of the Year Awards – nominations open
Nominations for AMBA's Mold Builder of the Year and Tooling Trailblazer of the Year Awards now are being accepted. AMBA members may nominate themselves or a peer, and nominees should be from member companies in good standing. Award recipients will be recognized at the AMBA Conference 2022 in Itasca, Illinois, May 11-13, at The Westin Chicago Northwest, and will receive a prestigious award and a $5,000 scholarship grant from Progressive Components to be given to the educational institution, project or initiative of their choice. To submit a nomination, contact Susan Denzio at [email protected]
Exclusive c-suite dialogue continues for AMBA executives
The sharing of challenges and best practices continues in 2022 with AMBA's quarterly C-Suite Dialogue. This conversation – exclusively for C-suite mold building executives at AMBA member companies – focuses on a single topic or challenge identified by industry leaders and owners. Attendance is limited to the first 15 registrants. The next session will take place in March and will address the topic of customer/business management amidst current industry challenges. To learn more and secure a seat during the next discussion, email Rachael Pfenninger at [email protected]
New members
Rapid Mold Solutions
4820 Pacific Ave.
Erie, Pennsylvania 16506
Barry St. Peter, sales manager
Phone: 814.833.2721
Email: [email protected]
Founded in 1999, Rapid Mold Solutions, Inc. (RMS) is an innovative, technologically sophisticated, full-service tool and die manufacturer and high-speed/high-precision machine shop. RMS services a diverse customer base in a broad range of industries and offers in-house tool design and domestic project management of offshore projects, complete tool evaluations and tooling consults, mold repair and alteration services, and an array of machining and molding services.
EVCO Plastics
100 W. North St.
De Forest, Wisconsin 53532
Jim Sensenbrenner, corporate tooling manager
Phone: 608.846.6000
Email: [email protected]
Founded in 1964, EVCO Plastics is a leading plastics manufacturing company with 10 manufacturing facilities strategically located throughout the world. With an emphasis on design for manufacturability, strategic engineering and innovative technology, EVCO is recognized as a global leader in custom plastic injection molding and mold building. EVCO partners with its customers from concept through mold construction to full-scale production with presses ranging from 28 to 3,500 tons.
Prime Manufacturing Technologies
8735 Bollman Pl.
Savage, Maryland 20763
Luke Chow, president
Phone: 301.604.0900
Email: [email protected]
For over 27 years, Prime Manufacturing Technologies, Inc., has offered cost-effective, innovative manufacturing alternatives geared to streamlining and improving customer product needs. Prime manufactures plastic, metal and composite products, parts and sub-assemblies for commercial, industrial and military applications. The company's primary goal is to offer great value, with an emphasis on quality, on-time delivery and exceptional customer service. The entire team works to bring the most flexible and cost-effective manufacturing alternatives to its clients.
Tolerance Tool
2263 McKnight Rd. N Bay 11
North St. Paul, Minnesota 55109
Greg Kolbeck, general manager
Phone: 651.770.5918
Email: [email protected]
Tolerance Tool, LLC is an innovative mold manufacturing company that is committed to meeting the high demands of today's moldmaking industry. Tolerance Tool understands its customers are the most important aspect to running a successful business. The company's goal is to exceed its customers' needs by delivering quality molds in shorter lead times at a competitive price. Visit Tolerance Tool's website to see how it accomplishes these goals and creates customer satisfaction.
M.C. Molds
125 Industrial Park Dr.
Williamston, Michigan 48895
Joe Palazzolo, general manager
Phone: 517.655.5482
Email: [email protected]
M.C. Molds, Inc., incorporated in 1984, is a builder of blow molds and custom tooling serving the plastics industry, and prides itself on being an expert in bottle and mold design, moldmaking, and mold repair and refurbishment. Utilizing the team's experience, the company combines advanced blow mold and metal working technologies with design and craftsmanship to provide its customers with the most technologically advanced molds, exceptional service, quality, reduced lead times and outstanding tool life.
New partners
Bales Metal Surface Solutions
2824 Hitchcock Ave.
Downers Grove, Illinois 60515
Rich Wozniak, technical service manager
Phone: 630.852.4665
Email: [email protected]
Website: www.balesusa.com
Since 1978, Bales Metal Surface Solutions has provided incomparable surface finishes and tight tolerances, combined with a proud legacy of integrity and innovation. Bales fuses science and craftsmanship in all it does, by constantly expanding its capabilities and array of proprietary products and services. Whether in person or virtually, the Bales Team is poised and ready to solve any molding challenge. n