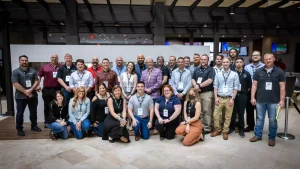 by Rachael Pfenninger, director of strategic execution, American Mold Builders Association
On May 11, 2022, the AMBA Emerging Leaders Network – a group of 40-and-under emerging industry professionals within the AMBA community seeking professional leadership development – kicked off AMBA Conference 2022 with its annual pre-conference meeting, marking the third time AMBA's Emerging Leaders gathered at the annual event and recording its highest attendance to date with the inclusion of 20 AMBA member companies.
This year's session, "Productive Conflict Resolution," was designed by Jeremiah Sinks, a trainer and facilitator with the Purdue Manufacturing Extension Partnership. The session topic highlighted a hot topic for up-and-coming industry professionals in both mid-management and executive roles, who are often forced to manage conflict at multiple levels within their organizations without the managerial training often necessary for productive resolution.
During the session, attendees explored six key takeaway concepts, including:
The origin of conflict
Effective vs. ineffective ways of dealing with conflict
The situational application of conflict styles
Knowledge of the three stages of conflict to prevent escalation
Listening styles that affect conflict resolution
Best practices for mediating situations and directly confronting employees
Ultimately, after an evaluation of the role of leaders and managers in the work environment, a study of situational conflict, an examination of the variety of personalities in the workplace and interactive peer discussion, attendees were encouraged to draw a single broad conclusion – while there are many types of managers and methods of employee management, the most successful leaders are those who seek balancing style (a degree of assertiveness) with strategy (the importance of the outcome) and who work towards collaboration with subordinates, peers and their own executive leaders.
Through discussion and practical application, these young professionals were coached through how importance of the outcome, balanced with the importance of the relationship, can help guide leaders and managers towards appropriate decisions and approaches for a variety of challenging situations and conflicts. With an understanding of how this knowledge could be practically applied, these leaders were able to develop a framework for effective decision making and conflict resolution, in a way that would elevate their leadership path, contribute to the organization and empower their company's workforce.
An outline of conflict response styles was provided to pre-conference attendees, along with a suggestion of when the approach should be used and the recommended role of the manager.
Reference:
All programming material originated from Jeremiah Sinks and the Purdue University Manufacturing Extension Partnership. "Conflict Survival Kit, Tools for Resolving Conflict at Work," by Griffith, Daniel B., and Goodwin, Cliff; 2nd Edition, Published by Pearson Education, Inc. publishing as Prentice Hall, One Lake Street, Upper Saddle River, NJ 07458. Copywrite 2016.