by Ian Gjertson, data analyst, AMBA
The past two years presented critical challenges and obstructions for manufacturers, including a chaotic supply chain network, labor shortages, the unpredictable global pandemic and the highest United States inflation rate since June of 1982 (7%). The American Mold Builders Association (AMBA) recognizes that manufacturing professionals need current information to benchmark their performance and evaluate the opportunities within the industry.
The annual AMBA Wage and Salary Report is the leading compensation analysis attentive to the mold building industry in the US. The 2021/2022 AMBA Wage and Salary Report collected compensation data from 114 mold builders across 21 states to provide a five-year trending compensation analysis for 51 unique job positions within mold manufacturing-related companies. This report also represents more than 4,400 full-time employees and nearly 200 part-time employees. Thirty-seven of the 51 positions (73%) experienced an average increase of 11% in 2021, while the remaining 14 job positions experienced an average decrease of 7%. The total average salary change was an increase of 6.1%, which is below the United States inflation rate of 7%. The highest salary increase was for inspectors at 44%, and the most significant reduction was for press operators at -9%.
AMBA's Wage and Salary Report includes numerous improvements this year, including the format, data analysis and content delivered. Compensation data is dissected by total annual revenue ranges and the top five market segments served by mold builders in the industry: automotive, medical, consumer goods, appliance and aerospace. Additionally, a five-year trendline graph illustrates the percentage change in hourly wage for each position included in the report (Chart 1). Finally, improvements were made to the overall illustrations of data, thereby making the report easier to interpret.

The national labor shortage has transcended industries, as most companies in the US have been reporting difficulty in recruiting and retaining employees. Mold builders are not exclusively competing against other manufacturers but now against every company across the country. The coronavirus pandemic normalized and popularized remote work and hybrid work. Additionally, Carmen Reinicke at CNBC reported that federal civilian employees started earning a minimum hourly wage of $15 in January 2022.
Amid the national labor shortage, mold builders have implemented strategic incentives to attract new employees, such as referral bonuses, wage increases, signing bonuses, improving insurance options, providing more paid time off, negotiating a flexible schedule, investing in employee development programs, providing profit-sharing programs and providing relocation assistance. Those that utilize profit-sharing programs offer a 401(k) plan with a contribution match between 3% and 10% or an incentive-based profit-sharing program, such as meeting quarterly performance objectives.
Mold manufacturers expect those incentive strategies to be successful, as 80% of the surveyed companies anticipate hiring new employees in 2022, and only 4% do not foresee hiring new employees. This is the highest percentage of mold builders that have forecasted an increase in their employment numbers in the past seven years (Chart 2).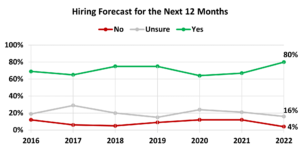 The US Chamber of Commerce published a study last November that provided insight into the labor and unemployment trends in the United States. This study revealed that more unemployed Americans actively are looking for employment opportunities since May. The most common incentives for unemployed Americans returning to the workforce include hiring bonuses equal to or greater than $1,000, flexible schedules, positive work environments and the ability to work from home. The average signing bonus offered by mold builders is $714, and companies that generate less than five million dollars in annual revenue provide the highest signing bonus at an average of $1,500.
Obstructions such as supply chain network issues, material shortages, labor challenges, international conflict and potential government interference likely will continue in 2022. Mold builders must continue to adapt to some of the most substantial challenges the manufacturing industry has ever faced. AMBA will continue to support, inform and connect American mold builders to promote success. n
Further data and analysis are available by purchasing the AMBA 2021/2022 AMBA Wage and Salary Report at www.amba.org/publications/.