by Lara Copeland, assistant editor, The American Mold Builder
Joining the family business always has presented challenges and benefits to both the older and younger generations. And, of course, every one of those situations comes with its own unique set of troubles and blessings. The three stories featured here help to shed some light on the trials, tribulations and triumphs of younger generations entering the family business. While certainly idiosyncratic in nature, each one provides insight into the realities of cultivating an intergenerational business.
Mark Rotman – His Story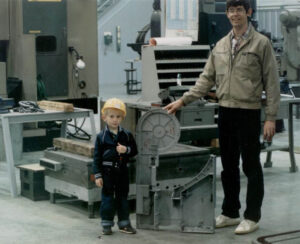 Mark Rotman is a program manager at Ameritech Die & Mold, Mooresville, North Carolina. He works alongside his father, who started the company 37 years ago with two other partners. Rotman spent his youth around his father's business. "All my life, I had been around the shop, and I spent days of my childhood helping out with little odds and ends," Rotman said. While he participated in little jobs and tasks as a younger child, as a teen he started making deliveries and completing custodial tasks. "It wasn't until I was in college, between my sophomore and junior years, that I came back home and was given the opportunity to do some machining and programming," he explained. "I was fascinated by machining, and I was hooked."
Despite being in school for finance and banking, Rotman spent that summer paired with a mentor at the shop. "He took me under his wing and, through various engineering changes, he was able to teach me the different parts of the mold and what was important about them," he said. "He did a great job  showing me what it was like to become a moldmaker and to work at Ameritech. It was all starting to catch my interest, and it had been right in front of me my entire life."
Looking back, Rotman credits that summer with making a difference in his life's path. "Suddenly, the shop was less of a place where dad worked; I started to see it as a high-tech manufacturing site with fascinating machines," he said. "I was intrigued." As graduation neared, Rotman recalled having a conversation with his father about the future. "He asked if I had considered a career at Ameritech, and the thought had been in the back of my mind since that earlier summer." Soon after, Rotman was given an opportunity to make it a reality.
Starting as a CNC programmer and operator nearly 14 years ago, Rotman also took on recruiting for the apprenticeship program in those early days. From there, he moved around – spending time in assembly and other areas of the shop. "Eventually, I got into molding and processing," he said. "At the time, only a few people handled this task, and it was a way to be directly involved with our customers. I was fortunate to have mentors who taught me everything they knew as long as I showed an interest."
On developing his talent
"My career has been full of hurdles, including the pressure of not wanting to be seen only as the boss' son," explained Rotman. "I've been really fortunate to have great mentors, and, I'm sure anybody who is in the trade knows, it's pretty difficult to learn on your own without people taking you under their wing and coaching you." 
Rotman said this is a quick way to gain knowledge because,
"You get to learn from their mistakes and what they've seen over their years of experiences." Additionally, Rotman is an avid reader, especially non-fiction books. "If there is something I'm curious about, I'm always looking for more resources, whether it's a book, a video or something else. I just want to dive deep and get a better understanding." The combination of reading and being mentored has been the foundation for developing his talent.
On overcoming familial challenges
Communication has been difficult at times, and Rotman said he sees it mirroring the family personalities. "For us, there are two unique relationships taking place – there's the father-son role and the employer-employee role," he noted. "Starting out, it was quickly apparent that I needed to learn how to communicate with him as a boss when needed and as a father when needed." Once that boundary was established, Rotman said communication strengthened significantly. "Working together has created a better understanding of each other than we had previously – a more comprehensive view of each other."
 

On advice to offer others

"Be passionate about what you do, and choose a field based on that passion – and not just because your family is there," Rotman said. "Working with family will amplify everything. When things are good, they're really good. And when things are tough, well… you get the idea."
Andy Peterson – His Story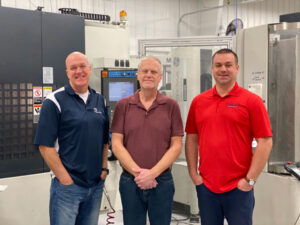 Having graduated around the same time as Rotman, Andy Peterson, chief operating officer (COO) at Industrial Molds, Rockford, Illinois, also sought employment at a familiar facility. It was an accident that he started working for the same business his grandfather founded more than 50 years ago. "I worked as a janitor and delivery driver for the company while I was in high school, but I never envisioned working here as a career," he said. In fact, he recalled making a joke that he was going off to college to find a "real job" and earn "real money."
However, graduating in the summer of 2008 with a degree in finance right before Lehman Brothers fell and The Great Recession began offered Peterson the opportunity to reconsider his thoughts. "I called my dad with my tail between my legs and asked for a job," he said. 
Peterson has since worked just about every position available at the shop, from CNC operator, working on tools and programming to account management and as department manager. This has allowed him to gain a comprehensive view of the ins and outs of the facility over the last 13 years. "I really know the business pretty well, and this has allowed me to take over as COO for our parent company, Pyramid Plastics, as well as Industrial Molds."
On developing his talent
Peterson has climbed his way to the top by exploring every corner of the facility and advocating for training, not only for himself, but for others as well. While his college degree helped him gain basic business skills, he has gone after many other opportunities for growth. "I've been a part of the AMBA shop tours – seeing other shops has been incredibly helpful – and I've taken time to be a part of their virtual forums." The AMBA board member also has spent a few years working with Harbour Results by attending the group's young leaders' meetings, held twice annually. "These meetings helped me with basic problem solving, communication skills and working with people, which is great because, at the end of the day, we are a people business." 
As a strong advocate for growth, Peterson has had to figure out how to take advantage of opportunities while dealing with family. "It's not always smooth sailing, but the results have been great," he exclaimed. "I demanded and forced my way into more responsibilities, and I have proven myself during that process."
On overcoming familial challenges
The age-old challenge of growing up in a facility and then taking on a leadership position within that business can create personal, professional and cultural challenges. Peterson said that the standards for being the son and nephew of the bosses came with some pretty high expectations. "They've known me my whole life, including when I was young and thought I knew everything," he joked. When an employee comes from the outside, the bosses most likely, "didn't see you in your college days," as he put it. 
Despite that baggage, Peterson feels as though he has proven his worth. "Although I'm the youngest family member in the business, I have introduced new ideas and visions for the company," he said. "And getting my dad and uncle to buy in on the new vision certainly helps." With plenty of professional success under his belt, he said he has used this success to gain more responsibilities – and a new position – in the company. "I think when they put me in charge of both companies last year, it was as if they were saying, 'It's your show now, Andy. Run with it, and make us proud!'"
On advice to offer others
Peterson regrets not embracing the opportunity to learn more about the company when he was in high school and college. "I really could've learned a lot back then, so I encourage young people to take advantage of learning opportunities," he said. 
Kristie Salter – Her Story
Kristie Salter was in elementary school when her father started TK Mold & Engineering in Romeo, Michigan, in 2003. Representing the fourth generation in the injection molding business, Salter started spending time in the shop years ago by mowing the grass and cleaning the facility. 
Much like Rotman and Peterson, while growing up she didn't think she would ever end up working at her father's facility. In fact, she went to school to learn environmental science, with a specialization in health and safety. After spending time working at a lab in a hospital right after college, she moved on to work at a local health department. "I soon discovered that it was not the job for me, and it just so happened my dad was in need of some help with quoting at the time," she said. 
Salter was thrilled to start off in estimating at TK Mold three years ago, after being trained by her dad. Today, she does a little bit of everything. "I've done the quotes and the purchasing, and I got into scheduling and then the accounting side," she said. TK Mold has machine tracking software that she maintains, also while doing some program management, participating in all sales meetings and performing the occasional I.T. duties. "I never realized how big the plastics manufacturing industry is, and there is plenty of chemistry involved, so my science background is coming in pretty handy."
On developing her talent
Salter also is aware of the common misconception about people who work with their family. "The jobs aren't just given to us; we have to earn our places just like everyone else," she explained. "And sometimes, it's actually harder because your parents hold you to a higher standard." To achieve those higher standards, Salter plans to continue being a key player, growing the business by learning from others and being innovative.
According to Salter, TK Mold is supportive of new ideas, which has led her to be active in figuring out ways to make life at the shop a little easier. "Something I like to do is try new things. Even when it has been done a certain way for a long time, I like to see if there's a way to make it easier or better," she explained. She admitted there is a lot of trial and error to figuring out how best to do something, "especially when it comes to machine scheduling – there's just so much you have to consider. There has been a lot of trial and error to see what works."  
On overcoming familial challenges
Currently TK Mold, like many other companies in the world today, is figuring out how to best communicate given the circumstances of working through COVID-19. "It's all new territory for us, but with my family in particular, we really trust each other and our employees," she commented. "In fact, it's really a great benefit to work with family because we know how each other works and there's a strong level of trust." 
 

On advice to offer others

"Good advice for anybody was shared with me by my dad – he always told me to work hard, push myself and be independent," Salter said. "Doing this has helped me share my perspective and be successful at the company."

Through these vignettes, common themes emerge: the importance of hard work, the value of an early start and diverse responsibilities, and the need to constantly expand one's education and preparation. These lessons are not only important to those considering a move into an intergenerational business, but are lessons important to all who are considering a career in the moldmaking industry.