by Dianna Brodine, managing editor, The American Mold Builder
As the US economy recovers from the impact of the pandemic, consumers continue their dramatic increase in durable goods purchases. This spells good news for toolmakers in automotive, aerospace, appliance and more.
Economic impacts
In November, Harbour Results Director Cara Walton spoke to a group of plastic processing professionals to highlight the positive and negative factors influencing today's US economy. When the COVID-19 virus first landed in North America, uncertainty and caution caused an initial, sharp downturn as manufacturing production dropped (or stopped), retail businesses shuttered and hospitals handled overflowing patient volume.
The governmental response to that downturn – an influx of stimulus for businesses and individuals – increased the US debt, which has lowered the value of the US dollar to where its reaching parity with the Yuan and the Canadian dollar, Walton said. This is not great news for North American toolmakers. And, Walton pointed out, the only way to pay down that debt is to either raise GDP or increase taxes. In addition, supply chain issues have led to challenges in raw material availability and pricing increases.
On the other hand, "Low interest rates mean borrowing money is easy and cheap," said Walton. "Jobless claims are decreasing, housing starts are consistent and consumer spending is up."
Lower jobless claims are a relief for unemployment funding but add additional pressure to manufacturers and toolmakers struggling to find employees. According to Walton's numbers, there are approximately 900,000 open positions in US manufacturing. Although employers spend a lot of time complaining about government aid and people who don't want to work, the fact is that the overall labor market may be down 3.55 million employees from pre-COVID-19 numbers, but the manufacturing industry is down only 374,000 employees. The current labor problem is a result of the 37% increase in durable goods demand – manufacturers need more employees than they did before.
The stratospheric increase in durable goods demand is a direct result of the pandemic. "Consumers have changed what they spend money on," said Walton. "And, the demand is sustainable."
Market outlook by segment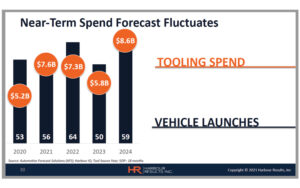 "From a broad industry perspective, there's no market that's not doing well," said Walton. (see Chart 1). "Most markets are in a solid spot right now, although there will be a little bit of a slowdown on the production front, rather than the tool building front, as markets try to figure out what a normalized demand looks like. But, industries will have to launch new models – cars, appliances, etc. – because the demand is continuing and consumers want what's new." 
Automotive
In October, Harbour Results, Inc. and OESA released the 2021 Automotive Tooling Outlook. The annual report assesses the strength of the North American tooling industry and looks ahead to project future opportunities.
"In 2020, we saw a dip in tooling spend and in utilization, which was a direct result in a drop in tooling spend by the automotive industry – primarily Ford, GM and Stellantis – that we predicted prior to the COVID-19 pandemic," said Laurie Harbour, president and CEO, Harbour Results, Inc. "However, the industry has recovered in 2021. In fact, tooling demand is robust as a result of a strong demand for durable goods, a healthy automotive industry and new BEV launches. Tooling spend into 2022 will remain healthy, with Q1 and Q2 2022 spend being $2.1 and $2.7 billion respectively." (See Chart 2)
North American OEM profitability is unprecedented, according to the outlook. This is driven by a number of factors, including low-inventory business models, lower consumer financing numbers and decreased loan lengths, and higher transaction prices with a lower number of incentives offered. 
High OEM profit levels mean more money is available for tooling, and OEMs will use the profits to develop new vehicles, both internal combustion engine and battery electric vehicles. However, these likely will not have a significant amount of customization. This reduced trim level will impact the amount of tooling needed, but the number of new models will make up for that lack.
New vehicle launches will provide an influx of money into tool shops supporting the auto industry, providing a welcome boost to their profit outlook after the struggles at the height of the pandemic. "From 2019 to 2020, profitability (EBIT) across mold shops was flat at about 4.5%," said Harbour. "The addition of Paycheck Protection Program (PPP) funds, which a majority of shops received, significantly helped the industry's performance and propped up profitability to 9.7%. Additionally, at the end of 2020, the industry saw a significant increase in the amount of work it was quoting and that is expected to continue into 2021."
Appliance 
During the pandemic, US consumers looked around their homes and made plans for improvements. A strong housing market and an influx of economic rescue funds provided the financial means, and the appliance market was the beneficiary.
"The increase in buying and selling and building of homes is great for the appliance market, as is the amount of time people are spending at home," said Walton. "Also, with the age group that many new home buyers are in, they've gotten accustomed to the high mix/low volume model where all the options they can imagine are available. This has increased tool demand because of the customization."
The rise in overall demand has provided OEMs with the financial means to launch new models, and the demand is projected to continue. However, Walton is cautious about the tooling reshoring trend that has been seen in the appliance market. "I think people need to be wary of why a tool is being reshored. Is it because the OEM can't get the mold out of china because of the expense and delays in shipping? Or is it because they want the mold built near the production facility? If the decision to reshore is based on supply chain and cost, it's not a reliable, consistent customer."
Aerospace
The COVID-19 pandemic brought much of the air travel industry to a screeching halt, and tool builders supplying the aerospace market saw programs placed on hold. Not only was the domestic travel market severely impacted, but international travel was nearly halted altogether as travelers attempted to decipher virus restrictions and precautions that changed by country and day. However, demand is beginning to pick up and the forecast is positive.
The Federal Aviation Administration (FAA) released its Aerospace Forecast Fiscal Years 2021–2041: "Fundamentally, over the long-term, aviation demand is driven by economic activity, and a growing US and world economy provides the basis for aviation to grow," the report said. "The 2021 FAA forecast calls for US carrier domestic passenger growth over the next 20 years to average 4.9% per year. This average, however, includes three double-digit growth years during the recovery from a very low base in 2021. Following the recovery period, trend rates resume with average growth through the end of the forecast of 2.3%."
As passengers begin flying again, aerospace manufacturers will start releasing new models. That increased growth will come with new rounds of tooling for aerospace suppliers.
Walton pointed out that the return of passengers isn't the only factor driving a positive forecast for the aerospace market. "There's an increase in demand for replacement parts, driven by the number of planes that essentially sat in a parking lot last year," she said. "Airlines need those parts to get their planes flying again."
The FAA report summarized: "There is confidence that US airlines have finally transformed from a capital intensive, highly cyclical industry to an industry that can generate solid returns on capital and sustained profits."
Medical
"The elective medical market wasn't doing great for 18 months as consumers postponed many elective surgeries, but those are coming back now," said Walton. "Toolmakers in that space struggled in 2020, and we anticipated a recovery in 2021, but then the Delta variant hit. Demand should increase in 2022 and, from a big picture perspective, the aging population means it's not a long-term concern."
Not everything is coming up roses
"Although the forecast is positive, mold builders and their customers are facing a number of challenges that are likely to impact business for the near- and mid-term," said Harbour. "The labor gap and supply chain shortages are among the top two concerns across the industry that can impact a shop's ability to meet growing demand. Additionally, low-cost country (LCC) competition and the growing cost of doing business will require shops to continue to focus on efficiency to remain competitive and profitable."
As tool builders find it difficult to hire workers, the increased production demand also is pushing them to offer higher wages to entice new applicants and retain skilled staff. The high demand levels will continue for the next two to three years, but when demand dips, how do mold shops fare when balancing those high employment costs with more normalized order levels?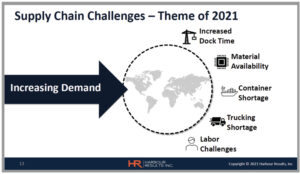 Mold builders are having supply chain issues, too (see Chart 3). Raw materials and other production components are stuck in what seems to be an endless loop of delays – slow shipping times, lack of labor availability at the ports and a shortage of containers and trucks. Walton added, "But, their customers are the ones really feeling the squeeze. As a mold builder, it's never been more critical to understand the pressures and timing the customer is under."
The bottom line is that mold builders need to keep an eye on margins. "There is a concern that some toolmakers only made it through the pandemic slowdown because of the stimulus," said Walton. "Another round of PPP funding isn't likely, so if a shop made it through COVID-19 because of that government help but isn't making good margins now while demand is high, there's a concern. Shops need to make sure the margins stay strong."
With sustainable demand increases forecast for the near future, the opportunities are there for mold builders to grow and profit, despite challenges in the labor sector and supply chain. The key lies in finding the right business by understanding the markets, ensuring a healthy profit margin and keeping an eye on potential legislative and economic impacts.