The American Mold Builder
Registration Open for First 2021 In-Person Plant Tour Workshop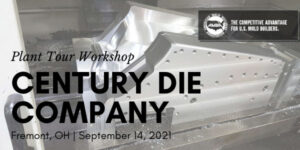 Registration now is open for AMBA's first in-person plant tour workshop of 2021. On September 14, 2021, at Century Die Company in Fremont, Ohio, attendees will get an inside look at how a strategic focus on process, efficiency and team accountability has helped the company remain competitive and attract talent in a cost-driven marketplace.
In addition to an an inside look at Century Die's successful blow mold manufacturing operation – including a new 5-axis machining cell with automation and a fully staffed, high-quality finishing department – attendees will see how the company has used creative tactics and relationship-building to strategically tackle workforce development and help develop the company's next-generation workforce.
The tour will include a tour of the Century Die blow manufacturing facility, lunch and facilitated roundtable discussion, a networking dinner the night before and an optional short turn of the Rutherford B. Hayes historic grounds via a Clydesdale-drawn wagon. 
Cost $169/member. Register at AMBA.org/Events/.
Final Meet the Mentor Session Announced: Leading through Lean
Join mentors Jon Kantola, Robbjack, and Ben Lampron, Metro Mold & Design, on October 7, 2021, as they walk attendees through how the application of lean principles and maintenance of a lean mentality encourages emerging professionals to contribute within their organization, generate business-impacting ideas and develop critical leadership traits that allow them to rise to the top.
During this conversation, Kantola and Lampron will share the following:
Examples of manufacturing activities and principles that drive organizations' emerging leadership

Characteristics in leadership that are driven and developed by the lean mentality

How mentoring and training with a lean emphasis can drive employee empowerment and concrete ROI

The process efficiencies and disciplined attitudes that drive team trust and individual accountability.
Member cost: $29. Register at AMBA.org/Events/. This is a members-only event.
Alliance Charity Golf Outing Scheduled to Follow Amerimold
On Friday, Sept. 24, Alliance Specialties and Laser Sales will host its annual charity golf outing at the Countryside Golf Course in Mundelein, IL. The event will follow Amerimold, Sept. 21-23 Rosemont, IL. The Alliance Charity Golf Outing raises funds to provide resources and funding to different branches of the U.S. military and is planned in partnership with iWarriors, which assists severely injured members of all branches of the Armed Forces by providing them with personalized tablets to aid in their return, recovery and reintegration. 
For details and to register, visit https://shop.alliancelasersales.com/pages/golf2020. 
Connect with AMBA Management Professionals during October Roundtables
Hone in on business challenges in a peer-driven environment at AMBA's next set of roundtable discussions. On October 12, sales and marketing professionals will meet to discuss new technologies and opportunities in the sales and marketing process, while on October 20, managers, supervisors and department heads will discuss business strategies and challenges specific to their functional roles. 
To register for either roundtable discussion, visit AMBA.org/Events/. AMBA roundtable discussions are members-only events and are included with membership. 
AMBA Welcomes New Board Member Eric Karaman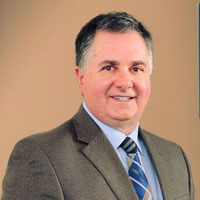 Eric Karaman is COO of Michiana Global Mold, Mishawaka, Indiana, and also holds executive-level positions in various other entities. His career began at USX – US Steel Division, where his work in business planning and sales led him to future opportunities, including developing an expanded skill set in mergers, acquisitions and capitol investing. Karaman's passion for the manufacturing industry drives his desire to participate on the AMBA Board of Directors. "I am highly committed to the success of the domestic moldmaking industry," stated Karaman. "It is my desire to see the American moldmaking industry regain its prominence in the world ranks with devotion to new technology and renewed interest from the next generation of moldmakers."
AMBA Tackles Critical Issues with 3rd Quarter Benchmarking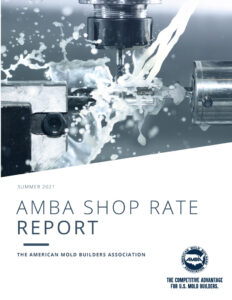 As mold manufacturers face increasingly competitive conditions, it's more important than ever to benchmark internal operations and service strategies against peers and the industry at large. With this in mind, AMBA has published the 2021 Shop Rate Report, which details the average charge rates specific to services in engineering, moldmaking and specialty services. The report also includes aggregated data regarding current vs. anticipated capacities, company demographics and sales information.
AMBA's benchmarking team also has launched an effort to address another critical issue facing US mold manufacturers – the attraction, onboarding and retention of next-generation employees. Through the end of September, mold builders will be able to submit their best practices, strategies and training documents for inclusion in AMBA's next playbook, Best Practices in Attracting and Retaining Next-Generation Employees.
To participate in AMBA's Best Practices playbook, visit AMBA.org/Events/. To purchase a copy of the 2021 Shop Rate Report and see all other available AMBA reports, visit
AMBA.org/Browse/Publications.
AMBA EMERGING LEADERS NETWORK OPENS LEAN SERIES TO ALL AMBA MEMBERS

Workforce development is about more than developing emerging leadership; it also includes the continuing education of current management and senior leaders. For that reason, AMBA's Emerging Leaders Network again is offering a lean manufacturing-focused series, but now is opening it up to all AMBA members – not just 40-and-under professionals. During this event, attendees will have the opportunity to dive deeply into a core lean principle alongside peers in facilitated training sessions. Functional area groups will participate in facilitated peer networking and all-group discussion, as well as practical application of series materials. More details are available at AMBA.org/Events/.
NEW MEMBER
Foreman Tool and Mold
3850 Swenson Ave., St. Charles, IL 60174
Main Contact: Michelle Shaw, HR Manager
Email: mshaw@foremantool.com  |  Phone: 630.377.6389
 Foreman Tool and Mold is a family-owned and -operated company specializing in custom injection mold manufacturing and molding since 1984. Experience, knowledge, cutting-edge technology, extraordinary customer service and an unyielding commitment to excellence make Foreman Tool and Mold the best choice for its customers' next project.