The American Mold Builder
AMBA Conference 2021 – Registration Open
Registration now is open for AMBA Conference 2021 – Connections Reimagined! This year's theme is designed to foster enriched connectivity within the mold manufacturing community by bringing industry professionals together through the use of fresh perspectives, impactful keynote addresses, reimagined breakout styles and re-invented networking opportunities. The annual conference will be held in-person in Grand Rapids, Michigan, June 22-24, 2021, and will be held with AMBA's new safety protocols in place so that attendees can meet safely and in accordance with CDC guidelines.
Please note: This event has limited attendee registration due to state restrictions. Interested industry suppliers and service providers should contact Susan Denzio at sdenzio@amba.org or Kym Conis at kconis@amba.org for details.
For agenda, hotel, registration and more, visit ambaconference.com.
AMBA Emerging Leaders Pre-Conference Session Announced
AMBA again will offer its AMBA Emerging Leaders the opportunity to participate in a pre-conference session at AMBA Conference 2021. During this half-day workshop, Phil Van Hooser will coach AMBA's Emerging Leaders through decision-testing methodologies and red flags with the use of decision-making principles, including the Decision-Making Foundation Keys and the 5 Bases for Practical Decision-Making Success. For more information, contact Rachael Pfenninger at rpfenninger@amba.org. 
New Webinar: Why Marketing Matters – How Strategic Content Can Pay Off for Your Brand
In today's day and age, marketing matters more than ever, especially in an environment where in-person visits continue to be limited and electronic communication is king.  Join Alliance Specialties and Laser Sales representatives to hear how they use their company's values to embrace a variety of marketing opportunities, including:
The development of a formalized marketing plan
Strategic content distribution
Pointed relationship development
Measurable activity
Attendees will learn how these strategic marketing elements and a laser focus on the customer have positioned the Alliance marketing team as leading experts within the manufacturing industry, clearing a pathway towards internal success and goal progress. To register, visit AMBA/org/events.
AMBA Reports Now Available for Sale
The AMBA benchmarking team has released two recent reports that are available for sale – the 2021 Health and Benefits Report and the 2021 Customer Relationship Management Report.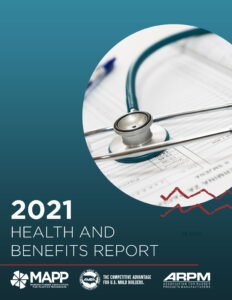 2021 AMBA Health and Benefits Report 
AMBA's benchmarking team has published its annual 2021 Health and Benefits Report, which benchmarks current benefits offered by manufacturers in three areas – mold manufacturing, plastics processing and rubber products manufacturing. Benefits reviewed include health, vision, dental and life insurance and retirement programs. The final report includes aggregate data for all surveyed manufacturers, as well as an appendix with data specific to each industry. Member cost: $109. Non-member cost: $209. Purchase at AMBA.org.
AMBA Customer Relationship Management Report
AMBA's most recent benchmarking effort, the 2021 AMBA Customer Relationship Management (CRM) Report, now is available for sale. This report benchmarks the use of CRM systems across three manufacturing sectors – mold manufacturing, plastics processing and rubber products manufacturing – and provides executives and sales and marketing professionals with evaluations of CRM system features and overall use in these industries. Features evaluated include prospecting and lead generation, customer relationship management and database use, analytics and automation, and investment and ease of implementation. Member cost: $89. Non-member cost: $189. Purchase at AMBA.org.
AMBA Launches New Benchmarking Initiative
AMBA has launched its newest benchmarking opportunity, the 2021 AMBA Shop Rate Survey. This survey will allow AMBA members and participating nonmembers to benchmark their shop rates against AMBA's nationwide community of mold manufacturers, providing them with comprehensive data that will clarify on which services their shop is most competitive and how they stack up compared to the rest of the industry.  AMBA members who participate will receive this report at no cost. Participating non-members will receive this report for a discounted rate. This report will be unavailable to any non-member who does not participate.
Expert Industry Insights Featured in AMBA's Newest Resource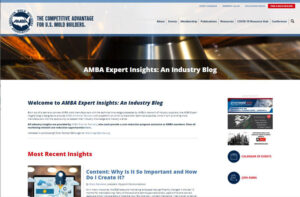 Born out of a desire to connect AMBA mold manufacturers with the technical knowledge possessed by AMBA's network of industry suppliers, AMBA Expert Insights: An Industry Blog is designed to provide AMBA's Premier Partners with a platform on which to share their technical expertise. These perspectives and insights provide mold manufacturers with the opportunity to deepen their industry knowledge and industry trends. Visit AMBA.org for recent posts and updates.
NEW MEMBER
Granby Mold
4380 Haggerty Rd., Commerce Twp., MI 48390
Main point of contact: John Turcotte, President
Email: john@granbymold.com   |   Phone: 248.624.8900
For more than four decades, Granby Mold has been designing and building prototype and production molds (injection, transfer, compression, injection compression and thermoform) for a variety of industries. The company is currently involved with R&D tooling for over-molding epoxy and phenolic materials in stators and rotors for electric vehicles and electronics for mobile devices. Granby Mold's experience with fill-analysis supports its customers to push the boundaries of what can be done with plastic materials. 
New Partner
EDM Sales & Supplies, Inc.
11650 96th Ave. N.,  Maple Grove, MN 55369
Chris Lund, Sales Manager
Email: clund@edmsalesinc.com | Phone 763.424.1189
EDM Sales & Supplies, Inc. is a family-owned business serving the EDM and die mold industry. Since 1975, EDM Sales has developed lasting supply chain relationships with its customers nationwide, who demand OEM brands and industry-leading products and precision machinery. EDM Sales specializes in diverse products, large inventories, on-time delivery and competitive prices.