The American Mold Builder
Registration Open for 2nd Annual Sales and Marketing Forum (Virtual)
 

|

 

March 10-11, 2021
Creating and implementing a successful sales and marketing strategy is critical to the bottom line of any business, particularly in today's continuing environment of uncertainty and change. To support the exploration of existing challenges, new technologies and best practices in mold manufacturing, AMBA is hosting its second annual Sales and Marketing Forum.
This one-and-a-half-day event will address industry challenges in sales and marketing through presentations from AMBA members and other industry leaders. Featured topics include: 
Lead Generation Tactics – Inbound/Outbound
Digital Marketing Strategy
Social Media: Strategy, Metrics and Execution
Best Practices in Client Communication
Virtual Technologies for Mold Tryouts/Plant Tours
Session formats will include member and expert presentations, industry insights, a panel presentation, software demonstrations and small- and large-group discussion. Attendees will walk away with fresh insights into best practices and shared challenges, leading to implementable takeaways and action items. Register at AMBA.org/Events.
AMBA Benchmarking Reports Available
AMBA's 2021 Business Forecast Report now is available for purchase! With this report, executives have the opportunity to benchmark how their companies stack up in comparison to the mold building industry norms and how they can better align their anticipated outlook for the upcoming year with strategic direction and resource investment. 
Also available for purchase is AMBA's annual 2020/2021 Wage and Salary Report, which includes high, low and average rates of pay across more than 50 job functions commonly found in mold building and allows industry professionals to determine their competitiveness as an employer, measure employee ROI and better understand the latest industry practices and trends. 
To view and purchase all available publications, visit AMBA.org/publications/. 
Survey Launched – Health and Benefits
AMBA has launched its 2021 Health and Benefits Survey, which will gather data related to health and benefits packages offered to employees by mold manufacturers across the US.
Collected data will include the following:
Company cost and employee participation
Strategies to control cost
Current plans offered to employees
Additional benefits and retirement programs offered
Compiled data and results will be shared at no cost to participants. To complete, visit AMBA.org/Events.
Meet the Mentor Sessions Continue
for Emerging Leaders
This year, AMBA's 40-and-under emerging leaders will hear from seasoned industry professionals who will provide insight into a core challenge previously identified by today's emerging leaders. During sessions, attendees will be challenged to
observe the challenge in their own workplace,
contemplate best practices and solutions applicable to their own facilities, and
identify best practices and future improvement goals specific to their own organizations through a follow-up session with peers.
Upcoming themes include risk management, communicating effectively and problem-solving strategies. Sessions will continue throughout 2021. Register at AMBA.org/Events.
AMBA Announces 2021 Sourcebook Cover Winner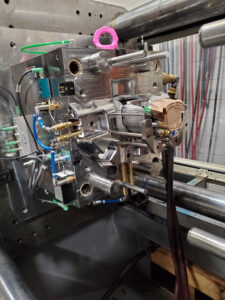 AMBA proudly announces the winner of the 2021 Sourcebook Cover Contest – Ameritech Die & Mold, Mooresville, North Carolina. Established to promote the quality craftsmanship of AMBA mold manufacturers, this year's cover features an example of a high-tech, high-efficiency mold for a Class A automotive application that utilizes a sequential valve gate manifold and RJG monitoring technology to create a controlled process through adjustable pressure/temperature settings. 
The mold features extreme, thin-wall sections in the middle of the part, creating pressure fluctuations in the processing of the part. The part geometry requires buried slide actions and two-stage ejection with decelerated lifters. Venting, cooling and ejection are maximized to improve part appearance and cycle time. According to Ameritech President Steve Rotman, "We believe this mold exemplifies American engineering, craftsmanship and near perfect execution on first shots with a very difficult part design with severe undercuts."
New Members
Forest Tool
600 Industrial Park Way, Crandon, WI 54520
Main point of contact: Bill Schulz, Operations Manager
Email: [email protected]  |  Phone: 715.478.5870
Forest Tool is an ITAR-registered partner in plastic part development and the design and manufacture of quality injection molds. The company also manages engineering changes and preventive maintenance for the plastic injection molding industry.
QC Molds, Inc.
6424 Woodward Dr., Magalia, CA 94954
Main point of contact: Jef Fuller, Owner
Email: [email protected]  |  Phone: 530.873.7790
Since 1990, Quality Craft Molds has been a leading US manufacturer of plastic injection molds. The company designs, builds and offers repair services for most mold types and serves many industries including automotive, electronics and technology. Also, Quality Craft Molds specializes in making injection molds for the biomedical disposables industry. 
Galaxy Technologies
1111 Industrial Rd., Winfield, KS 67156
Main point of contact: Nealey Bahm, Purchasing
Email: [email protected]  | Phone: 620.221.6262
Galaxy Technologies offers full-service engineering support with more than 125 combined years of experience serving the aerospace and plastics industries. From product development through tool design completion, Galaxy has the skills and experience necessary to develop innovative, intelligent and value-based tooling solutions. The company is ISO 9001 and
AS 9100 compliant.
Dynamic Group Inc.
13911 Unity St. NW, Ramsey, MN 55303
Main point of contact: Matt Walters, Technical Sales
Email: [email protected]  |  Phone: 763.780.8674
Founded in 1977, Dynamic Group is a privately owned contract manufacturer specializing in complex injection molded plastic components and assemblies and high-precision molds for plastic and powder. The company primarily serves the medical, electronics and technology industries, is ISO 13485 certified and is FDA registered as a contract manufacturer of medical devices.
New Partners
Kruse Training
1415 Panther Ln. Naples, FL 34109
Main point of contact: Torsten Kruse
Email: [email protected]  |  Phone: 239.353.6468
Kruse Training is an online educational program for injection molding part designers, mold designers and process engineers. The company's state-of-the-art online knowledge and training solutions use 3D CAE process simulation technology to demonstrate cause-and-effect behavior of molding. This interactive training program illustrates how "The Circle of Knowledge" between injection molding engineers works in the real world.
---
Save the Date for AMBA Conference 2021
June 22-24, 2021
Grand Rapids, MI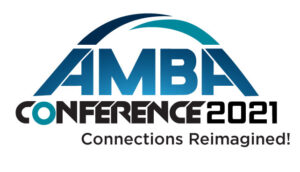 Save the date for AMBA Conference 2021, set to take place in Grand Rapids, Michigan. This year's theme of Connections Reimagined! is designed to foster enriched connectivity within the mold manufacturing community by bringing industry professionals together in new and creative ways. This conference will set the industry benchmark for meeting responsibly in a way that still brings immense value and opportunity for business growth to its attendees.  
"For the first time since the beginning of the COVID-19 pandemic, mold builders and other industry professionals will have the opportunity to once again meet in person, but in a socially-distanced, responsible manner, adhering to all CDC guidelines and recommendations," explained Kym Conis, AMBA managing director. "Over the course of the last several months, walls have been broken down and paradigms have shifted, leading the way to new technologies, benchmarks, industry standards and more. The opportunities are endless." 
Stay tuned for more information at AMBA.org/conference.