The American Mold Builder
New Workshop Announced: Screening and Hiring to Your Culture December 9 | 10am – 3pm EST

To help members address the fast-growing skills gap and labor challenges faced by the mold manufacturing industry, AMBA has worked with its Workforce Development Task Force to identify the focus for its newest opportunity – a workshop on Screening and Hiring to Your Culture.
During this virtual half-day event, attendees will explore how the cultivation of high-performing employees and an alignment of a company's workforce with its organizational goals leads to improved workforce recruitment and retention.Participants will walk away with effective tactics and strategies that, when employed in the screening and training process, will demonstrate how an organization can leverage its culture to 
attract new labor that reflects the priorities of the organization;

retain, empower and develop existing high-performing employees;

 

address broken processes and explore new solutions in recruitment, onboarding and training; and

build a high-producing and adaptable workforce, capable of managing change and unexpected obstacles.
Members: $89. This is a facilitated training event provided exclusively to AMBA members.
New Benchmarking Addresses Key Challenges Faced by AMBA Members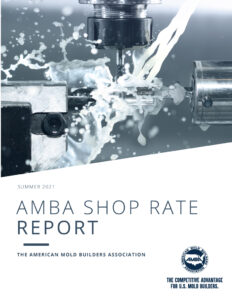 AMBA has addressed critical challenges in labor development and profitability with two of its most recent benchmarking efforts. In September 2021, AMBA published the AMBA 2021 Shop Rate Report, which includes never-before-gathered data on charge rates specific to services in engineering, moldmaking and specialty services. 
This report was followed by the AMBA 2021 Best Practices in Employee Recruitment and Retention Playbook, which includes inputs from over 100 mold manufacturers on their best practices in interviewing, training, screening and more. AMBA members can visit www.AMBA.org to learn more and purchase either report.
Wage and Salary Survey Now Open; Business Forecast Survey to Follow
As foreign competition rises, the labor market tightens and profitability wanes, it's more important than ever to understand where a business can hone its competitive edge. Mold manufacturers can gain insight and begin to prepare for 2022 by participating in AMBA's current and upcoming benchmarking, including the annual Wage and Salary Survey (now open to the mold manufacturing industry through Dec. 3, 2021) and the annual Business Forecast Survey, which will launch on Dec. 14, 2021. In both instances, the report
generated from each survey is available at no cost to participating AMBA members; non-member participants will be able to purchase the report at a discounted rate. Visit
www.AMBA.org for more information.
Upcoming: Executive Dialogue and December Roundtable Discussions
The sharing of challenges and best practices continues in December with AMBA's newest event offering, the C-Suite Dialogue. This is a conversation exclusively for C-Suite executives at AMBA member companies that focuses on a single topic or challenge identified by the industry.
Additionally, AMBA will offer its final roundtable discussions of the year to both management-level employees and sales and marketing professionals. In each group, representatives from AMBA member companies will meet on camera to discuss pressing issues in their industries and departments.
Registration for the C-Suite Dialogue, set for December 1, 2021, is limited to the first 15 registrants. The topic for December's dialogue is "Leading and Empowering Employees." The date of the event will be determined by attendee availability. To join, email Rachael Pfenninger at rpfenninger@amba.org. Learn more and register for each roundtable discussion at www.AMBA.org.
Save the Date for AMBA Conference 2022: Shifting the View | May 11-13, 2022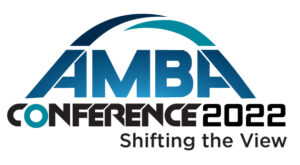 Don't forget to mark the calendar for AMBA Conference 2022, May 11-13, Itasca, Illinois, where attendees will embrace the conference theme of "Shifting the View" by taking a fresh look at how seemingly persistent challenges can become opportunities for growth and positive change. Set to take place at the Westin Chicago Northwest, AMBA Conference 2022 will flip the script on expectations by embracing a variety of breakout formats, paradigm-shifting keynote presentations and numerous opportunities to connect and share best practices with mold building peers. Visit www.ambaconference.com for more details.
Alliance Raises Over 13K at Annual Golf Outing
On Sept. 24, 2021, Alliance Specialties and Laser Sales hosted its annual Charity Golf Outing at Countryside Golf Course in Mundelein, Illinois. The event drew over 100 attendees, who all came together for networking, fun and laughs on the greens, and raised a total of $13,500 to support the iWarriors organization. With these funds, iWarriors will be able to assist severely injured members of all branches of the Armed Forces by providing them with personalized tablets to aid in their return, recovery and reintegration. Learn more at www.alliancelasersales.com.
New Members
Best Tool & Engineering Company, Inc.
34730 Nova Dr.
Clinton Township, MI 48035
Main Contact: Joe Cherluck, president
Email: joe.cherluck@bteplastics.com | Phone: 576.792.6500
Best Tool & Engineering was founded in 1991 and is a family-owned company that takes pride in its work. The company's diverse portfolio includes injection molds, vibration welding, hot plate welding and manufacturing the respective tooling/fixturing needed. Best Tool services the medical, consumer products, automotive, material handling/dunnage and government sectors, and is fully invested in every project.
Bruin Manufacturing
607 North 4th Ave.
Marshalltown, IA 50158
Main Contact: Carolyn Himes, GM/CFO
Email: carolyn@bruinmfg.com | Phone: 641.752.7116
Bruin Manufacturing is a third-generation, custom plastic injection molder founded in 1949. Bruin specializes in automatic, lights-out, hot runner molding in the 25- to 121-ton press range, operating out of two locations. The company also has in-house tooling capabilities and partners with outside tooling sources.
New Partners
HEIDENHAIN Corporation
333 E. State Pkwy.
Schaumburg, IL 60173
Main Contact: Tom Wyatt, marketing director
Email: twyatt@heidenhain.com | Phone: 847.490.1191
Leading in measurement, control and drive system technology, HEIDENHAIN, together with AMO, ETEL, IMT, LTN, NUMERIK JENA, RENCO and RSF, provides products that enable technological advances in the most innovative global industries: machine tools, automation, semiconductors, electronics, metrology, robotics, drive systems, medical technology and more. The development of ever greater accuracy, dynamic performance and process reliability in its products directly improves the performance and efficiency of machines, automation systems and processes.