By Cienna Sorell, writer, The American Mold Builder
Amerimold is back this year at the Donald E. Stephens Convention Center in Rosemont, Illinois. The previously two-day exhibition now has expanded to three days to increase the amount of runtime for the exhibitors and attendees. From Tuesday, September 21 through Thursday, September 23, those involved in the North American moldmaking industry will trade ideas, increase their own knowledge and create new collaborations.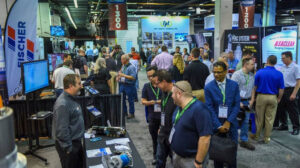 The show schedule begins Tuesday, September 21, with registration opening at 7:30 am and closing at 5:00 pm. Registration will be conducting during this time period on September 22 and 23 as well. The exhibit floor will be open from 9:00 am to 5:00 pm on Tuesday and Wednesday, with exhibit floor hours ending at 3:00 pm on Thursday.
This year, Amerimold will be co-located with the Extrusion Conference and the Molding Conference, and all attendees of those conferences will have access to the Amerimold show floor. This will present the opportunity for discussions on the latest developments in molding alongside technical and business issues common to all types of extrusion. 
Amerimold 2021 will put the entire lifecycle of the mold on display, from the latest technology developments and mold building processes to the equipment, materials, tooling and management techniques that make a shop successful. With more than 100 exhibitors expected, moldbuilders, molders, engineers, designers and technicians can explore equipment and supply offerings to decrease downtime and increase productivity.
Education is a cornerstone of the event, and this year's Amerimold features the free Tech Talk educational series, in-booth technology demonstrations and a one-of-a-kind sourcing component that connects OEMs with tier suppliers. With the focus on designing, building and maintaining molds, topics to be addressed include:
Accessing Data Faster with Visual Search

Applying 3D Printing to Mold Venting

Shorten Maintenance with DLC Coatings on Mold Components

A Look at Intelligent Hot Runners and Adaptive Tooling

Guidelines for Servo-Controlled Mold Functions

Using Automation to Connect Mold Engineering and Manufacturing

Exploring AM Materials for Tooling

And much more

Show management is working closely with the Donald E. Stephens Convention Center, Rosemont Exposition Services and the City of Rosemont to ensure the event is hosted in compliance with CDC & EPA recommendations for attendee safety. Guidelines are subject to change, but currently do not include required masking.
Following is a list of AMBA members and partners exhibiting this year at Amerimold. For more information, visit www.amerimoldexpo.com.
Exhibitor/Booth #
Alliance Specialties 453
American Mold Builders Association 640
B.A. Die Mold Inc. 121
Bales Metal Surface Solutions 125
Braillon Magnetic Systems 529
CAM-TOOL by CGS North America 215
Cimatron 646
Concept Molds, Inc. 339
Custom Mold & Design 706
DME Company 419, M-911
DMS 735
Duro-Chrome Industries 220
EROWA 315
GROB Systems, Inc. 715
HASCO 546
HEIDENHAIN Corp. 447
INCOE Corp. 211
International Mold Steel Inc. 116
Mastip Inc. 119
Meusburger US Inc. 224
MGS Mfg. Group, Inc. 724
Michiana Global Mold/Accu-Mold 340
Minco Tool & Mold, Inc. 320
Mold-Tech-Inc. 634
Oerlikon HRSflow 515
Omego Tool Inc. 221
PCS Company 306
Plastic Engineering & Technical Services Inc. (P.E.T.S.) 241
Precise Tooling Solutions 346
Prodigy Mold & Tool 123
Progressive Components 107, 255
RER Software, Inc. 337
SelfLube 335
Slide Products, Inc. 534
St. Paul Engraving 519
Superior Die Set 613
Swiss Steel USA, Inc. 310
Synventive 331
TST Tooling Software Technology, LLC 407
UNISIG Deep Hole Drilling Systems 425
Vincent Tool Technologies Corp 427
Wepco Plastics 642
Westfall Technik 539
Westminster Tools 217
Wisconsin Engraving Company 347
X-Cell Tool & Mold, Inc. 524 ν