After more than a year apart, AMBA Conference 2021 was the venue for the reunion of the mold building industry. Held in Grand Rapids, Michigan, from June 22 to 24, the event theme was Connections Reimagined!, and what better name than that for a group as tight-knit as American mold builders?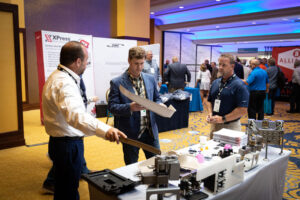 Attendees traveled from 14 different states, with more than 150 tool builders and suppliers to the industry in person and prepared to share their experiences and lessons from the past year. Each had been reminded by the distancing required by the pandemic of the importance of networking and learning more from their fellow colleagues and competitors within the manufacturing industry. Connections Reimagined! 
Troy Nix, AMBA Executive Director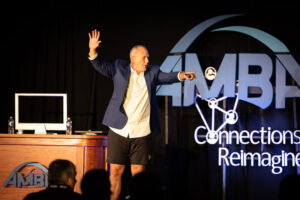 "What's your culture going to look like in the next crisis? Are you going to live through it?" 
2020 proved itself difficult with its endless bad news that required businesses to adapt to a world that had gone virtual. Troy Nix, AMBA executive director, kicked the conference off by poking fun at the endless Zoom calls while wearing gym shorts, a button-down shirt and a blazer in peak pandemic work-from-home fashion.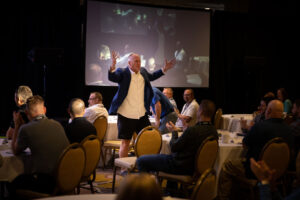 While the presentation started off comedic, Nix spoke from the heart and shared information about working from home – and the impacts on his own staff that he almost missed. Virtual working has allowed people to connect closer in unexpected ways, and it has created new methods and processes of doing things. But operating in times of crisis without consistent face-to-face check ins can impact culture in negative ways – and quickly. In fact, Nix shared that non-thriving business cultures are 10 times more likely to be negatively impacted by crisis than thriving cultures, according to an OC Tanner 2021 Culture Study.
Nix said, "Unhurried moments in times of crisis allow relationships to be generated and knowledge to be gained." He encouraged attendees to step back from the chaos to see what they are missing in the middle of the whirlwind.
Phil Van Hooser, Van Hooser Associates, Inc.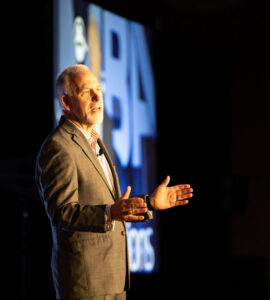 "Knowledge only comes if you're curious." 
According to Keynote Speaker Phil Van Hooser, there are seven traits of effective leaders – seven traits that every leader must have in order to be successful. Leaders must be knowledgeable, engaging, hardworking, decisive, caring, a good listener and honest. 
Van Hooser reminded attendees that people want to be engaged by those who are leading them. Employees want to feel a part of what is happening at their companies, and they want to follow a leader who creates a plan, communicates that plan so employees can apply it and then executes the plan so that employees know their leader is someone who does what he or she says they will do. It's one of the first steps in building trust.
Those who follow these characteristics and incorporate them into their daily activities are proven to be some of the most effective leaders in the industry.
Laurie Harbour, Harbour Results, Inc.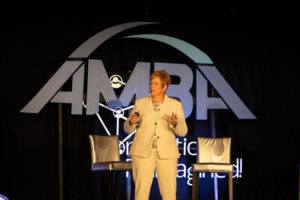 "You don't have time to not do marketing – you need to brand your business now. You don't get new business overnight."
Laurie Harbour, president of Harbour Results, mentored attendees as they shared the internal issues that they face in their businesses while also providing data and exploring top manufacturers' success in the marketplace. Harbour addressed the biggest elephant in any room these days – labor – by encouraging mold builders to hire human resources employees and marketing professionals, as well as the operational and engineering staff they need.
According to Harbour's data, 50% of businesses in the tooling industry have human resources professionals, while only 35% have both marketing and human resources. These individuals help build brands that will stick, company messages that will entice new employees, and hire and train the best team possible.
Ross Bernstein, Sports Author and Speaker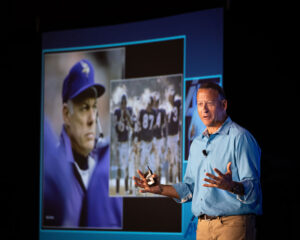 "If you're not really, truly, authentically passionate about what you do, then you might need to think about what you do."
Football season is just beginning, which means super fans, face paint, stadium hot dogs and tailgating are close behind. What exactly does this have to do with business? In the closing keynote, Ross Bernstein shared how champions in sports aren't all that different from those in business.
After interviewing more than 1,000 professional athletes and coaches, Bernstein concluded that professional athletes and businesspeople share similar characteristics when it comes to making decisions on the field of play. In order to become – and remain – successful, peak performers must stay positive during stressful times, learn to adapt and know how to skillfully come out on the other side when the competition is fierce.
John Guzik, The Franklin Partnership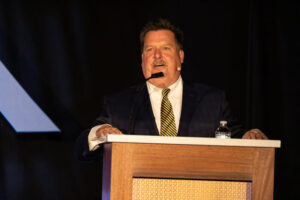 The Franklin Partnership is AMBA's lobbying firm in Washington, D.C., and John Guzik – a founding partner – provided an update on trade, tariffs and taxes, as well as their impact on the industry. Guzik also shared his perspective on the Biden administration's desire to pass legislation in a nonpartisan way, particularly in regard to the infrastructure bill that has now passed the Senate and has been sent to the House, and the opposition the administration likely would run into on both sides of the aisle. The overall message was that mold builders need to be engaged and aware of what's happening at the federal level.
Breakout Sessions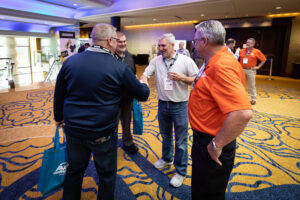 Conference sessions led by members of the mold building community showed the true power of the AMBA network. Leaders in manufacturing facilities shared their experiences and best practices in ISO certification, remote mold validation, additive manufacturing applications in tooling, workflow management, tactical marketing plans and supply chain risks.
Peer-to-Peer Exchanges
When the industry comes together, the industry gets stronger. Peer exchanges happened throughout the event – at networking receptions, throughout the supplier trade fair exhibits and over breakfast. 
The event also featured Peer-to-Peer Roundtable Discussions where attendees were encouraged to discuss topics that are unique to their job functions with others in those same job functions. Industry suppliers jumped into those conversations, too, offering the valuable perspectives of those who see a variety of facilities and operation setups.
The growth of peer-to-peer networks continues beyond the conference event. AMBA members are encouraged to join frequent webinars where these exchanges allow leaders within mold building companies to find new ideas, expand their professional networks and explore new methods of improvement. 
Visit www.amba.org to find peer networking opportunities for Owners/Presidents/CEOs, Operations, Sales and Marketing, and Workforce Development.
Miss the Conference?
AMBA members can purchase session recordings (free for attendees) along with an event recap. For details, email info@amba.org.