By Rachael Pfenninger, director of strategic execution, AMBA
When comparing wage data from 2019 to 2020, more than 70% of jobs in the US mold building industry experienced wage increases in 2020. Across the board, mold manufacturing positions experienced an average of a 7% increase in compensation (approximately $1.41 per hour), according to the most recent Wage and Salary Report published by the American Mold Builders Association.
Now in its tenth year, AMBA's annual Wage and Salary Report analyzes data collected from mold building executives on reported wages of more than 50 different job classifications within mold manufacturing organizations. The 2020/2021 report includes data from over 95 US mold manufacturing companies, representing nearly 4,000 full-time and part-time employees.
Of the 50+ job titles analyzed in this year's report, 40% of the positions revealed a greater than 5% growth in compensation (a rise in 12% over last year). The positions reporting the most significant rises in compensation include inspectors, purchasing agents/buyers, press operators and quality managers – all of which experienced an average of a 30% wage increase over last year's reported data.
New to this annual survey is the addition of the CNC programmer – 5-axis role. Added with insights provided by AMBA mold manufacturing members, this position represents those employees who have received specialized training in 5-axis machines. On average, CNC programmers with specialized 5-axis training receive $1.87 per hour more than CNC programmers without specialized training.
Overall, the significant rise in compensation is promising for the mold manufacturing industry and indicates that it is looking to improve internal operations and job quality now more than ever. However, given that 17% of mold manufacturers reported a current salary freeze due to continuing economic conditions, this trend may falter in the coming months as the COVID-19 pandemic continues.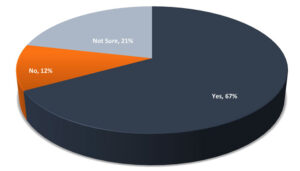 Despite the conditions of COVID-19, the mold manufacturing community continues to report a positive employment forecast. Over the next 12 months, 67% of respondents plan to hire additional employees (a 3% increase when compared to 2019 data), while 12% report no plans to hire new employees in 2021 (no change from last year's data).
The need to find skilled people to fill technical positions continues to significantly outweigh the need to fill administrative and leadership positions. Of the positions that respondents report needing to fill, 82% of the jobs are technically based. Administrative positions make up 12% of open positions, while leadership positions represent only 6% of jobs needing to be filled in 2021.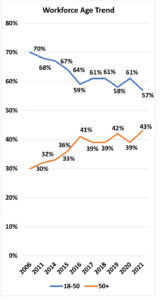 Of all data reported in this year's 2020/2021 AMBA Wage and Salary Report, the most alarming is the continuing workforce age trend. This year, the percentage of employees 50 years or older hit an all-time high of 43%, while the percentage of employees ages 18 to 50 fell to 57% (a drop of 4% from last year's data). Although the arrival and continued stay of the COVID-19 pandemic likely has hindered workforce development efforts – as open houses were canceled, schools were closed, employees were furloughed and businesses were shut down – these data highlight the acute need to continue efforts to attract younger generations of employees and establish a succession plan that can survive an aging workforce.
Although economic times are difficult for many, there may be some opportunities for mold manufacturers to entice new talent to their facilities. For instance, while 75% of this year's respondents report offering merit increases based on performance, less than one-quarter offer across-the-board increases – something that could be considered when the company as a whole succeeds, particularly because younger generations thrive on being a part of the "bigger picture" and the company's overall goals. 
For more information or to purchase the report, visit www.amba.org.