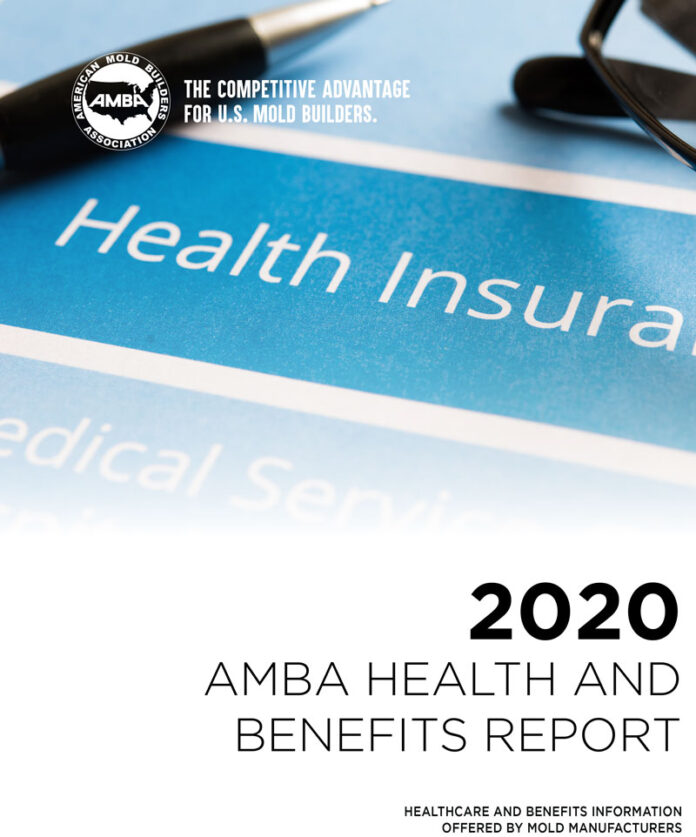 By Rachael Pfenninger, AMBA Project Manager
As health care costs continue to rise and employee participation remains steady, mold manufacturers are more strategic than ever in how they mitigate premium cost and the types of plans and ancillary benefits they offer to employees. With insight provided by AMBA's 2020 Health and Benefits Report, mold manufacturers have an opportunity to benchmark their costs and plan offerings against those of their industry peers. 
According to reported data in the AMBA 2020 Health and Benefits Report, the majority of respondents (97%) currently offer health insurance. Those that do not offer health insurance indicated they were small manufacturers with under $2.5 million in annual sales revenue and fewer than 20 employees.
While more than half of respondents reported an increase of 5% or less, nearly a quarter of respondents indicated an increase of 16% or more. When looking forward toward 2020, many companies anticipated the same – nearly half of surveyed mold manufacturers reported experiencing or anticipating an increase of 6% or higher. (See Charts 1 and 2.)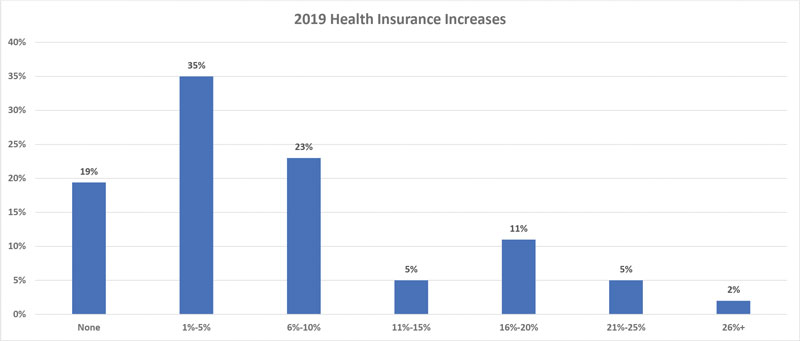 According to a recent article published on Manufacturing.Net1, the cause of rising costs is price, not utilization. Not only are there fewer physicians per capita in the US than in other industrialized countries, but there are fewer hospitals available and higher administrative costs. The US also has higher diagnostic and procedure costs – in fact, the US does more MRI and CT scans than any other country.
Other contributing factors include the amount the US spends per capita on pharmaceuticals (this number is nearly double what other industrialized countries spend) and the role insurance companies play in US healthcare. Because they have no incentive to reduce their costs, insurance companies simply mark up their prices every year to maintain their profit margin.
Participation and cost
From early January to mid-February in 2020, AMBA surveyed 66 US mold manufacturers from 19 states on their offered healthcare plans and benefits.
Data in the final report represented more than 3,200 full-time employees, 2,300 of whom are enrolled in their company's healthcare plan (an average of 73%). Companies between $2.5M and $4.9M reported the average highest participation.
Overall, survey respondents reported spending approximately $390,000 annually to offer healthcare and ancillary benefits to their employees – an average of $12,793 per participating employee per year (PEPY). Of the surveyed annual sales ranges, companies under $2.5M incurred the highest cost per employee. These companies reported paying over $13K per participating employee per year. This annual sales range also reported the lowest percentage of participating employees.
Trending data also demonstrated that the average healthcare cost per employee rose for companies reporting higher percentages of employees aged 50 or older, while companies with high percentages of employees 30 or younger tended to pay less, on average, per employee.
Tactics to help control premiums
In order to help mitigate premium cost, some mold builders have implemented strategic offerings. The most commonly reported practices included moving to a high-deductible plan, offering health savings accounts, shifting premiums to employees, offering a Section 125 plan and offering flexible spending accounts. Other tactics employed by respondents included incentive-based wellness programs, gym club reimbursements, offering multiple plan options, reduced employer HSA contributions and moving to a self-funded insurance plan. (See Chart 3.)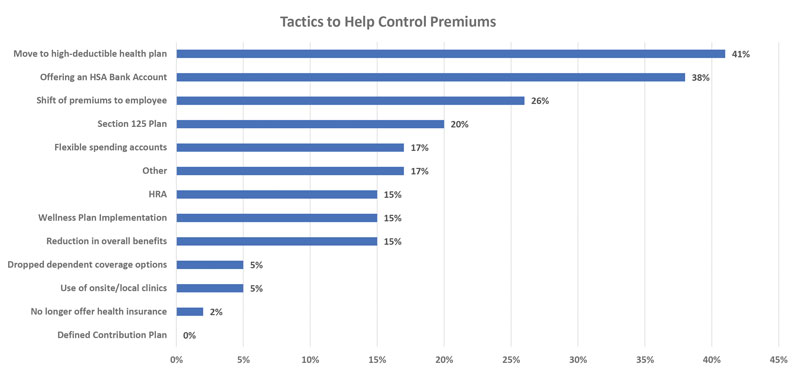 Health plans offered to employees
The most common plan type reported by respondents was a preferred provider organization (PPO) plan, with 54% utilizing this plan type, followed by 45% that offer a high deductible health plan (HDHP). No mold manufacturer reported offering a point of service (POS) plan. Of the plans that were offered, 76% are fully insured – only 24% of the plans offered are self-insured. Larger organizations are more likely to opt for self-insured plans than smaller manufacturers, with 40% of companies over $20M in revenue utilizing this option. (This is 20% to 40% higher than any other revenue range.)
Ancillary benefits and retirement programs
In addition to health insurance, many surveyed respondents offered ancillary benefits and retirement programs as well. For instance, 81% and 64% of mold manufacturers offer dental and vision benefits, respectively. Respondents also offered short-term disability (74%) and long-term disability (57%) benefits. However, while 87% additionally offered employee-specific life insurance, less than half of this survey's respondents (45%) offered dependent-specific life insurance.
In addition to opting to provide health and other medical coverage, approximately nine out of 10 surveyed respondents also offered a retirement plan. The most common plan type offered to employees is a 401(k), which 72% of manufacturers provide. Other retirement programs offered included a SIMPLE IRA (18%) and a Profit-Sharing Plan or SEP (2%).
Additional programs offered
Respondents also were given the opportunity to share other benefits provided to employees. By far, the most common additional offering named was tuition reimbursement, which 65% of mold manufacturers currently offer. This benefit was followed by profit sharing (39%), flex time (24%), company loans (17%) and employee assistance programs (11%).
To purchase a copy of the complete AMBA 2020 Health and Benefits Report, visit amba.org/publications/.
References
McCann, David. (2019, Nov 4). Companies Move to Limit Employees' Health Costs. CFO.com. Retrieved from https://www.cfo.com/health-benefits/2019/11/companies-move-to-limit-employees-health-costs/