By Cynthia Kustush, contributing writer
The American Mold Builder
Mold building shops are facing a lot of pressures these days – both internal and external. Shortened delivery times, continued pricing pressure from Chinese mold suppliers, new employees without significant shop floor experience replacing retiring seasoned employees and reduced tooling demand in certain industries have combined to shrink profits and increase stress levels.
Software designers are working to bring more advanced solutions to market and help fill the gap so tool builders can more accurately design and develop molds. The American Mold Builder surveyed a few CAD/CAM supplier companies to find out what specific trends they are seeing, how their products can fulfill moldmakers' needs and what's new for 2020.
CAD/CAM trends and developments
According to Ben Mund, senior market analyst for CNC Software Inc., Tolland, Connecticut, which owns Mastercam software, higher productivity is what moldmakers need most from their CAD and CAM software products. "They want software that can give them the most efficient way to remove bulk material to near net shape. That level of productivity extends through the entire process, driving trends we see in CAD/CAM software development: Faster on the machine, faster off the machine and surface finishes that are as high as possible," he said.
Mund says management teams of Mastercam customer shops are increasingly discussing how they can advance connectivity through the shop. "They want to ensure that their software, machines and other shop floor processes can talk to one another," he said. "For example, with CAM software, you'll find connections to tooling libraries, inspection, shop monitoring and a variety of other items. It's all part of making sure shops are ready for the shift to digital manufacturing."
Mastercam is working to address both fronts. On the programming side, Mund said the company continues to aggressively develop toolpath techniques that optimize both bulk material removal for mold roughing and high-precision surface finishing. "In both cases, we view productivity improvement as some combination of both higher precision and faster machine time," he explained. "Our expansion of Mastercam's Dynamic Motion and Accelerated Finishing toolpaths directly targets these areas."
For example, Dynamic Motion constantly changes the amount of engagement of the tool in the cut to ensure it is continually removing material using the optimal chip load for the cutting condition. Mund said the resulting time savings in near-net mold roughing can reach 75%. The recently introduced NC programming function, called Accelerated Finishing, ensures shops use new shaped cutting tools the way they are intended to be used. "We work closely with tool manufacturers to develop cutting strategies aimed at oval form cutters, barrel mills, taper cutters, lens–shaped cutters and so on that, when programmed correctly, can enable small-diameter tools to have a large, effective cutting radius."
For manufacturing connectivity, Mastercam uses a combination of close partnerships with industry leaders in software, hardware and tooling. "Our partnerships provide a variety of tools critical to mold manufacturers that expand beyond CAM. Examples include probing for precision mold measurement and CAD tools for mold modeling," Mund said.
"While moldmakers always want to deliver high-quality tools of any complexity and size in record time, they are challenged by the growing demand for more complex parts and better quality," said Roy Sterenthal, vice president, product management, 3D Systems, Rock Hill, South Carolina, developers of Cimatron CAD/CAM for tooling. "In addition, the design to manufacturing process is increasing in complexity as new technologies are being introduced to complement traditional processes – increasing the need to better manage and track the overall workflow."
With growing demand for more complex molded parts, many moldmakers in the US are adding 5-axis (simultaneous) capabilities to their machining arsenals. "Even if shops do not currently have 5-axis machines, they are thinking about adding one in the future," said Ryan Weekes, B.B.A., president of CGS North America,  based in Oldcastle, Ontario, developers of CAM-TOOL software. Weekes added that automation also is becoming more and more prevalent in shops looking to let their software do as much of the work as possible in order to eliminate human error and get consistent results uploaded to the machines.
Weekes says CGS works continually to make creating 5-axis toolpath programming easier, and the company recently improved on its CAM-TOOL Auto Five-Axis function, which allows users to take a 3-axis toolpath and convert it into a full 5-axis toolpath with the click of a button. "Most software products require a learning curve and the setting up of parameters," he said. "Because of this, a lot of programmers are scared to make the switch to 5-axis because they think it will be so difficult to adapt to. With CAM-TOOL, you put in the angle at which you want your 5-axis toolpath to be and it will apply it to the 3-axis program. You don't have to think about it, and you don't have to go back and create a whole separate toolpath; just let the software do the work. This is a huge time saver and also very helpful for more inexperienced programmers."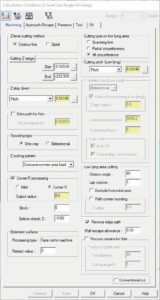 CGS also is making toolpath generation more automated by using templates, Weekes says. His customers are setting up jobs to run exactly the way they want using templates. The benefit is they can store templates from previous jobs and use them as a starting point for more, similar jobs, creating a library of time-saving resources. "That way a less experienced operator can come in and run more complex machining jobs without having to know what a more experienced machinist would do," he explained. "The key is to make sure the templates are set up exactly right and then build on that with every new job by creating more templates. It's a structured process that drives efficiencies and desired results."
Alan Levine, managing director, OPEN MIND Technologies USA, Inc., in Needham, Massachussets, developers of hyperMILL CAM software as well as its "CAD for CAM" solution called hyperCAD-S, concurs with Weekes, saying, "The increased machining complexity, along with its many benefits, is becoming more and more important in this technologically demanding industry. Process improvements in milling also play an increasingly important role in tool and moldmaking. Due to the machining results achieved by milling, in terms of accuracy and surface quality, grinding or polishing is by and large no longer necessary. This reduces throughput times and increases productivity."
Levine added that in order to produce tools that are efficient and stable in production in the long term, tool and mold makers should use state-of-the-art machines, cutters and CAM software whenever possible. "With dimensional tolerances often under 0.0002 inch and surface qualities for visible parts under 40 micro-inch Ra – as well as the challenge to achieve tolerances in the shortest possible time – the need for sophisticated machining strategies is significant," he said. "Protecting cutters and machines becomes particularly obvious when we consider that the hardness of the materials used for forming and injection molding tools is rarely less than 60 HRC. CAM software must provide high process reliability through robust toolpaths, collision checking and simulations. Highly reliable processes are a prerequisite for night and weekend shifts with reduced manpower."
Answering these needs, OPEN MIND Technologies uses standardization and automation in its software's functionality by ensuring consistent workflows via data connection to CAD systems at the beginning of the workflow and its own post-processors at the end. But functions for accelerating programming also are important, Levine said. For example, OPEN MIND's hyperMILL CAM software offers many automation options, including feature and macro technology. "In addition to the assigned geometry, production-relevant information such as the surface, depth, or starting point is automatically recognized and transferred to the CAM system. Processing sequences, and thus programming know-how, are stored in macros and a macro database for easy access," he explained. "Macro technology allows users to complete NC programming in record time. This includes, for example, prismatic mold plates with all of their 2.5D geometries and many holes for cooling."
On the CAD side, Levine said that with hyperCAD-S, hyperMILL users have perfectly supported CAD for CAM functionality. For example, to ensure no seams are visible on the molded part, the parting plane between the mold plate on the nozzle and the clamping side must be completely sealed during injection molding. "This requires sharp, intact edges," he added. "hyperMILL provides the automatic face extension function to ensure this, allowing the periphery of selected milling surfaces to be extended during programming so it is no longer necessary to modify the milling surfaces in the CAD system beforehand. This saves programming time and achieves a better milling result."
OPEN MIND is implementing more functions for processing CAD data for further process optimization in CAM programming. "The hyperCAD-S function called Global Fitting is directly integrated into the CAM strategy in 5-axis tangent machining. This function allows multiple faces to be joined into one face with a defined ISO orientation," Levine said.
CAD/CAM meets additive technology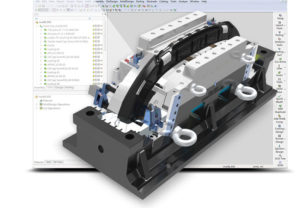 Both OPEN MIND and 3D Systems noted the growing acceptance and use of additive manufacturing (AM) processes in moldmaking, and each company is looking to assist with this advancing trend.
"Integrating new technologies such as additive manufacturing (AM) into the manufacturing workflow helps moldmakers meet increased demand for improved part quality," 3D Systems' Sterenthal said. "For example, cooling is a critical process for plastic injection molds, affecting both cycle time and final part quality. Ideally, injection mold cooling channels would follow – or conform – to a part's geometry and maintain a uniform distance from the surface throughout the entire part. Yet, when it comes to complex parts, traditional drilling and milling methods cannot produce these optimized conformal cooling channels." As a result, he explained, the cooling process is suboptimal and may lead to longer cycle times, warpage and sink marks on the part. By using AM to address these challenges, mold components with conformal cooling channels can be produced resulting in faster cycle times, better part quality and a more efficient cooling process.
To help facilitate customers' use of these advantages, Sterenthal said 3D Systems leveraged its expertise in AM, mold design and subtractive manufacturing technologies to offer a complete end-to-end solution for conformal cooling design and production consisting of software, printers, materials and even on-demand manufacturing services for those that do not own a printer. "The solution enables moldmakers to detect areas that would benefit from conformal cooling channels, design the mold with an optimal combination of conventional and conformal cooling channels using our software solutions, produce the component with our metal 3D printers and materials and reap the time, cost and productivity benefits of conformal cooling," he said.
OPEN MIND's Levine said, "Additive manufacturing processes will gain in importance both in prototype construction and for functional components in tools." At EMO last year, OPEN MIND introduced its new hyperMILL ADDITIVE Manufacturing solution as an option complementing its hyperMILL CAD/CAM suite of products. According to the company, hyperMILL® ADDITIVE Manufacturing offers an array of flexible options for Directed Energy Deposition processes (DED) and Wire Arc Additive Manufacturing (WAAM) in terms of highly complex 5-axis simultaneous processing. Both laser-based powder nozzle machining heads and wire arc additive manufacturing can be controlled using the software from OPEN MIND for selective material deposition, as well as programmed and automatically simulated for collision avoidance. Moreover, additive and subtractive manufacturing are combined in one single machine tool for hybrid manufacturing, including true-to-detail application and removal simulation as well as stock tracking between the individual machining steps.
Important considerations before buying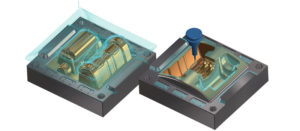 Asked what key considerations moldmaking companies should keep in mind when shopping for the right CAD/CAM software, Mastercam's Mund said, "It starts with CAD. Shops have an increasing need for specialty CAD tools that help them turn a concept or part model into a production mold. This means design tools for model prep, solid model repair, gap filling, fixture creation and highly focused needs like electrodes, core/cavity model separation and parting line creation – all of the things that should happen before a tool touches metal."
CAM-TOOL's Weekes said 3D accuracy and customer support is key. "Some customers don't think they need to focus on surface finish because they don't make the highest precision part. But the increased accuracy and surface finish will reduce the amount of time needed for spotting and polishing, which are very labor intensive and costly," he explained. "Also, working with a vendor that has a technical support staff who understand the moldmaking process helps ensure that the correct toolpaths are being used for the job."
3D Systems' Sterenthal added that, while any software solution should include the right design, analysis, simulation and NC programming capabilities, there are five main elements that any mold maker should look for when purchasing a new software solution or replacing any existing solution. "These include having a truly integrated CAD/CAM solution with a single interface that spans from design to manufacturing, eliminating data translation and file usage errors, among other issues, and helps reduce manufacturing time and costs," he said. Other important aspects to consider are dedicated software for tooling – including a solution with functionality specific to mold design and manufacturing; cutting-edge technology and innovation (Is the vendor committed to providing regular updates with new features that integrate into existing workflows for added value?); ease of use and smooth implementation – an intuitive product that is easy to learn and includes an interface with mold-specific tools and automation that make mold design and NC programming easier. Finally, Sterenthal says the CAD/CAM investment should pay for itself by improving efficiencies and reducing the time needed to design and manufacture the mold.
What to Look For in 2020
"In 2020, 3D Systems intends to accelerate additive manufacturing adoption within the traditional moldmaking process through additional enhancements to our portfolio," Sterenthal said. "We envision this including features that help reduce programming and machining time, as well as improved data and workflow management tools to better control, track and manage the complete manufacturing workflow."
OPEN MIND has developed new "corner rest machining" strategies for 3-axis and 5-axis techniques that provide a significant benefit in mold and die applications, Levine said. The process includes machining of corners largely with vertical stroking motions, then with traditional z-level steps to blend with the vertical section and the lower floor area. Additionally, the top section has an automatic surface extension to enable the production of sharp edges.
Mastercam's CAD for CAM prep tools will continue to be a focus, according to Mund. "In our upcoming release, we deliver a suite of new tools to help moldmakers quickly and cleanly fix models, patch holes and correct errors in CAD models they're given," he said.
"In 2020, you will see continued improvement in 5-axis functions, as well as increased focus on support," CGS's Weekes explained. "Our team is growing to help support all the new functions we are developing."
The software solutions mentioned here have additional components, allowing these providers to meet needs for design, simulation, data collection and more. Watch for more on software products for moldmaking, including job tracking and costing systems, in a future issue of The American Mold Builder.