The American Mold Builder
AMBA Conference 2021 Sets New Dates
June 22-24, 2021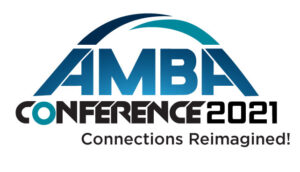 AMBA is pleased to announce new dates have been set for its Conference 2021: Connections Reimagined! Originally slated for February 17-19, 2021, in Grand Rapids, Michigan, the 2021 conference now will take place June 22-24 in the same location: Amway Grand Plaza Hotel in Grand Rapids. According to AMBA Managing Director Kym Conis, the strategic move was made in direct response to member feedback that indicated a strong desire to meet "responsibly and safely" in person, just as soon as the pandemic will allow.
"State- and company-wide travel restrictions, self-quarantine requirements and the absence of a vaccine have made it impossible to hold a February conference in a manner that is safe and responsible," stated Conis. "We are hopeful that the postponement will enable our members to connect in person with a renewed sense of purpose and support as we tackle these tumultuous times together as an industry!"
Stay tuned for more information at AMBA.org/conference.
Plan for 2021 with AMBA Benchmarking Reports
Business Forecast Survey Launched
AMBA has launched its annual Business Forecast Survey, which gathers industry-wide data from mold builders throughout the US. The final report will include data such as sales and profits, tariff updates, quoting activity, 2021 forecasting, anticipated sales trends and more. To complete the survey and receive a free copy of the final report, visit AMBA.org/resources/open-surveys.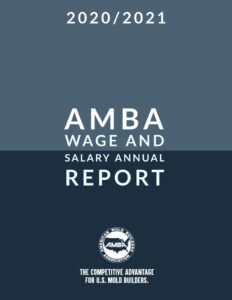 Wage and Salary Report Now Available
Begin planning for 2021 with AMBA's recently released Wage and Salary Report. Newly shortened to focus entirely on more than 50 job functions in the mold building industry, this report provides mold builders with the insight needed to compensate employees and compete in the marketplace. Visit AMBA.org/publications/browse to purchase a copy of the final report and other AMBA business resources.
New Webinar – Building a Foundation: Buy-In, Accountability and Empowerment
Dec. 9, 12-1PM EST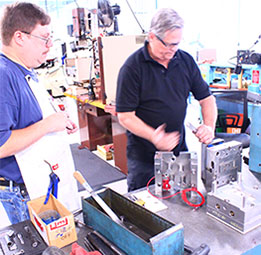 Join Paul Thal and David Kachoui of Thal Precision Industries, Clark, New Jersey, as they detail the company's powerful journey to build a culture of continuous improvement. Working alongside each other to build a foundation of mentorship and a safe environment for all employees to provide feedback, Thal Precision has realized an ROI consisting of improved accountability, more open lines of communication and efficient task distribution. During this presentation (one of the many highlights of AMBA's recent Continuous Improvement Virtual Forum), attendees will discover the tools and resources Thal Precision utilized to achieve its goals, with time for peer-to-peer discussion after the presentation. To register, visit AMBA.org/events. This is a members-only event.
Preparing for 2021: Business Virtual Roundtable Discussion
Dec. 16, 2020; 12-1PM EST
During this business roundtable discussion, business leaders will discuss the challenges they continue to face and those they see up ahead in 2021. Potential questions might include:
What investments are others making to give their company a competitive edge over the next 12 months?
How are peers managing the budgeting and forecasting process?
What activities are industry professionals prepared to discontinue in 2021? Are there areas where leaders are investing more, compared to years past?
What new communication technologies are being employed to engage customers and solicit new customers?
This facilitated session will allow AMBA members to participate in a Q&A with their peers, with legal counsel from Benesch Law online to provide legal guidance and insight as needed. To register, visit AMBA.org/events.
The Franklin Partnership: BiWeekly Updates, Grants Access and More

One of AMBA's many benefits includes its access to firms like The Franklin Partnership, a bipartisan lobbying firm located in Washington, D.C. In addition to advocating on behalf of the AMBA, its members and the mold manufacturing industry, The Franklin Partnership provides numerous other benefits to AMBA members, including:
A biweekly update that reviews timely information related to PPP loan legislation, workplace guidelines, OSHA guidance, CDC guidance and many other topics
Business and workplace guidance
State and county closures
Statewide and national grant availability
Legislative updates (past recordings available in the AMBA Webinar Archives)
For more information, email the AMBA staff at info@amba.org.
AMBA Members Beat Import Competition with Project Funding

Trade Adjustment Assistance for Firms (TAAF) is the only federal program specifically designed to help American manufacturers that have been hurt by foreign competition. The federal TAAF program can help qualified manufacturers with up to $75,000 in matching funds to help implement critical business improvements.
The Great Lakes Trade Adjustment Assistance Center (GLTAAC) administers this program in Michigan, Indiana and Ohio. However, members in other states also have access to programs that are similarly funded through the US Economic Development Administration. Funds can be used for projects related to:
Lead generation
Sales training
Website development
Productivity improvement
Lean manufacturing
ISO/other certification
Management training
For more information, email the AMBA staff at info@amba.org.
Meet the Mentor: A Leadership Track for AMBA Emerging Leaders
Discuss operational leadership, communication challenges, problem-solving strategies and more in the newest program offered by the AMBA Emerging Leaders Network – "Meet the Mentor – A Leadership Track." Each month, a committed group of AMBA's up-and-coming professionals will hear from seasoned industry professionals, who will provide insight into a core challenge previously identified by today's emerging leaders. After hearing each mentor's insights, challenges and recommendations, attendees will explore the challenge and potential solutions in their own facilities and then come back together for follow-up peer-to-peer discussion.  Core challenges will be identified in advance by session attendees and will vary month-to-month. Sessions will begin February 9th and will run bi-weekly through the month of May. Members: No cost. This is series is available to 40-and-under AMBA members. Register at AMBA.org/Events.
NEW PARTNERS
Kruse Training
Torsten Kruse, President | 239.353.6468
Kruse Training is an online educational program for injection molding part designers, mold designers and process engineers. The company's state-of-the-art online knowledge and training solution uses 3D CAE process simulation technology to demonstrate cause-and-effect behavior of molding. This interactive training program illustrates how "The Circle of Knowledge" between injection molding engineers works in the real world.