The American Mold Builder
AMBA Launches Virtual Forum: The Cultural Application
of Continuous Improvement
November 4-5, 2020 | 10AM – 3PM ET
While economic uncertainty introduces stress and forces change, it also presents a unique opportunity for business leaders to renew their focus on the application and evaluation of continuous improvement in their facilities. Through incremental process improvement and reduction of waste, manufacturers can increase their output and efficiencies, while decreasing their footprint in an ever-increasingly competitive global market.
During the AMBA's upcoming virtual forum, "The Cultural Application of Continuous Improvement," attendees will hear case studies, presentations and real-world examples of continuous improvement and the ROI achieved. Programming will include peer-to-peer interactions, best-in-class panel discussions and expert keynote presentations. Learn more and register at AMBA.org/Events. This is a members-only event.
Emerging Professionals Explore Process Improvement during Upcoming Series

Industry knowledge meets critical thinking in the newest series offered by the AMBA's Emerging Leaders Network: Get Lean – A Project-Based Application. During this multiple-part series,  attendees will be coached through the "why" and "how" of quality principles, problem-solving/process improvement methodologies and the application of lean manufacturing principles.
The series will include multiple 45-minute sessions and will address a wide variety of session topics, focused specifically on problem solving and process improvement approaches. Each session will include the opportunity for attendees to practically apply these principles within their own facilities.
Cost: $99/person. Includes all session curriculum, instruction and project feedback and review. Learn more and register at AMBA.org/Events.
New Format Introduced for AMBA Roundtable Discussions
AMBA continues to offer its next series of roundtable discussions specific to current sales and marketing challenges, as well as continuing business challenges. Although the intent of the calls – to share common challenges with one another and learn best practices from peers – remains the same, participants now will kick off the call with a new, small-group format, followed by a larger group discussion. Visit AMBA.org/Events for upcoming session dates and further details.
New Report Available: R&D Tax Credit Use in Mold Manufacturing
As income taxes continue to rise, it is important for mold manufacturers to identify areas where they can reduce their overall tax burden to maintain profits and remain competitive in today's global environment. With this in mind, AMBA's benchmarking team has released its most recent report, R&D Tax Credit Use in Mold Manufacturing, which outlines the frequency with which this credit is claimed (correlated by company size and revenue), the types of qualifying claims that are made and the under-utilized tax incentive opportunities that exist for mold manufacturers. The report is complemented with insights from Michael Devereux, CPA, CMP of Mueller Prost, a leading authority on use and application of the R&D tax credit. To learn more and purchase the report, visit AMBA.org/publications.
COVID-19 Resource Hub Continues to Offer Timely Information
No matter where business is today, the AMBA COVID-19 Resource Hub continues to be the industry's premier resource for up-to-date information and data. Current areas of interest include:
Trending data via the AMBA Industry Pulse Survey

State-by-state reopening guidelines and restrictions

Manufacturing checklist, toolkits and workplace testing guides (provided by The Franklin Partnership)

Partner resources from Benesch Law, Mueller Prost and more

COVID-19-related state and national grant opportunities

Government resources, including the DOL FFCRA Eligibility Calculator
The AMBA COVID-19 Hub is open to all industry professionals. To access the hub, visit AMBA.org.
Impact the Bottom Line with AMBA Webinars
Lead Generation and Marketing Strategy in a Virtual World: Tactical "To-Dos"
September 23, 2020 | 11AM ET
As all mold builders navigate the second half of the year in the COVID-19 environment, many are realizing the need to shake up their lead generation and marketing strategies, but are struggling to understand how to make personal, meaningful connections when virtual meetings are the new norm. Join Shelly Otenbaker, president at Waypoint Communications, as she shares tactical, immediately actionable "to-dos." The second half of her presentation will allow for attendees to share situational challenges where Otenbaker will provide case-by-case insights and practical implementation examples.
2020 Race for the White House: Politics, Outcomes and Trade
October 27, 2020 | 12PM ET
The outcome of the presidency especially will have a significant impact on manufacturing in America and how the US approaches China, trade and other challenges. Join AMBA's lobbyist in Washington, DC, Omar Nashashibi withThe Franklin Partnership, as he provides an insider's insights into the race for the White House, potential Democratic control of the US Senate, Nancy Pelosi's potential role as Speaker of the US House of Representatives for the next two years and the impact of all outcomes on manufacturing and mold manufacturers in particular.
Register for both events at AMBA.org.
Environmental Health and Safety Summit Goes Virtual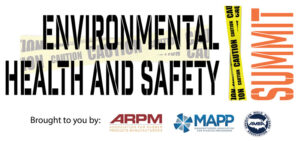 The Environmental Health and Safety (EHS) Summit, November 11 and 12, is an opportunity for business leaders to join one another in a virtual environment and share best leadership and safety practices with other industry professionals. This one-of-a-kind experience provides implementable ideas that manufacturers can immediately introduce to their facilities. Potential topics this year include maintaining SHS sheets, OSHA "sticky points," autonomous robots and automation safety, the Waste Reduction Policy Act and more.
Learn more and register now at AMBA.org/Events.
MEMBERS
Vector Tool & Engineering
Jake Chambers, Sales Engineer | 816.966.1901
Since 1995, Vector Tool & Engineering has been a leader of plastic injection mold manufacturing by designing and manufacturing high-quality molds for the plastics industry. It serves various markets, including automotive, medical, industrial, caps and closures, lawn and garden, home appliance and pet care. Vector relies on quality tools, on-time delivery, advanced technology and quality-driven employees to push the industry boundaries.
Heritage Mold
Bennet Franzen | 815.397.1117
Heritage Mold, Inc., was founded in 1978 and designs and manufactures high-quality, plastic injection molds in the small- to medium-size range. The company prides itself on its strict adherence to delivery schedules, offers prototype services and serves the automotive, consumer products, electrical, hobby, personal care and telecommunication industries.
Trifecta Tool & Engineering, LLC
Bret West, Engineering Manager | 937.291.0933
With 40+ years of experience, Trifecta Tool & Engineering has the knowledge, skill and wisdom to produce high-quality solutions for its customers. The company designs and builds multi-cavity injection molds for different industries, including aerospace, automotive, caps and closures, consumer products, electrical, medical, military, toys and more. Trifecta Tool is the first, second and third choice for tooling and machining solutions.
PARTNERS
PUNCH INDUSTRY USA
Cheryl Richardson, Sales | 630.625.8080
PUNCH INDUSTRY CO., LTD., is the American subsidiary of a mold and die components manufacturer in Tokyo, Japan. The company offers high-quality and precision metric standard mold and die components with exceptional surface finish, as well as custom-made round and special shaped cores, core pins, ejectors, sleeves and punches made per print. 
St. Paul Engraving, Inc.
John Seiberlich, President | 651.462.9356
St. Paul Engraving, Inc., was established in 1976 to serve the mold and die industry. The company's services include mold texturing / graining, engraving, tool repair and polishing. As one of the industry's growing leaders utilizing the latest technology, St. Paul Engraving is committed to quality, customer service and unparalleled lead times.