The American Mold Builder
AMBA Emerging Leaders Launch New Workshop Series
The AMBA Emerging Leaders Network, alongside the Manufacturers Association for Plastics Processors (MAPP) and the Association for Rubber Products Manufacturers (ARPM) young professional groups, is launching a new workshop series: Virtual Ignition – Lighting Your Path to Leadership.
During these monthly workshops, the associations will host a series of speakers, facilitators and exchanges where young professionals and those new to the industry will explore how to lead through an environment of change and uncertainty. By connecting, sharing and learning with one another, these future leaders will establish their "lights" of leadership, empowering them to embrace new opportunities along their own paths and strengthening their ability to light the way for others. All workshops will include live discussions during or after each presentation. To register, visit AMBA.org/Events.
Benchmarking: Health and Benefits Report Now Available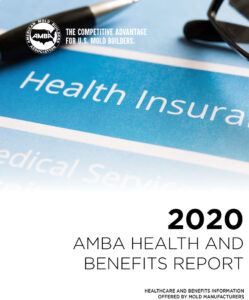 For the first time, AMBA has published a stand-alone report solely focused on health and benefits plan details offered by US mold manufacturers. Representing more than 3,000 participating employees, this report includes the following information:
Types of health plans offered

Cost of offering employee benefits

Plans and correlating contributions

Ancillary benefits

Retirement plans
Cost for the report is $89 for members; $189 for nonmembers. Download the report at https://amba.org/publications/browse/.
AMBA COVID-19 'Hub' Provides Valuable Resources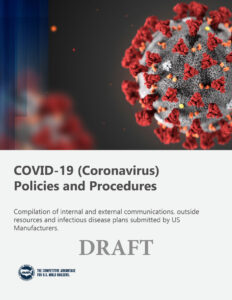 In face of the changing conditions surrounding COVID-19, AMBA has continued to gather and share pandemic-related resources, including webinar and roundtable opportunities, benchmarking compilations, partner offerings and up-to-date government resources.
Benchmarking Compilations
AMBA has gathered timely, peer-driven information to help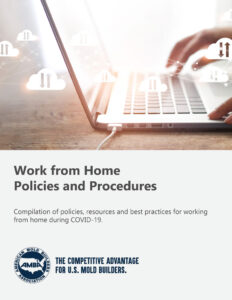 members make the best decisions during the COVID-19 period of uncertainty. Related benchmarking includes the following:
COVID-19 Policies and Procedures

Work from Home Policies and Procedures

Policies and Procedures When an Employee Tests Positive for COVID-19
COVID-19 – Continuing Conversations with AMBA Members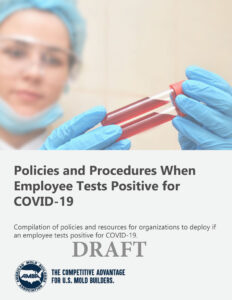 During the ever-changing landscape of COVID-19, the AMBA identified a growing need to connect its members to discuss emerging business challenges. To facilitate the sharing of challenges, best practices, solutions and legal resources, the AMBA organized a series of weekly roundtable discussions. Visit http://amba.org/events/ for details on upcoming roundtable discussions.
Pulse Surveys Take Temperature of Mold Building Industry


AMBA has launched periodic Pulse Surveys to give business leaders insight into the state of the mold building industry during the COVID-19 pandemic. This short, one-minute survey takes the pulse of business operations and asks questions that include the following information:
Operating capacity

Staffing levels

Supply chain issues

Forecasting

Status of PPP loan approval
To see the results of these surveys and participate, visit the AMBA COVID-19 Resource Hub at https://amba.org/covid-19-updates-and-resources/.
List of Local, Regional and National Grants Now Available
Through its partnership with The Franklin Partnership, AMBA members now can access a comprehensive list of state, regional and national grants and tax incentives that are available. These sources of financial support address a variety of areas, including the following:
Job readiness and training

Workforce development

Economic growth (local, regional and national)

Competitiveness in international markets

Apprenticeship programs

STEM activities

Public infrastructure

Community development

Workers re-entering the labor market (i.e., veterans, disabled individuals, etc.)
To download the full list, AMBA members can visit AMBA.org/resources/.
AMBA Annual Meeting Goes Virtual
May 27, 2020 12-1pm ET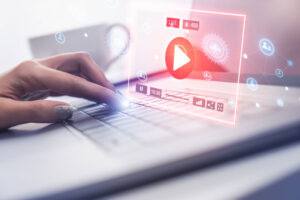 This year, the AMBA Annual Meeting – normally held during the AMBA Conference – will be hosted virtually, giving all AMBA members an opportunity to attend. During the meeting, the state of the AMBA will be covered, including the following information:
AMBA overview: Financials, membership and strategic direction

Update on US/China trade relationship

Current temperature of mold building industry and next steps to recovery
Cost: Free. To attend, register at AMBA.org/Events/. This is a members-only event.
New Board Members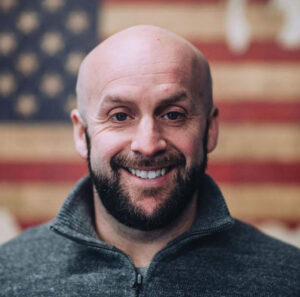 Charles Daniels has been the CFO of Wepco Plastics (Middlefield, Connecticut), since 2013. His prior experience includes owning a construction company, and leadership roles in large and small companies in a variety of industries, including energy, hospitality and finance. Daniels has a master's degree in business administration with a concentration in accounting and a bachelor's degree in hospitality management. In 2017, he was awarded CFO of the Year by the Hartford Business Journal. Wepco Plastics also was a recipient of the AMBA 2018 Educational Outreach Award. Daniels is active in workforce development, manufacturing industry groups, leadership at his church, town government and is a youth mentor. In 2017, he became a certified management accountant and, in 2018, a certified continuous improvement champion. Daniels is excited to join the AMBA Board of Directors and stated, "I am looking forward to the opportunity to develop new relationships and make an impact on the mold building industry."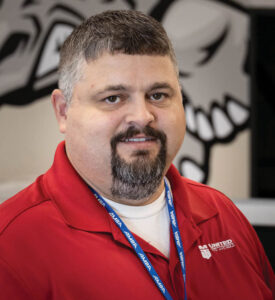 Chad LaMance is currently the COO at United Tool and Mold Inc. (UTM) in Liberty, South Carolina, and Rainbow City, Alabama. UTM's 75 employees focus on repair and engineering changes for the plastics industry. LaMance started at UTM in 1996 as a high school apprentice and was able to grow with UTM through various roles, including CNC operation and programming, engineering and design, and project management. He serves on the advisory board for the local technical schools to help promote the skilled trades. According to LaMance, over the years, he has attended several AMBA events and met a lot of great people, providing a lot of opportunities to learn from experiences of others. "I look forward to joining the AMBA Board to not only continue learning from peers in our industry, but to give back and contribute, where I can, to keep the AMBA moving forward," said LaMance. "Some of the most valuable resources that we use regularly at UTM are because of connections we have made through the AMBA and the great things they do for our industry."
MEMBERS
Tessy Plastics, LLC
Donnie Thompson, Project Engineer | 434.385.5700
Tessy Plastics, LLC, is a premier custom injection molder with an in-house mold shop. The company's capabilities include design and build of multi-cavity injection molds, mold repair, engineering changes and maintenance for injection molds. Tessy Plastics serves the medical, automotive, aerospace, military and consumer products markets and is AS9100, ISO 9001:2015 certified, ITAR compliant and FDA approved.
Zero Tolerance, LLC
Steve Michon, Owner | 586.630.3032
Zero Tolerance, LLC, is a growing plastic injection mold manufacturer located in Fraser, Michigan, which serves the medical, automotive, consumer products and defense industries. Through the company's continuous investments in leading-edge software and high-performance machinery and tooling, Zero Tolerance's experienced team provides high-precision molds to exact tolerances that are dependable, easy to maintain and interchangeable.
Alchemy Precision
Leo Rivas, Engineering Manager | 847.829.4631
Alchemy Precision delivers high-quality parts to leading industries including medical, electrical and automotive. This custom shop has a proven history of premium craftsmanship – a legacy that is carried into the next generation. Alchemy Precision deploys state-of-the-art technology alongside well-established, traditional machines. This allows the company to produce end-to-end solutions for close-tolerance machining including injection, insert and micro molds.
PARTNERS
Great Lakes Trade Adjustment Assistance Center
Scott Phillips, Senior Project Manager | 734.998.6227
Great Lakes Trade Adjustment Assistance Center (GTLAAC), helps small, import-injured manufacturers develop and finance projects designed to improve their global competitiveness. Part of a network of 11 centers facilitating the federally funded TAA for Firms program, GTLAAC serves companies in Ohio, Indiana and Michigan. (Call for referrals to other centers.) Clients receive planning assistance and up to $75,000 in matching funds.