New Survey Launched: Health and Benefits
Survey Deadline: March 13, 2020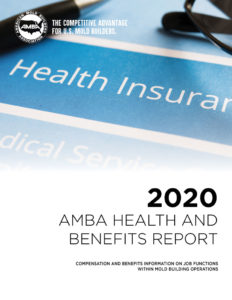 AMBA has launched its new 2020 Health and Benefits Survey, which will gather data related to health and benefits packages offered to employees by mold manufacturers across the US. Collected data will include the following:
company cost and employee participation

strategies to control cost

current plans offered to employees

additional benefits and retirement programs offered 
Compiled data and results will be shared at no cost to participants. To complete, visit AMBA.org/Events.
Business Forecast Report Available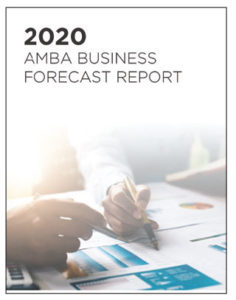 AMBA's 2020 Business Forecast Report is now available for purchase! With this report, executives have the opportunity to better benchmark how their company stacks up in comparison to the mold building industry norms and how they can better align their anticipated outlook for the upcoming year with strategic direction and resource investment.
Also available for purchase is AMBA's annual 2019/2020 Wage and Salary Report, which includes high, low and average rates of pay across over 50 job functions commonly found in mold building and allows industry professionals to determine their competitiveness as an employer, measure employee ROI and better understand the latest industry practices and trends. To view and purchase all available publications, visit https://amba.org/publications/.
Registration Now Open for AMBA Conference 2020
Registration now is open for AMBA Conference 2020. This year's theme – Ready, Fire, TEAM! – is designed to inspire mold manufacturing professionals to focus not just on building a team, but on how building the right team the right way can lead to consistent success. See pages 8 through 11 for full details.
Nominations Underway for Prestigious AMBA Awards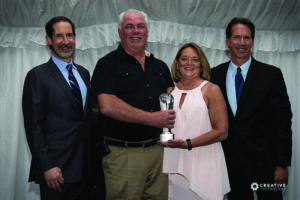 Nominations for AMBA's Mold Builder of the Year and Tooling Trailblazer of the Year Awards are now being accepted. Award winners will be announced during AMBA Conference 2020. AMBA members may nominate themselves or a peer and should be from member companies in good standing. Each winner will receive a $5,000 scholarship (provided by Progressive Components) to be awarded to the educational institution or program of their choice. Visit https://amba.org/resources/scholarship-opportunities/ to view eligibility requirements, the award deadline and past recipients.
AMBA Offers New Pre-Con Session for Under-40 Emerging Leaders
AMBA will again offer a pre-conference session for its young professionals group, the AMBA Emerging Leaders, on April 29, 2020. During this session, keynote speaker Kit Welchlin will coach attendees on communication strategies that they can employ within their organization to influence others, promote change, listen and respond effectively, set goals and delegate appropriately. Complemented by roundtable discussion and peer-to-peer networking, this session will give leaders emerging in their organization the tools they need to drive change internally within their organization. Under-40 professionals can register at
AMBA.org/conference.
Tackle Employee Retention and Workforce Development with Upcoming Webinar
March 10, 2020 | 1 PM EST
For the fourth year running, mold manufacturers have identified workforce development, including recruiting, training and retaining high-quality employees, as the top issue facing the mold building industry. This webinar will focus on providing owners and top management with techniques to enhance benefits and attract/retain top talent, tackling the workforce development challenge head-on. This webinar is offered at no cost to AMBA members. Non-members: $50. For more details and to register, visit AMBA.org/Events.
Connect Virtually through AMBA Peer Networking: March 25, 2020
Peer Networking provides a FREE opportunity for Senior Leaders and HR Professionals to join a virtual session where questions are answered, benchmarks are discussed and attendees can access new ideas, explore new methods of improvement and expand their professional network without leaving the office. All participants submit questions, which are discussed and shared for immediate feedback. These sessions are held near lunch, so grab a bite and get on the line to make connections and learn about things you don't realize you're missing. Invest 60 minutes to see how your AMBA membership can bring more value to your organization. Register at AMBA.org/Events.
AMBA Members Save More with Grainger
Deeper Discounts and Added Categories
With AMBA membership, mold builders get exclusive access to Grainger's discount program, which includes significant savings on over 20 categories. Impact the bottom line by shopping deep discount categories, including motors, safety, electrical, power transmission, hand tools, material handling, abrasives, lubrication, machining, welding, power tools and more. Call the AMBA offices at 317.436.3102 to learn more about Grainger discounts available to AMBA members.
MEMBERS
X-Cell Tool and Mold Inc.
Ron Novel, President / Owner | 814.474.9100 
X-Cell Tool and Mold provides design, mold and component manufacturing, emergency repairs, mold sampling/validation and production runs. The company has the tool building expertise and equipment required to bring high-precision molds/components and excellent quality-molded parts to its customers.
ASH Industries, Inc.
Hartie Spence, President | 337.235.0977
ASH® Industries is a trusted manufacturer dedicated to its customers' success. The company offers a complete suite of in-house manufacturing and engineering services dedicated to molding, tooling, project engineering design for manufacturing (DFM) and production management (tooling, process and mold validation).
Machine Tool Technology dba Richmond Tooling
David Obert, Owner | 804.520.4173
Richmond Tooling is located in Colonial Heights, Virginia, and manufactures plastic injection and thermoset molds. The company offers precision machine work for the medical, packaging, electrical, automotive and consumer products industries.
Xcentric Mold & Engineering
Mark Strobel, VP Marketing | 586.598.4636
Xcentric is a US manufacturer providing consulting, prototyping, pre-production and production services for most industries. Xcentric's core expertise is rapid manufacturing, specializing in injection molding, CNC machining and additive manufacturing.
Moldworks Inc.
Jenny Uphus, Office Manager | 763.493.3134
Moldworks designs and builds small- to medium-size prototype, multiple-cavity precision molds, including LIM, MIM, silicone, compression, two shot, hot runner and unscrewing molds. The company takes pride in its high-speed milling capabilities.
Thompson Stearns Tooling
Brad Thompson, Owner/President | 830.387.4314
Thompson Stearns Tooling designs and builds close-tolerance, precision molds for numerous industries including automotive, medical and consumer products. The company also handles specialty tooling, including spare mold inserts and mold repair for its customers.
High Desert Tool & Mold Mfg.
Jeremy Sheldon, President | 775.882.2701
High Desert Tool & Mold specializes in the design and build of high-quality plastic injection and compression molds. Maximum molds sizes up to 25,000 lbs.
Schweitzer Engineering Laboratories
Bill Robbins, Tool Room Manager | 208.848.8483
Schweitzer Engineering Laboratories (SEL), invents, designs and builds digital products and systems that protect power grids around the world. The company's mission is "to make electric power safer, more reliable and more economical." SEL's tool and die shop builds plastic injection molds to manufacture the components for its power products and utilizes all the latest machine tools and software.
Advanced Mold & Engineering
Myron Moorman, CEO / President | 812.342.9000
Advanced Mold & Engineering Inc. (AME), has been a manufacturer of high-quality molds since 1994. AME is proud to be an employee-owned company with a workforce representing more than 250 years of experience. The company is dedicated to meeting customers' needs and is ISO 9001:2015 certified.
PARTNERS
Mastip
Ann Ruplinger, Office Manager | 262.644.9400
Mastip is a leading designer and manufacturer of innovative hot runner solutions to the plastics industry worldwide. The company provides exceptional service, technical support and parts for the life cycle of the hot runner.   
Autodesk
Thiago Fagionato, Sales | 519.791.7532
Autodesk Manufacturing, powered by Delcam, now offers digital solutions that automate and integrate design and manufacturing with the latest technology for CAM, additive, simulation, robotics and inspection.