by Global Market Insights, Inc.
The tool steel market is set to grow from its current market value of more than USD 4.5 billion to more than USD 6.5 billion by 2024, according to a new research report by Global Market Insights, Inc.
Owing to the augmented demand for forging and cutting instruments worldwide, the overall tool steel market has witnessed notable growth in recent years from the aerospace, automotive, energy and food & packaging segments. Properties like wear resistance, higher thermal conductivity and cost-effective production have considerably influenced the product usage rate. Increasing consumption of packaged food products and automobile demand have encouraged manufacturers to undertake expansion activities, further boosting tool steel market revenues for injection molding and die work.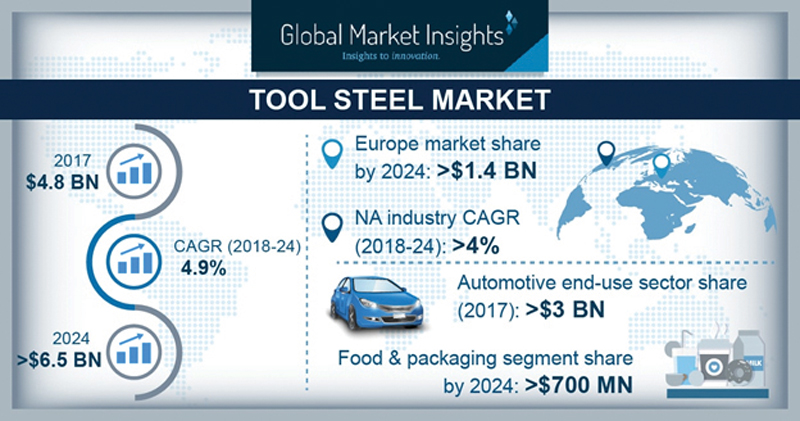 Market opportunities
As the world has seen a consistent rise in the sale of food products due to the growing population and an upsurge in disposable incomes, manufacturers of injection-molded packaging have become lucrative customers for the tool steel market. Reports show that in 2016, an estimated US$2.47 trillion worth of packaged food had been sold globally, with the number projected to reach US$2.64 trillion in 2019. This affirms a positive outlook for the food and packaging segment and huge consumption prospects for the tool steel industry.
Increasing investments in infrastructure projects in China, Japan and India, along with rising demand for commercial and residential buildings, also may accelerate growth of tool steel market size. Infrastructure spending in India was valued at over USD 10 billion in 2018, which presents growth opportunities for molded plastic construction applications such as building insulation, roofing, flooring, windows and doors.
Growing demand for forged metals from factory automation, defense, automotive and aerospace industries may promote further market growth. The global forging market size should surpass USD 85 billion by 2024, owing to increase in foreign investments and favorable government policies has led to growing adoption of forged products.
Cold-work tool steel exceeded USD 1 billion in 2017 owing to increasing demand for punching and cutting instrument manufacture. These products fi nd widespread usage in the production of blades, dies, hobs, drawing dies, threading dies and thread rollers.
The high-speed tool steel market size should witness gains at about 4.5% by 2024, primarily owing to increasing demand for manufacturing machine tools. These products exhibit high hardness, strength, turning speed and excellent high-temperature abrasion properties which makes them suitable for automobile cam-rings and valve inserts. Moreover, they have several applications, such as gear cutters, milling cutters, saw blades and drill manufacture, which should increase product demand.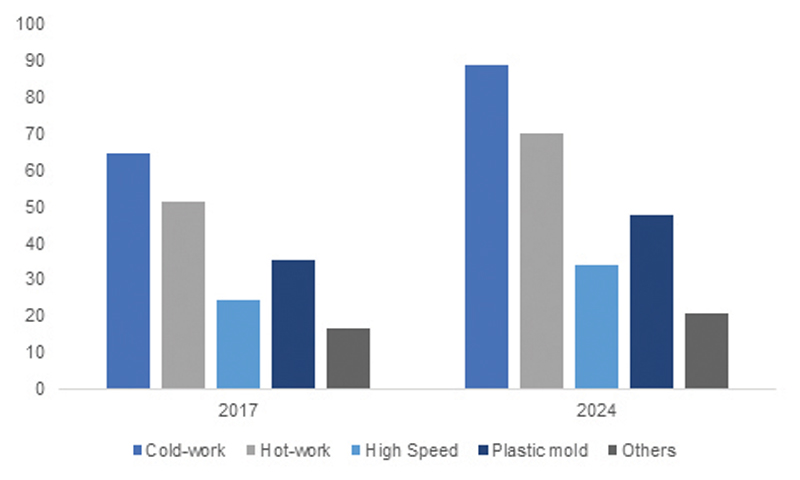 North America, driven by Canada, Mexico and US tool steel market size, should witness gains of over 4% by 2024. These countries are witnessing high demand from the automotive industry in the manufacture of automotive injectors, valves, turbocharges, inserts, inner panels, tail lamps and pistons.
The European tool steel market size, driven by Germany, the United Kingdom, France and Spain, should exceed USD 1.4 billion in the predicted timeframe.
Rising consumer preferences for carbide-based cutting tools may restrain some tool steel market growth. Carbide tools and inserts are replacing some products in face milling, turning and boring applications owing to their higher cutting speed.
For more information, visit https://www.gminsights.com/industry-analysis/tool-steel-market.