By Ashley Turrell, analytics manager
AMBA
When comparing wage data from 2017 to 2018, more than 75% of job classifications in the US mold building industry experienced wage increases in 2018. Across the board, mold manufacturing positions experienced an average increase in compensation of nearly 6%, according to the most recent Wage and Benefits Report published by the American Mold Builders Association (AMBA).
Now in its eighth year, AMBA's annual Wage and Benefits Report analyzes data collected from mold building executives and human resources personnel on the reported wages of nearly 50 different job classifications within mold manufacturing organizations. The 2018 report includes data from more than 100 US mold manufacturing companies across the United States, representing just shy of 5,500 full-time and part-time employees.
Of the nearly 50 job titles analyzed in this year's report, more than 30% of the positions revealed a greater than 5% growth in compensation. At the time of this article, the current unemployment rate nationally stands at 3.9%, which means that manufacturers are fighting to hire, train, retain and motivate talented employees. As a result, many roles are seeing substantial increases in wages.
Among the positions seeing significant gains include roles such as quality managers, sales managers, CAD detailers and mold sampling technicians. Mold building companies are looking to find workers on the floor to keep operations going, as well as talent to help create process and operational improvements and drive new business.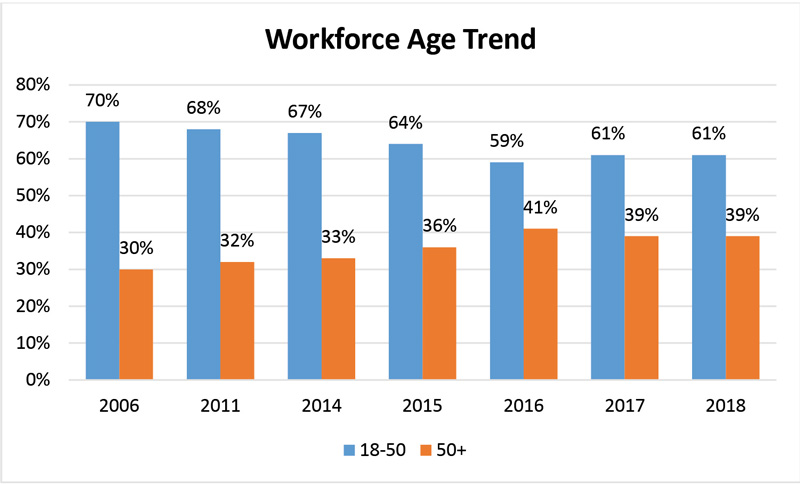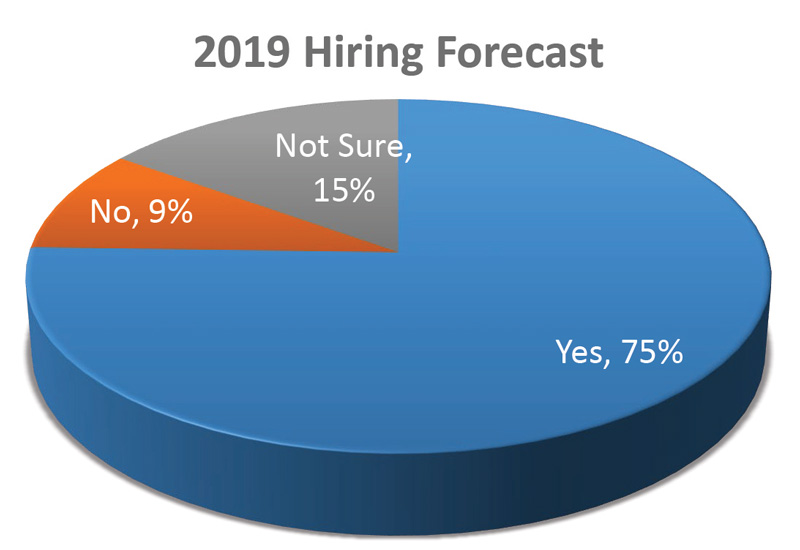 The employment forecast for 2019 appears positive, as 75% of respondents indicated intent to hire new employees over the next 12 months. Less than 10% of mold builders identified no plans for hiring new employees in 2019.
The need to find skilled people to fi ll technical positions continues to outweigh the need to fill administrative and leadership positions. Of mold building businesses indicating plans to hire new employees, 82% of the jobs needing to be filled are technical positions. Administrative positions make up 8% of open positions, and leadership positions represent 10% of jobs needing to be filled in 2019.
The age of workers inside mold building facilities continues to increase. In 2006, 70% of employees were under 50. Today, only 58% of workers are under 50. While the majority – 77% of workers – are over the age of 30, initiatives to attract youth into the mold building sector remains a top priority in 2019.
To recruit new employees, mold builders are offering a variety of benefits packages, along with increased compensation. Nine out of 10 mold builders off er medical insurance to employees and dependents. Vision, dental and life insurance are among other common programs offered to employees by mold manufacturers. Other mold builders, however, are getting more creative in the benefits programs offered to their employees. Along with vacation and paid time off (PTO), more and more mold builders are offering employee bonus programs on at least an annual basis, with some offering bonuses more frequently (monthly, quarterly, bi-annually).
With 100% of mold builders reporting that workforce development is a top challenge for their organizations in 2019, the industry also is looking at other avenues to reduce its dependence on direct labor. In a recent survey, 36% of mold builders indicated that their organizations are focused on continuous improvement initiatives or adding automation as a way to increase their competitiveness and alleviate the burden the current workforce challenge puts on their company over the coming year
For more information or to purchase the report, visit www.amba.org/publications.