Nominate a Champion – Educational Outreach Contest Launched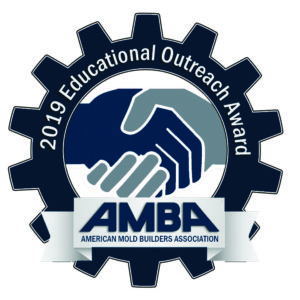 AMBA recently launched the fourth annual Educational Outreach Contest in celebration of manufacturers who work to engage young people in the manufacturing industry. On Manufacturing Day 2019 (October 4), AMBA will recognize three member company champions with the 2019 Educational Outreach Award in recognition of their efforts over the last year (since October 6, 2018). Three scholarships will be awarded – in the amounts of $1,000, $750 and $500 – to the program of the winners' choice. These champions' efforts are helping to close the skills gap and mitigate workforce development issues in their respective communities. For contest details or to submit a nomination, visit AMBA.org. Deadline is Wednesday, September 25, 2019.
AMBA Awards $70,000 in AMMA Grants
On August 22, 2019, the AMBA awarded nearly $70,000 to the 2019 recipients of the American Mold Manufacturing Advancement Grant (AMMA Grant). Developed by the AMBA and first launched in 2017, the AMMA Grant invests in the advancement of the mold building industry by supporting programs and projects that fall within three primary areas: training, advocacy/industry promotion, and research and development. To date, AMBA has awarded $210,000 in grant funding in support of members' workforce development efforts.
Funds awarded this year will support students at all grade levels with a variety of programs, including job shadowing, competitions that encourage interest in apprenticeship programs, the integration of structured curriculum specific to the skills trade industry, technical training, CNC software, robust CTE (career and technical education) programs, robotics kits, Manufacturing Day activities and more.
Grant recipients this year include the following AMBA members: TK Mold & Engineering, Inc. (Romeo, Michigan); Westminster Tool, Inc. (Plainfield, Connecticut); Wepco Plastics (Middlefield, Connecticut); Snider Mold Company, Inc. (Mequon, Wisconsin); Prodigy Mold & Tool, Inc. (Haubstadt, Indiana); Precision Mold & Machining Services, Inc. (Warren, Michigan); M.R. Mold & Engineering Corporation (Brea, California); Legacy Precision Molds, Inc. (Grandville, Michigan); Creative Blow Mold Tooling (Lee's Summit, Missouri); Century Die Company (Fremont, Ohio); and Armin Tool & Manufacturing Company (South Elgin, Illinois). Congratulations to all 2019 AMMA Grant recipients!
Expand What You Know During AMBA Webinars
Address Challenges during AMBA Peer Networking
Sept. 11, 2019
Join other AMBA members during AMBA's Peer Networking sessions, where senior leaders and human resources professionals have the opportunity to share their challenges, discuss potential solutions and pool available resources. Peer networking sessions take place via conference call and are free for members. Visit AMBA.org/Events to register.
Implementing Additive Manufacturing
Oct. 8, 2019
During this webinar, Jon Carlson of GF Machining will explain the process of additive manufacturing and the features and benefits it offers the mold and die market. Attendees also will learn how other mold builders are implementing the technology and how it continues to develop in the marketplace. This AMBA webinar is free for members. Visit AMBA.org/Events to register.
Event Approaching: Operation Homefront Golf Scramble
Sept. 13, 2019 | 11:00 a.m.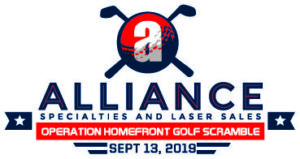 Don't miss the annual Alliance Specialties and Laser Sales Golf Scramble. As in past years, the event will be held at the Countryside Golf Course (Mundelein, Illinois), followed by awards and dinner at Lindy's Landing (Wauconda, Illinois). Funds raised through the event will benefit Operation Homefront, whose mission is to build strong, stable and secure military families so they can thrive in the communities they have worked so hard to protect. To learn more and register, visit https://alliancelasersales.com/golf/.
Emerging Leaders Workshop: Leading from Within
October 15, 2019 | 1:00 to 6:00 p.m.
Indianapolis, Indiana
Join other AMBA young professionals during this half-day workshop for the AMBA Emerging Leaders group, where under-40 AMBA members will participate in the Predictive Index (PI) Behavioral Assessment, a tool that measures a person's motivating drives and needs. During this event, Heather Haas of Advisa USA will provide personalized coaching, measuring and diagnosing opportunities for performance improvement and leadership development for each attendee at the individual, team and organizational level.  Participants will walk away with an increased self-awareness and confidence that will allow them to optimize their strengths in the workplace and leadership ability. Register today at AMBA.org/Events.
Annual Wage and Benefits Survey Launched
AMBA has launched its annual Wage and Benefits Survey. This survey collects and analyzes information on more than 50 job functions commonly found in mold building operations. The report generated from this survey is available at no cost to all participants. The survey will close on Friday, November 1, 2019. To complete the report (and receive a free copy), visit AMBA.org/Resources/Open-Surveys.
NEW MEMBERS
MoldWorks USA, LLC
Tom Grimes, Owner
515.314.9601
Modern Mold Corporation
David Bowes, President
440.236.9600  www.modernmoldcorporation.com
Modern Mold Corporation is located in Columbia Station, Ohio, and was established in 1984. The company specializes in design engineering, complex mold manufacturing and injection molding across multiple industries.  Modern Mold Corporation is in the process of expanding and moving the business into a new facility.
Viking Plastics
Kenny Ulrich, Tooling Manager
812.283.4435  www.vikingplastics.com
Viking Plastics Indiana designs, builds and maintains molds for the injection molding industry. The company has experience serving a variety of industries, offering a wide range of tooling capabilities, including new tool build, mold repairs and maintenance, engineering changes, in-house sampling and production machining services.
Powermark International LLC
Gregg Powers, President
815.978.0313  www.powermarkint.com
Powermark International is a reliable source for high-quality, cost-competitive mold production. The company offers complete manufacturing capabilities, in-house engineering, modern machining equipment and 24/7 mold delivery. With domestic and international capabilities and rigorous project oversight, customers can count on Powermark International to produce tooling of the highest quality within competitive budget parameters.