What would you do if you were provided 40 hours to focus on personal and business growth? Would you use that dedicated time to network with fellow mold builders, absorb the messages of professional speakers and learn from others in your same industry?
Nearly 200 US mold builders and industry suppliers took that opportunity in Itasca, Illinois, from May 8 through 10, at AMBA Conference 2019.
"The positive energy and 'buzz' surrounding this year's AMBA Conference 2019 was off the charts," said AMBA Managing Director Kym Conis. "Once again, attendance was strong and the venue provided the perfect environment to network, connect and share best practices. New programming such as the AC Lab series, where AMBA members shared their successes in a number of topics, and the Trends in Technology track were well received and addressed challenges faced by today's mold building community – providing substantial take-away value for all attendees!"
AC Labs
Conference sessions led by members of the mold building community had the potential to change the way business is done in the facility of each attendee. Organizational leaders in manufacturing companies from across the US shared their experiences in job scheduling; continuous improvement; ownership transitions; workforce recruitment; development and retention; marketing; business diversification and company culture.
Chris McChesney, Franklin Covey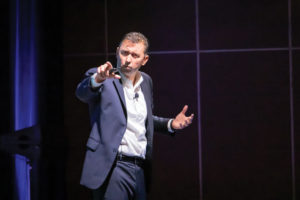 Focusing on the principles of 4DX and framing the work ahead as a battle to be won, McChesney spoke about the execution challenges faced by senior leaders. Too many times, leaders are unable to separate the day job (the urgent tasks that are always front and center) from the goals that move the organization forward (the important work that often is neglected).
McChesney urged attendees to focus on two to three wildly important goals, because there will always be more good ideas than there is capacity to execute. He recommended acting on lead measures – which are influenceable – and keeping a visible scoreboard, because people play differently when they are keeping score. Finally, he also stressed the importance of a cadence of accountability: What are the one or two things that can be done this week to win the war?
Kirk Weisler, Team Dynamics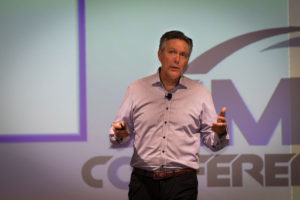 Culture building beats team building every time. Building a strong workplace culture is critical in today's competitive employment atmosphere, and Weisler focused his message on simple strategies that have a big effect. His most important advice? Meaningful recognition expressed weekly is essential to the human soul.
Creating relationships is an essential part of culture creation, and recognizing the skill and dedication of the
employee base is step one. He also suggested a short daily meeting that could include recognition, education and a moment to connect, because what we learn about each other forms the basis of the relationships that allow us to work together and succeed as a team.
Troy Nix, AMBA Executive Director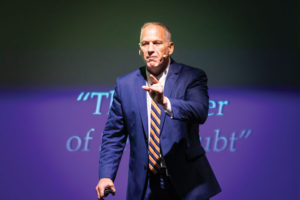 AMBA Executive Director Troy Nix took the stage on the first morning of the conference with a compelling message about the power of self-doubt. Nix spoke about the determination and fortitude of David Goggins, the only member of the US armed forces to complete elite training as a Navy SEAL, Army Ranger and Air Force Tactical Air Controller. Goggins credited his mental toughness to a willingness to get better by doing the things he does not like – and doing them often. Nix shared that lesson and reminded attendees that self-doubt often creeps in – but a positive mental attitude and a willingness to work can overcome it.
Laurie Harbour, Harbour Results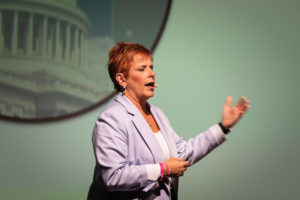 Laurie Harbour gave attendees a brief look at the factors impacting the mold building industry and the markets served by toolmakers. Chief among those factors is the economic uncertainty felt across the US as a result of the threat of recession and a constantly changing tariff situation. Also at play are an increase in autonomous technologies being used across all industries – including automotive, agriculture and logistics, a consumer base that is increasingly technologically savvy and a new generation of labor. These all require flexibility and adaptability from toolmakers.
Harbour Results is predicting an increased tool spend over the next two years, despite the existing market uncertainty. In order to compete for those dollars, tool shops need to invest in equipment and in their people to position their facilities with faster turn times and an optimized workforce.
Peer-to-Peer Exchanges
One of the best networking opportunities at the conference, Peer-to-Peer Exchanges allow attendees to discuss topics that are unique to their job functions with others in those same job functions. Why reinvent the wheel when someone else sitting at the table already has a potential solution?
In the Operations and Processing Peer-to-Peer Exchange session, these are a few of the topics discussed:
The value of sending employees to supplier/machine training
Ensuring quality job candidates through aptitude testing
Engaging young employees
Holding employees accountable for hitting production targets
Peer-to-Peer Exchanges also were held for Leaders and Top Management; Human Resources; Sales and Marketing; and Finance, ERP and IT Professionals.