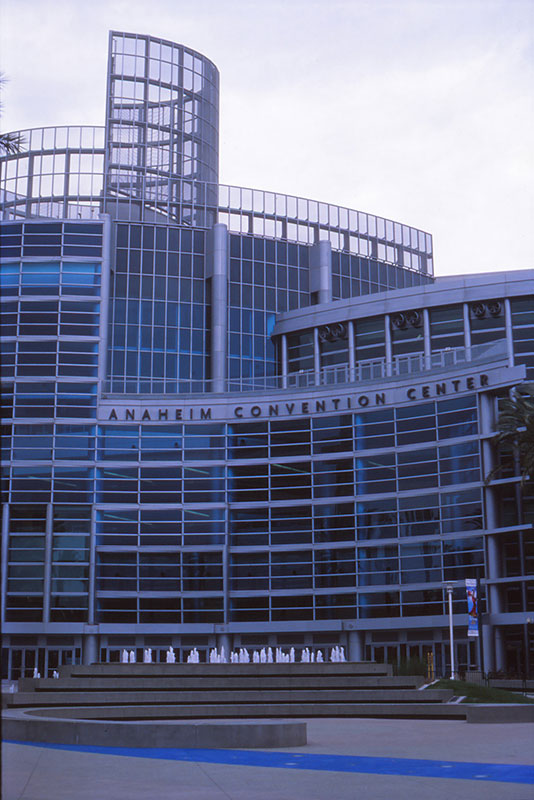 By Liz Stevens, contributing writer
The American Mold Builder
North America's largest design manufacturing conference, PLASTEC West, will take place at the Anaheim Convention Center in Anaheim, California, February 5 through 7, 2019. A resource for technologies, education and networking connections across the entire concept-to-market product cycle, the event will include Innovation Summits, the MD&M Medtech Conference, free education and more. The educational experience is geared for professionals at any point in the advanced design and manufacturing industry, delivering access to strategies and techniques for faster development cycles, lighter products and lower costs. The show's focus is two-fold: smart manufacturing and 3D printing.

In 2019, the expo will welcome over 19,000 attendees and more than 1,900 exhibitors, in addition to offering in excess of 30 hours of education. New features include a product showcase of live, interactive, 15-minute product demos; new Tech Basecamps for experiential exploration of cutting-edge end product technology; and a Design Dome, featuring interactive design activities and prototyping workshops led by world-renowned design companies. Also new this year is an Exhibitor Scheduler for pre-scheduling appointments with exhibitors at their booths before attendees arrive.
In the Tech Theater, which is presented in a classroom format, suppliers will showcase their latest technologies, so attendees can ask questions, get answers and find solutions to engineer into their projects. The Golden Mousetrap Awards, America's biggest awards event for the advanced design and manufacturing industry, will be presented. From the Gadget Freak of the Year to the Lifetime Achievement Winner, the awards introduce attendees to the industry's most innovative members. And, the event's Booth Crawl offers opportunities to network the easy way – over drinks and bites while on a tour of the must-see exhibitors.
This year's conference will feature several tracks of interest to mold builders looking to keep abreast of industry developments, including a Chief Robotics Officer (CRO) Summit, a Smart Manufacturing Innovation Summit and a 3D Printing Innovation Summit. The CRO Summit is designed for executives who oversee the deployment of automation, AI, robotics and the latest intelligent technologies at their organizations. This one-day summit provides deep-dive education and a chance to connect with peers while discussing the latest regulatory challenges, shifting consumer behavior and tactics to maintain a competitive edge. Tracks include: How to Secure Funding to Support an Automation Implementation, Devising a Metrics System to Measure ROI and Strategies to Secure Management Buy-In.
The Smart Manufacturing Innovation Summit spans two days to offer greater depth in a booming industry with the theme, "Advancing Smart Manufacturing Systems Using Robotics, Machine Learning, AI, Big Data & IoT." Professionals will have direct access to prominent industry leaders and speakers covering collaborative robots, AI, machine learning, big data, sensing technologies and Industrial IoT. Track topics include Supply Chain 4.0 Powered by AI, IoT and Blockchain; Getting Rapid Manufacturing Results with AI and IoT; and The Rise of the Digital Twin.
The 3D Printing Innovation Summit includes three immersive days exploring "New Materials, Tools & Techniques for the Advancement & Development of Additive Manufacturing Processes." With a focus on metals and other materials, tools and techniques, and new concepts in additive manufacturing, as well as advancements in medical device 3D printing and bioprinting, its tracks will include: How Multi-Materials Will Transform Additive Manufacturing, Metal Additive Manufacturing for Aerospace Applications and 3D Printing & Blockchain: The Next Steps in Additive Manufacturing.
The four-track MD&M Conference will cover New Technologies & Next-Gen Design, Product Development & User-Centered Design, Technical Solutions, and Regulatory and Quality Update. New Technologies & Next-Gen Design will highlight emerging technologies in the design and manufacturing industry and detail how to apply them to new or existing medical devices. Product Development & User-Centered Design will explore market trends to tailor medical devices for users while learning strategies to speed them to market and ensure adoption. Technical Solutions will cover up-to-the-minute thinking in technical sessions covering materials, testing, prototyping, manufacturing techniques and more. And, Regulatory and Quality Update will feature need-to-know updates and regulatory compliance topics from FDA updates and quality control to new EU regulations affecting products sold in Europe.
In addition to the featured summits and conference tracks, a host of free content and activities will be offered, including a Welcome Luau, the Design Dome and the new Tech Basecamps. For 2019, PLASTEC West attendees can purchase an Expo Pass or one of the many variations of the Conference Pass, and group discounts are available for Conference Passes.
Be sure to visit these exhibitors of interest to those in the mold building industry at PLASTEC West 2019:
3D Systems: Booth #3419
A.J. Tuck Co.: Booth #2898
Accede Mold: Booth #4051
American Mold Builders Association: Booth #805
Boride Engineered Abrasives: Booth #3882
CGS: Booth #5280
Crescent Industries, Inc.: Booth #1672
Custom Mold & Design: Booth #2959
Diamond Tool and Engineering: Booth #3950
DMS (Die Mold Service Company): Booth #4020
Gesswein: Booth #3864
GPI Prototype & Mfg. Services Inc.: Booth #3714
HASCO America, Inc.: Booth #4071
INCOE Corp.: Booth #3980
M.R. Mold & Engineering: Booth #1346
Matrix Tooling, Inc./Matrix Plastic Products: Booth #2092
MGS Mfg. Group: Booth #3158
Milacron/Mold-Masters/DME: Booth #3969
Minco: Booth #2825
Prestige Mold, Inc.: Booth #2159
Progressive Components: Booth #3945
PTA Plastics: Booth #979
Pyramid Mold & Tool: Booth #3934