AMBA Launches 2018 AMMA Grant Program
The AMBA Board of Directors is proud to launch the American Mold Manufacturing Advancement Fund (AMMA Fund) for 2018. It was created by the American Mold Builders Association (AMBA) to invest in the advancement of the industry. In its second year, the purpose of the fund is to support AMBA members in programs and projects that fall within three primary areas: Training, Advocacy/Industry Promotion and Research & Development. AMBA proudly awarded a total of $90,000 in 2017 to AMBA member organizations that are impacting their communities and has slated $60,000 to fund the program in 2018. Single award size is $1,000 to $10,000, with a maximum five-year accumulation not to exceed $25,000. The grants are available only to AMBA members, and applications must be completed in full and received by April 30, 2018, to be considered. (Grants will be awarded in June 2018.) For more information, contact Susan Denzio at sdenzio@amba.org or Kym Conis at kconis@amba.org.
AMBA Releases 2018 Wage and Benefits Report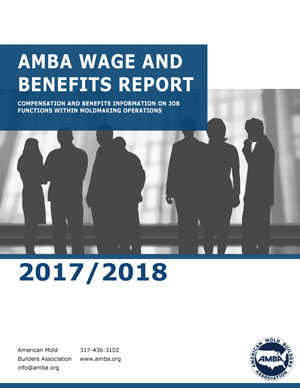 The 2018 AMBA Wage and Benefits Report represents the largest compensation study focused on the US mold building industry. Now in its eighth year, AMBA's Wage and Benefits Report contains comprehensive analyses on 50 job classifications from mold manufacturing-related firms that serve a variety of end-use markets. The 2018 report allows mold building executives the ability to benchmark beginning and average wages for individual positions specific to the mold building industry by both company size and United States region. The report also includes a host of operational policies and trends, vacation packages and insurance and benefits offerings. To purchase the full report, visit www.amba.org.
National Scholarship Program Accepting Applications
AMBA's National Scholarship Program has awarded more than $255,000 nationally since the program's inception in 1991, continuing to demonstrate AMBA's commitment to the industry, to education and to offering valuable member benefits. Scholarships will be awarded to AMBA member employees or employee dependents. Authorized by the board of directors, AMBA will grant up to 10 $1,000 scholarships for qualified applicants for the 2018-2019 school year. Scholarships are paid directly to the educational institution. Applications must be submitted and postmarked by April 20, 2018. To access the application, visit www.amba.org.
Take the 2018 iWarriors Challenge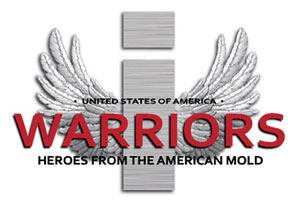 Celebrating its seventh year, iWarriors has officially kicked off the 2018 Challenge. According to iWarriors co-founders, Tim and Kim Bartz (Mold Craft), "In 2017, the AMBA member community and industry at large showed its support for our combat wounded service members by raising over $71,000! In doing so, we were able to dramatically improve the lives of 128 wounded service members who received iPad gift packages this past year." Since 2011, iWarriors has raised $396,000 for the iWarriors iPad program, supporting more than 600 severely injured service members. To learn more about the iWarriors challenge or to donate, visit www.iwarriors.org.
AMBA Welcomes New Board Members
Dan Glass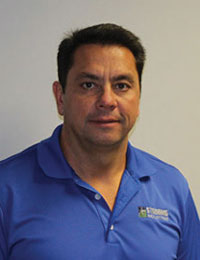 Dan Glass, Strohwig Industries, Richfield, Wisconsin, has been in the mold building industry for more than 26 years, starting with his journeyman toolmaker certificate that he earned through the AMBA. Now, as sales manager at Strohwig Industries (specializing in large injection molds, die cast dies, and custom machining across a broad range of industries), he continues to participate on association boards, including serving as AMBA Wisconsin chapter president for over 20 years and serving on the AMBA board of directors from 2006 through 2013. "While on the board, I hope to contribute to the AMBA's educational outreach initiatives in getting a new generation of kids interested in mold building," stated Glass.
Don Dumoulin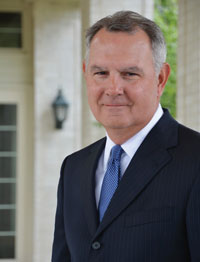 Don Dumoulin is the CEO and owner of Precise Tooling Solutions. Precise Tooling Solutions, Columbus, Indiana, is a full-service tooling shop building and repairing plastic injection molds. The company also custom machines weldments and steel plates and has a line of ergonomic workstations and machine bases. Prior to purchasing Precise Tooling Solutions, Dumoulin was the CEO at King Systems. He also served as president of Empi Recovery Sciences, senior vice president and general manager at Roche Diagnostics, and worked at both SmithKline Beecham and Procter & Gamble. Dumoulin currently is on the board of directors of Synovia Solutions LLC, the Ball State University Miller College of Business Deans Advisory Board, the Purdue University Technical Assistance Advisory Council and past board member of both the United Way of Central Indiana and the Indiana Chamber of Commerce.
Tyler VanRee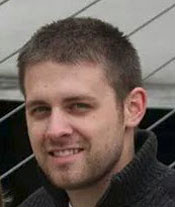 Tyler VanRee, native to Western Michigan, currently serves as vice president of Legacy Precision Molds, Inc., Grandville, Michigan, specializing in the manufacture and service of high-precision plastic injection molds. Pulling from his 14-plus years of experience in the moldmaking trade, his passion for mold manufacturing and excellence is evident in the active role he plays in his local AMBA chapter. His passion also is exemplified in the way he continues to lead and grow the workforce at Legacy Precision Molds – an area to which he hopes to contribute with best practices while serving on the AMBA board.
NEW MEMBERS
American Tool & Engineering, Inc.
Jeff Chesnut, Sales Engineer
641.816.4921 www.atemold.com
American Tool & Engineering, Inc., supplies high-performance molds to the blow molding, thermoforming and pressure forming industries, providing product design, mold engineering, mold manufacturing and mold maintenance services.
H.S. Die & Engineering
Eric Kamyszek, Engineering Manager
616.453.5451 www.hsdie.com
H.S. Die was originally established as a custom moldmaker and now services its customers in many aspects, including moldmaking, automation equipment, custom machining, mold sampling and production mold runs.
Micro-Weld Technologies, Inc.
John Yates, President
859.336.0699 www.micro-weldtech.com
Micro-Weld Technologies, Inc., is a unique, state-of-the-art facility, specializing in microscopic welding and complete mold repair and revisions. In 2005, the company added a tooling division, allowing Micro-Weld to build and repair complex mold tools.
Wepco Plastics
David Parmelee, President
860.349.3407 www.wepcoplastics.com
Wepco Plastics is a family-owned company with an in-house tooling department. The company manufactures both aluminum and steel tooling and specializes in quick turnaround rapid prototyping. From inspiration to completion, Wepco Plastics maintains a hands-on approach through the whole project.
Proficient Tool & Design, LLC
Richard Keaton, Owner
630.509.2628 www.proficienttool.com
Proficient Tool & Design incorporates decades of expertise in the building of single, multi-cavity, multi-slide tooling for aluminum, die cast and zinc molds. The company takes projects from concept straight to 3D part design and into a tool ready for running production in a proficient, timely and cost-effective manner.
NEW PARTNERS
Falcon Tool Company, Inc.
Betsi Burns, Sales & Product Manager
800.321.8512 www.falcontool.com
For more than 45 years, Falcon Tool Company, Inc., has had an unequaled reputation for fine quality, fast service and competitive prices. The company has a large selection of fine tools for moldmakers, die makers, engravers, die sinkers, tool rooms, production plants and hobbyists ready to ship the same day as ordered.