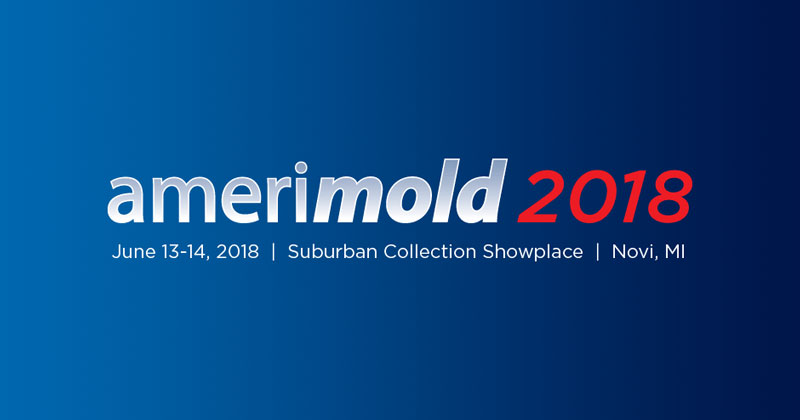 This two-day event focuses on business development and best practices for the plastic injection mold manufacturing industry. Connecting moldmakers, molders, OEMs and rapid product development professionals representing all aspects of a product's creation, the event will take place June 13 through 14 at the Suburban Collection Showplace in Novi, Michigan.
Tech Talks and in-booth demonstrations are back this year and are available to all show floor registrants. Tech Talks offer attendees cutting-edge technical information, and sessions will begin at the top of each hour featuring a panel or presentation on a specific topic. As part of the in-booth demos segment, elected exhibitors will be given the chance to give a presentation about a specific technology while demonstrating how it works live on the show floor.
Various networking events are set up to connect mold builders and mold buyers. This year's networking reception will allow attendees and exhibitors the opportunity to get to know one another in a comfortable and interactive environment. The winner of the Leadtime Leader Award also will be announced.
These exhibitors may be of interest to The American Mold Builder audience.
American Mold Builders Association (AMBA)
Booth #242
www.amba.org
Serving as the competitive advantage for US mold builders, with workforce development resources, strategic networking opportunities, financial and operational metrics, cost-saving programs and more. New membership information, AMBA Sourcebook and The American Mold Builder will be available at the AMBA booth. Attendees can sample an AMBA Skills Certification test for fun prizes.
Autodesk
Booth #346
www.autodesk.com/make
Providing PowerMill, Autodesk's CAM solution for high-speed and five-axis machining. It offers a comprehensive range of strategies and powerful editing tools to ensure efficient, safe and accurate machining, especially for companies using sophisticated CNC machine tools to produce complex shapes in challenging materials. PowerMill is used in a wide range of industries.
B A Die Mold, Inc.
Booth #442
www.badiemold.com
Celebrating 50 years of quality molds for plastics, B A Die Mold specializes in multi-action and unscrewing molds and is the inventor of the patented PERC System (Programmable, Electric, Rotating, Cores). Visit Booth 442 to learn more about the PERC System and the company's mold manufacturing services.
BORIDE Engineered Abrasives
Booth #231
www.borideabrasives.com
Leading US manufacturer of high-quality abrasive products, including polishing stones and diamond compound. BORIDE also distributes a full line of polishing supplies and equipment sourced through its global network of suppliers and industry experts.
Braillon Magnetic Systems Inc.
Booth #120
www.braillon.com
Designing and manufacturing standard and custom industrial magnetic equipment for moldmakers. Braillon will showcase workholding magnetic chucks for milling, surface grinding and EDM. Also on display will be lifting magnets and a magnetic quick mold change system.
CGS North America
Booth #107
www.camtool.net
Specializing in high-accuracy 3D machining for molds and dies, CAM-TOOL is a high-end CAD/CAM system. Its surface-based CAM calculation allows for the output of more accurate tool paths. This provides CAM-TOOL the opportunity to excel in hardened materials, long length-to-diameter ratios and micro machining, all while increasing accuracy, surface finish and tool life.
Crystallume
Booth #321
www.crystallume.com
Offering Crystallume's Demon line that generates less heat, holds size, cuts the part within tolerance and can even eliminate the need for polish. The Demon line features an advanced coating for increased high-temperature stability for machining hardened steels.
Delta Technologies
Booth #729
www.deltatechgroup.com
Offering two company divisions: Delta Tooling and Delta Fixtures. Providing plastic injection tools from 20 to 4,500 ton. Production and prototype injection tools, compression, stack tools, two-shot tooling, core back, IML, ROC heating and cooling tooling, gas-assist, gas-counter pressure, chemical and structural foam.
Dijet
Booth #142
www.dijetusa.com
Displaying some of its latest high-feed milling cutters, new grades for hard milling and the high-tolerance indexable ball and bull nose finishers. Dijet is known for its indexable milling cutters geared toward the moldmaking industry.
EROWA Technology Inc.
Booth #420
www.erowa.com
Providing a simple manual palletization system or a fully integrated, custom-designed workholding and automation system to meet the current needs and expectations of its customers. Based in Arlington Heights, Illinois, EROWA Technology is a full-service supplier of palletization and automation systems for the North American manufacturing market.
FCS North America Inc.
Booth #336
www.fcssystem.com
Supporting the technological evolution through innovative systems for clamping and production process optimization. Introducing the Industry 4.0 principles with these main product lines: engineering, clamping, motion, control. The clamping system provides a flexible, repeatable and precise setup for unrestricted access to five surfaces and quick mounting.
GPI Prototype & Manufacturing Services
Booth #415
www.gpiprototype.com
Exhibiting 3D-printed metal conformal cooling cores. Tooling is a primary application for direct metal laser sintering (DMLS), providing for the rapid manufacture of tooling inserts and components. The integration of conformal cooling channels improves both the quality and economics of injection molded parts.
Graphel Carbon Products
Booth #430
www.graphel.com
Offering AS and ISO certified precision design and build capabilities for aerospace, medical and power generation EDM tooling. Designing and building EDM tooling for 30+ years for internal operations and existing aerospace Tier I customers. Known for outstanding quality in graphite materials, parts to print and EDM electrodes, Graphel now is offering its design and build service as a professional service.
HASCO
Booth #217
www.hasco.com
Presenting keyed ejector pins, parting line shims, round mechanical cycle counters, stack systems in two sizes, round latch lock units and a new screw-in hot runner nozzle. HASCO is the leading global supplier of modular metric standard mold bases, components and accessories, offering components and hot runner solutions for moldmaking.
HIRSCHMANN Engineering USA, Inc.
Booth #526
www.hirschmannusa.com
Offering HIRSCHMANN product lines that include Fixturing System 4000 for wire EDM; 5000 for sinking EDM and high-speed machining; System 9000 and Kohn workholding vises for CNC machining centers; and a full line of submersible integrated rotary tables. HIRSCHMANN also offers IONOPLUS 3000 synthetic dielectric fluid, rust inhibitors and SintoGrind TTS synthetic high-speed grinding fluid.
HRSflow
Booth #125
www.hrsflow.com
Showcasing the FLEXflow family, which includes the electrically driven valve gate systems, FLEXflow and FLEXflow One. The technology allows for adjustment of each valve pin with precise control of stroke, velocity and force. Another note is the side-mounted cylinder. Cooling configuration for hydraulic or pneumatic cylinders is no longer required with this setup.
INCOE Corporation
Booth #511
www.incoe.com
Featuring INCOE hot runner systems, the heart of the injection molding process, managing and controlling Melt Logistics™ inside the mold. For 60 years, plastic injection molders for all markets have come to rely on the technology, service, filling simulation and on-site technical support INCOE offers. INCOE provides customers with innovative hot runner systems and creative solutions.
Industrial Molds
Booth # 515
www.industrialmolds.com
Specializing in two-shot, two-material molds, molds with complex configurations and molds designed to eliminate secondary assembly by designing many parts into one injection-molded component to help customers reduce manufacturing costs and improve quality. Markets include automotive (under hood and fuel systems), medical, lens, fluid control and industrial.
Krieger Craftsmen Inc.
Booth #531
www.kriegercraftsmen.com
Featuring unparalleled international value, US design and importer of plastic injection molds from China, Malaysia and Korea. J-Flex, Michigan manufacturer of highest quality Electroform Reflex – repair and re-plate services. Protev/Krieger, Guadalajara, Mexico, service, support and refurbishment of plastic injection molds.
Merrifield Machinery Solutions
Booth #603
www.merrifieldmachinery.com
Displaying the Grob G350 universal 5-axis machining center that utilizes a unique horizontal machine concept to achieve high productivity while maintaining maximum stability and accuracy. The Grob G350 provides a powerful moldmaking machine in a compact design that is sure to increase profitability.
Meusburger US, Inc.
Booth #614
www.meusburger.com
Serving the moldmakers and molding industry for more than 50 years by providing innovation, solutions and proven molds and components that reduce lead times while improving accuracy and time to market. Meeting customers' needs and ideas is Meusburger's No. 1 priority. Meusburger is happy to answer questions on how to use standard components and mold bases to exceed client expectations.
Model Die and Mold
Booth #451
www.modeldie.com
Specializing in the design and build of injection, compression, die cast and carbon fiber molds for medium to large parts, up to 4,000-ton press size. Fifty-ton crane capacity. 70 employees. Temperature-controlled environment featuring the latest equipment and technologies. From concept to reality. Exactly.
Ohio Carbon Blank
Booth #637
www.ohiocarbonblank.com
Leading supplier of graphite for EDM and moldmaking introduces Graphimator®, a web page that streamlines graphite procurement by converting CAD data to purchase orders, thus eliminating keyboard entry errors (ISO9001:2015) and ensuring faster delivery times.
Omega Tool, Inc.
Booth #522
www.omega-tool.com
Focusing on designing and building high-end, tight-tolerance plastic injection molds. The company services all industries, including – but not limited to – consumer goods, packaging, aerospace, medical and automotive. Omega Tool can help in all stages of a project, from part development and design to mold builds and production molding.
Progressive Components
Booth #203
www.procomps.com
Featuring a product line that consists of alignment locks guaranteed for the life of the mold, the CVe mold monitoring system, and proprietary mechanisms for undercut release and plate sequence. Progressive Components is the only American-owned, independently operated source for components and software for injection mold builders and molders.
R.E.R. Software, Inc.
Booth #247
www.rersoftware.com
Supplying the mold and die industry with state-of-the-art technology to help increase efficiency and provide oversight on operations. The flagship product, InFocus Machining, is a complete job tracking and machine monitoring system specifically designed for the tool machining process. R.E.R. Software is a Michigan-based company.
Superior Die Set Corporation
Booth #620
www.superiordieset.com
Expanding its mold plate machining services with a dual spindle edge milling machine with capacity to 48-inch square. Let Superior then add other machining options such as waterlines, quick-disconnect c'bores, side lock pockets, clamp slots, roughed cavity pockets and FCS® System "clamping seats" holes.
Synventive
Booth #225
www.synventive.com
Serving thousands of customers in the automotive, electronic, medical, consumer, industrial and packaging markets since the 1970s. Synventive is a business of Barnes Group Inc.'s (NYSE: B) Molding Solutions strategic business unit, and it is one of the world's leading manufacturers of hot runner systems and components for injection-molded plastic parts.
TST
Booth# 613
www.tst-software.com
Demonstrating TSTracker and Estimator. TST has its own line of custom software applications for the manufacturing industry. Stop by the TST booth to discover an innovative job tracking software that can streamline shop floor processes and increase any bottom line.
Westminster Tool Inc.
Booth #252
www.westminstertool.com
Developing unique solutions for complex manufacturing challenges. Westminster Tool Inc. has been a trusted premium injection mold supplier for 19 years. Its strong company culture and in-house value-added services allow the company to address customers' challenges from design through validation.
WorkNC, by Vero Software
Booth #414
www.worknc.com
Offering the premier CNC software for surface or solid models in mold, die and tooling businesses for 2- to 5-axis CNC programming. All Western, Japanese and Korean automotive makers, and well-known OEMs from a range of other industries, use WorkNC. WorkNC 2018 R2 includes pocket machining with Waveform, a new pattern in the consolidated 2D pocket machining.