by John Hilgendorf, contributing writer
The American Mold Builder
What is mold building efficiency? Can mold builders gain advantages through processes or equipment? Are there any secrets? This article explores the methods and strategies of two different mold builders: a micro mold builder and a mold builder specializing in medium- to large-sized tooling.
Commonalities despite mold size
Representing our micro-mold builder is Justin McPhee, the vice president of engineering and co-owner of Mold Craft, Inc, Willernie, Minnesota. He also is the current president of the American Mold Builders Association (AMBA). The typical size of a micro-mold produced at Mold Craft is 5×6″, utilized within 3- to 20-ton injection molding machines. Most of the company's tools are used to make components for the medical industry. These special molds often are different from typical molds; for instance, the steel used is much harder than that of a typical P-20 mold (420SS, H-13 or S-7), so surface grinding and hard milling are necessary steps.
Also contributing is Toby Bral, sales manager for MSI Mold Builders Inc., which builds medium- to large-sized molds in Cedar Rapids, Iowa. Bral also is an AMBA officer – currently, vice president and treasurer. MSI builds tools for a diverse customer base ranging from medical to automotive to material handling.
The first step to any mold building project is design, and both Bral and McPhee agreed that good upfront work with the customer on the design is the initial key to a mold delivered with the best timing and in an efficient manner. Bral stressed that it is critical for the customer to have a completed part design early in the process to avoid delays in the start and end dates of the tool build. This, of course, is easier said than done.
Equipment advantages
Perhaps one way to gain an advantage in today's mold building industry is to upgrade the technology with which a shop works. Bral said MSI has invested in a new 5-axis milling machine and new EDM technology, and advances in both of these processes have reduced the time required to build a mold. The finish milling process can be a roadblock when timing is critical, and any improvement in the time to mill is a direct improvement in overall timing of the mold build. The core (B-side) of the mold typically is the most critical because there are so many things that go into building it: rough and finish milling, inserts and slides, ejection and EDM. The new EDM technology that MSI purchased also has helped improve mold build timing by as much as a week.
McPhee said Mold Craft also invests regularly to improve equipment and time to build, but pointed out an additional benefit that is critical when working with micro molds – the technology also improves accuracy. Mold Craft's customers require tools with tight tolerances down to 0.0001″. Utilizing unattended machinery for functions such as milling and EDM is desired. Operators can set these machines and forget them, which avoids the introduction of operator error in the process.
Mold Craft also set its sights on decreasing the benching and polishing steps through the use of equipment. The finishes from the new hard milling and EDM machines are getting much better and more consistent, which reduces mold build time. The accuracy of the machines has resulted in fewer steps between electrode surfaces, resulting in less blending during polishing.
Project management differences
Mold Craft and MSI use ERP (Enterprise Resource Planning) systems to help track molds through the shops. ERP is a generic term that refers to a software system, such as Epicor or Global Shop, that helps determine where the mold is in the process. The software assists with applying overtime, reallocating machines or making corrections to keep the mold on schedule – although the shop manager, the human element, will oversee the project and implement necessary changes when the ERP system is not doing it efficiently.
Another efficiency software is ToolStats, which allows shops to bar code the tool and then track the development and proximity of the tool by sharing files with all stakeholders, whether Tier1s, toolmakers, program managers or suppliers. Files shared can include timelines, tool designs, layouts and tryouts. Tool build delays can be avoided by comparing planned completion dates vs. actual. The use of ToolStats or other similar software eliminates the need for in-shop notebooks and FTP sites.
The project managers at MSI manage their tool builds with daily production meetings, where discussions are held about potential bottlenecks and timing adjustments. The busiest steps traditionally have been finish milling and gun drilling (for water lines); however, improvements in milling and gun drilling have resulted in reduced bottlenecks.
Another area for bottlenecks is polishing, but as with Mold Craft, better finish milling has reduced benching time for MSI. Sometimes, a customer will accept a machine finish that comes straight from the milling process; therefore, no benching is needed at all. Bral revealed that spotting the tool at the parting line has all but disappeared. MSI cuts pieces to the numbers, and no longer leaves any extra stock for fitting. "It was a culture change because it was long considered in the industry that you have to meticulously hand fit parting lines. However, with better machine capabilities and better processes, we found that was no longer the case," he explained.
Mold build efficiencies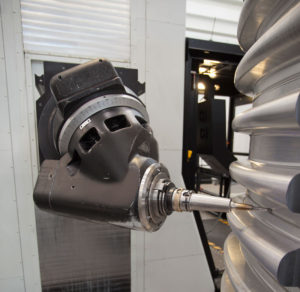 Mold Craft often purchases custom mold bases larger than 15″, rather than manufacturing them. This keeps the machines open, so the tool builders can work on the things that only Mold Craft can do. MSI does not purchase mold bases.
Like other mold shops, Mold Craft and MSI purchase standard-size ejector pins to reduce costs and provide for spares to be kept on hand. MSI also focuses on standardizing several elements of its custom mold builds to gain efficiencies. The company uses standard pillar sizes, water lines, hole sizes and components as much as possible – as long as it isn't a direct requirement of the molder, MSI tries to utilize its own standards to gain manufacturing efficiencies. In addition, Mold Craft builds its inserts for interchangeability. That means the company builds a very tight-fitting insert and can install it in any cavity pocket in the mold; the components for cavity 1 also fit for cavity 16. Hence, the toolmaker does not do any benching or fitting to make the inserts cavity-specific.
As craftsmen, the creation of a tool shouldn't be rushed. However, customers are requesting shortened timelines, and both companies are prepared to work to meet those requirements – once design and customer approvals have been received. Typical tool build times for MSI are in the eight-week range, and typical times for Mold Craft are approximately 10 weeks for standard tooling. McPhee explained, "Don't be fooled by a micro mold – just because they are small doesn't mean they are easy or have fewer components. They have the same components, just much smaller."
Job quoting
Even when their companies are running at full capacity, Mold Craft and MSI prefer to review all new incoming job opportunities. Upfront work with the customer helps to determine actual starting and end dates of the mold build process so it can be scheduled accurately. "We use our current booked sales tracking spreadsheet, Excel-estimated man-hours schedule and ERP system to give us a three-pronged approach for accurate delivery estimates," said McPhee. "If all else fails, we use gut feel." MSI compensates for high-capacity levels by comparing due dates vs. expected due dates per each department's schedule. The company then applies overtime, along with Saturdays and Sundays as required.
With micro molds, "Our efficiency gain is difficult due to tight tolerances, but our customers understand this and do not apply extreme pressure on delivery time." said McPhee. "The customer's ?exotic' material selection can sometimes be new to us, so we need to learn how to machine it. Customer-driven design changes midstream also cause hardship. It is infrequent, but when it does happen, efficiency goes way down when a change takes us back to the original design phase."
Without smart and experienced mold builders, efficiency is defeated.
---
Key Traits for Mold Building Efficiency
Upfront communication with the customer
A complete and on-time customer part design
Investments in newer milling machines, EDMs and gun drills
Maximization of unattended machinery hours
Avoidance of midstream customer changes
Avoidance of unnecessarily tight tolerances or uncommon steel selection
Interchangeability of mold bases and inserts
Facility-wide communication
Lean manufacturing (standardizing components and stations)
Awareness of industry trends and best practices