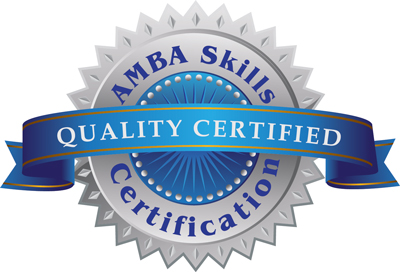 By Nancy Cates, contributing writer
The American Mold Builder
Recruiting, training and retaining qualified employees is a vital part of any business, and it's especially difficult in the skilled trades. Now, the AMBA Skills Certification Program is helping member companies and other mold manufacturing operations test and quantify the value of their employees' training and skills while providing the employees with a clearer learning path and a real sense of accomplishment.
The American Mold Builders Association saw the need to define industry standards and brought together mold builders and other industry contributors to develop a certification program. After a couple of years of beta testing and more than 100 pilot tests, the refined program was rolled out in July 2015. Now, certification is being launched to the entire US mold manufacturing industry, setting new goals as the industry standard.
Andy Baker, operations manager at Byrne Tool + Design, Rockford, Michigan, had served on the AMBA board and was recruited to be on the development committee. "The skilled trades have taken a beating over the past couple of decades," he said. "But, we are seeing investment by the community, and on Capitol Hill, people are talking about (the trades) again. Those changes have given employees a lot of pride, and now, with certification, they have something to show for all that work."
With experienced workers – especially baby boomers – retiring, US Bureau of Labor Statistics projections show that overall employment of machinists and tool and diemakers is expected to grow an average of six percent, and employment of machinists alone is expected to grow by 10 percent by 2024. In addition, the number of workers entering the field is expected to be significantly lower than the number of openings created by those retirements.
This projected shortage of skilled employees presents both a challenge and an opportunity in the industry. Using the certification program in conjunction with an apprenticeship program and an educational partnership with a community or technical college can ensure that apprentices obtain a solid and consistent training ground.
"We did a lot of the beta testing with three or four employees in our shop right away," Baker said. "The committee went back and changed some things and improved the certification tests. Then we sent them out to the membership. I took the tests myself so I could speak about them knowledgeably."
More than 50 AMBA member companies were involved in pilot testing the program, which includes three tests: Primary Skills, Master CNC Technician and Master Moldmaker. Tests are taken online and are administrated by NOCTI (National Occupational Competency Testing Institute) Business Solutions, Big Rapids, Michigan.
"The tests are pretty in depth," Baker said. "Some people have a hard time testing and may have to take it a couple of times, but we have a really good success rate." According to Baker, the Master CNC test is the most difficult, and people have the hardest time passing that test. However, as Baker pointed out, as an AMBA member, the cost to take the tests is minimal and the program allows members to utilize the tests to identify skills gaps, create training programs to address those gaps and even utilize the tests to measure the skills of potential new hires.
"It meets our needs and the original goal of making sure we have a robust apprenticeship training program," Baker continued. "We are confident that the program will ensure those being trained will learn what they are supposed to know. You want to be sure you are training your staff appropriately."
The Skills Certification Program can provide guide rails as moldmaking businesses evaluate their training curriculla. "Way back when I did my journeyman's card there was nothing really recorded about, for example: How many hours did I work on a specific machine?" he said. "Now we sign off on specific skills we teach on the shop floor, and it's quite extensive. We know (the employees) get what they need from our local community college, so the certification program ensures that everything is covered.
"There are some great people in this trade who don't have formal training or a journeyman's card, but they are valuable. Maybe they didn't have the opportunity or couldn't make the time commitment. Having this opportunity can provide friendly competition, along with the pride of knowing they have the skills. It pushes them to get involved," he continued.
Baker said his staff initially was hesitant about the certification tests, and volunteers were sparse. The committee, or DACUM, that created the tests was composed of master moldmakers and CNC technicians from all areas of the country, from varying industries and from different-sized shops. Because of those differences, some of the topics were unfamiliar to the Byrne employees. Now, Baker said, they understand they will have access to an outline before testing so they can study areas that aren't familiar to them.
"Our employees are our biggest asset," he continued. "We have an education program that pays for schooling if they want to advance. A journeyman apprentice is a four-year program: 8,000 hours or so. During the second year, they should be ready to take the Primary Skills test. Master Skills would be at the fourth year or beyond, because those are skills that really take time to learn. They can take the test when they are comfortable, but we will provide them with a recommendation. If they try it too early, they can take it again later. The idea is that once they learn it, they know it."
Byrne Tool + Design is a small shop, with fewer than 25 on staff, Baker said. After working more than 10 years without an apprentice, the staff began to change. Recently, three machinist apprentices finished the Primary Skills test and two are preparing for the Master Skills tests. Now, an apprentice moldmaker is just beginning the program. The new people on staff and the certification program sparked changes in training.
"Before, when we needed machinists, we threw them in the job where we needed them and didn't move them around the shop the way we would have liked," Baker said. "We will do it differently with the moldmaker so he will have opportunities to take classes at the community college throughout the four years. The program will certify everything learned on the shop floor, and we'll use the information on what will be covered by the AMBA skills test so apprentices know what they need to work on before they take the certifications."
The time and effort that go into the Skills Certification Program testing are reasons for recognition at Byrne Tool + Design. "When somebody passes and gets the certificate, we go buy lunch for the shop and celebrate," Baker explained.
"We've got guys who've been in the trade 20 to 30 years. It's something they can hang up on the wall at home or in the office. It means something to them and to the company." In addition to the certificates, those who pass the Master Skills tests can opt to purchase a plaque, which many companies are displaying in common areas for employees and customers (and potential customers) to see.
"It's a great way to test your apprenticeship program," Baker said. "Years ago, you could hire people from other shops, and they may have a certain knowledge level — but it wasn't always the case. The certification tests qualify your program. It could have as much meaning as a journeyman card or maybe replace the card."
To that end, the AMBA is in the process of trademarking the Skills Certification Program with four-letter credentialing for those participants who pass the tests.
"As the new industry standard, the AMBA Board of Directors felt it important to recognize those that achieve certification with credentials that will follow the recipient throughout his/her career path – truly an accomplishment to display with pride," stated AMBA Managing Director Kym Conis. "As the AMBA Skills Certification Program continues to grow in visibility, we are confident that these credentials will serve to mark the highest level of competency throughout the mold manufacturing industry."
More information on the Skills Certification Program can be found at www.amba.org/skills-certification.