By Kim Bartz
founder of iWarriors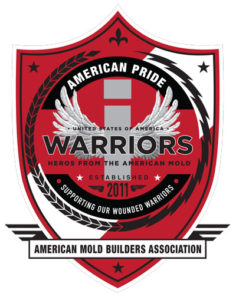 The iWarriors.org iPad program is in its fifth year of support to US combat-wounded service members. Midway through the year, $50,000 has been raised and 78 iPad packages given to qualified active duty service members and veterans. The 501(c)3 raises the majority of its funding from members and partners of the American Mold Builders Association.
As word of the program has spread, other companies within the plastics industry have stepped up to give to the program as well. Each year, an In-Shop Challenge is sent to members of the AMBA to match donations given by their employees. Other shops have taken it upon themselves to organize golf tournaments, running events and shop-to-shop challenges, with proceeds going to the iPad program.
In the past five years, mold builders have rallied around iWarriors to support some 380 combat-wounded servicemen and servicewomen by contributing more than $252,000. 2015 proved to be a record-breaking year in which $83,000 was raised to support 115 Purple Heart recipients. Of this, more than $21,000 was raised through special events held by AMBA members and partners.
History of the program
iWarriors was founded in 2011 to support a group of wounded warriors from the 3rd Battalion 5th Marines based at Camp Pendleton, California. The Marines had been injured in Helmand Province, Afghanistan, during the unit's seven-month deployment. With more than $10,000 contributed by members of the American Mold Builders Association, iPad gift packages were presented to 15 wounded warriors, most of whom returned from Afghanistan as single, double or triple amputees. The iPads were given to the Marines to help them stay in touch with loved ones while they underwent months of surgery, rehabilitation and recovery. Shortly after, the 501(c)3 nonprofit iWarriors.org was created.
With growing support since 2011, iWarriors.org now offers the iPad program to wounded warriors from all branches of the US Armed Forces. To honor the veterans and those who contribute, 98.5 percent of all donations received go directly to the iPad program.
iPad use for combat veterans
Many of the combat-wounded service members are receiving treatment at a facility far away from family and friends. In many cases, the rehabilitation and recovery can take months and even years. An iPad allows them to stay in touch with loved ones, schedule appointments on the calendar and store medical records. Other wounded warriors have returned to their unit or have left the Armed Forces, but continue to battle physical injuries or effects of post-traumatic stress disorder (PTSD) and traumatic brain injuries (TBI). Many apps are available on the iPad to help in the treatment of those disorders.
The program is open to all service members who have been wounded in combat and have been awarded the Purple Heart. Each gift package consists of a personally engraved, WiFi-enabled 16gb iPad Air2. Also included are an Otterbox protective case, Klipsch earbuds and an iTunes card. The cost per package is about $600.
For more information or to donate to the program, visit www.iwarriors.org.