As the baby boomer generation transitions into retirement, the manufacturing industry is seeing a considerable gap between the talent needed to run a successful business and the available talent. With younger millennials preparing to head into the workforce, many mold manufacturers are coordinating outreach efforts in their local communities to combat shortages and eventually employ qualified candidates.
The American Mold Builders Association (AMBA) held its first annual Educational Outreach Contest recently to recognize member companies for their efforts in actively encouraging young people to seek career opportunities in moldmaking. The companies were asked to provide a description of how their organizations are working with their local communities and strategically partnering with schools, programs and students to increase interest and skills while also raising awareness within the moldmaking industry. The association membership voted online after reviewing the entries, and winners were announced in coordination with Manufacturing Day, held on Oct. 7.
The winner of the first annual award is Compumold Tool and Design, Phillips, Wisconsin. Romold Inc., Rochester, New York, received second place, and Ameritech Die & Mold of Mooresville, North Carolina, was third. Selections from each company's submission information follow, providing insight into outreach efforts by fellow mold building companies.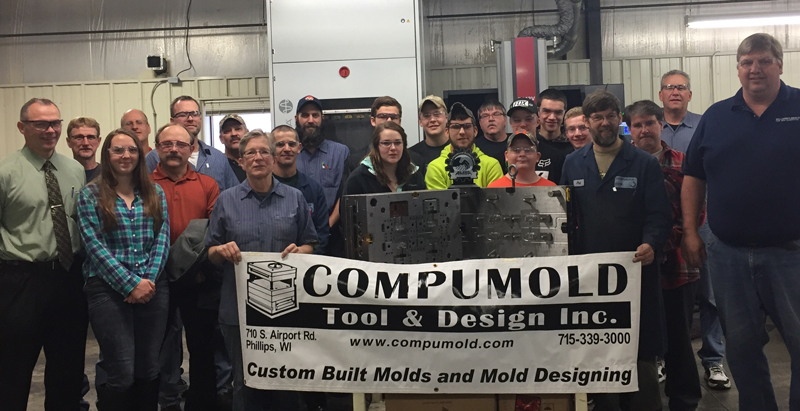 First Place: Compumold Tool and Design, Phillips, Wisconsin
Compumold Tool and Design, a member of the Phillips Chamber of Commerce, designs and builds injection molds, specializing in small to medium molds for the automotive, medical, consumer, industrial and electronic markets. Its role in educating the local youth and promoting the mold building industry has led Compumold to work with Phillips Plastics Corporation and nearby schools to bring training to the area.
Compumold participates in a youth apprenticeship program, which is organized through Northcentral Technical College (NTC) and Phillips High School in Phillips, Wisconsin. It gives employers the opportunity to connect with local youth and access a pipeline of skilled employees to help shape the quality of the future workforce. Through this program, Compumold hired a high school student to take part in the youth apprenticeship program to provide an on-the-job experience in both manufacturing and engineering areas. Compumold worked side-by-side with the student to garner the best experience. After eight months of mentoring, student Ryan Trewyn was able to design a promotional coaster that incorporated the NTC program logo and the insert for the existing injection mold for NTC. Currently, NTC is using this mold in its curriculum to teach students about polymer flow. Trewyn now is completing his first year in the Mechanical Engineering program at UW-Platteville. He said his experience as a youth apprentice working at Compumold Tool & Design afforded him a hands-on experience that prepared him well for his college experience and helped secure his interest in the field of engineering and manufacturing. His future plans could include coming back to the Northwoods for a career as a mechanical engineer.
Compumold took part in its local high school career forum to help students understand the types of jobs that are available in the community. This led to the Industrial Arts Metals class touring Compumold's facility and getting the basic understanding of CNC, EDM, Wire EDM and grinding technologies.
Second Place: Romold Inc., Rochester, New York
Housed in an 11,500-square-foot facility, Romold, Inc., manufactures plastic injection molds, die-cast molds and related components for the optical, office and imaging equipment, medical devices, aeronautical, automotive, packaging and consumer product industries. Its services include part manufacturability and tool consulting, mold design and engineering, and mold manufacturing. President Lou Romano has advocated many years for careers in the manufacturing skilled trades by speaking with and beyond the local community to promote moldmaking. Romold partners with nearby schools to influence and inspire prospective students.
Romano is a member of the Rochester Technology and Manufacturing Association (RTMA) and the Monroe Community College Precision Machining Advisory Board. The advisory board oversees the curriculum for the precision machining program to ensure that students are learning the skills and training necessary for real world application.
Romold has a total of 16 employees, two of whom are New York State Registered Mold Making Apprentices. It hosts school tours for local vocational and high schools, as well as for young adults working toward GEDs. Additionally, Romold sponsors a local high school robotics team and regularly attends job fairs.
Romano has participated in multiple forums in Rochester, New York, as well as Washington, DC, to promote advanced manufacturing skills training. At the 2015 National Opportunity Summit, called "WE GOT THIS," Romold assisted Monroe Community College in highlighting the importance of public-private partnerships. Most recently, Romano spoke at the 2016 Manufacturing Day Expo.
Third Place: Ameritech Die & Mold Inc., Mooresville, North Carolina
Ameritech Die & Mold is a mold manufacturer that provides product engineering, development, consultation and the latest in manufacturing simulation software. Its web-based meeting capabilities allow clean communication from multiple locations. Ameritech works to align education and workforce development initiatives in its local community and strives to close the skills gap by creating and supporting a European-style apprenticeship program that gives today's students firsthand workforce experience.
In 1995, Ameritech joined a consortium of five larger manufacturing companies that recognized the need for a strong apprenticeship program, and the idea of Apprenticeship 2000 came to life. Apprenticeship 2000 is an organization that began as an industrial apprenticeship partnership located in the Charlotte, North Carolina, region. It was formed to offer technical career opportunities to motivated high school students and employment after graduation. Through the program, the Apprenticeship 2000 partner companies obtain highly skilled employees to fit their technical job needs. The Apprenticeship 2000 partner companies provide onsite apprenticeships in various technical trades including mechatronics, tool and die, injection molding and CNC machining. The 8,000-hour training program spans four years, during which apprentices earn an AAS degree from Central Piedmont Community College. Upon graduation, apprentices are awarded a Journeyman's Card and Certificate by the State of North Carolina and a certificate from the US Department of Labor. The benefits of this program include a starting salary of $34,000, free college tuition and a guaranteed job.
Ameritech works closely with local high schools and career and technical education (CTE) counselors. High school juniors and seniors considered for an apprenticeship with the company should have completed courses in algebra and geometry and maintain certain grade, attendance and other criteria.
US Secretary of Labor Thomas Perez and US Representatives Virginia Foxx and Robert Pittenger recently toured Mooresville-based Ameritech Die and Mold Inc. to see the Charlotte-area program in action. They talked with business owners, educators, apprentices and parents about the alternative to college education.