The American Mold Builder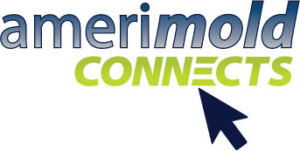 Shifting gears after an in-person event was ruled out, Amerimold 2020 now is Amerimold Connects.
This free, remote event experience will be held online from June 9 through 13. Recognizing that events are an important resource for those looking to stay informed, educated and current on emerging technology trends, Amerimold Connects offers these necessary business tools in an environment that works for current industry conditions.
The online event is being planned to offer the following:
Virtual exhibitor showrooms, hosted by molders, moldmakers, software suppliers and part makers

An online forum to directly connect exhibitors and attendees, moderated by industry experts

Free education sessions and product demonstrations

Interactive networking experiences
Amerimold Connects will provide a virtual marketplace for attendees and exhibitors in an online format. Exhibitors will have online showrooms that feature brochures, white papers, product releases, videos and more. Attendees will be able to visit each booth with an easy-to-use online interface, interacting with exhibitors using features such as one-to-one chat and virtual business cards.
Free educational sessions, presented by industry experts, will cover supply chain management, tooling procurement, data management, additive manufacturing, mentorship, trade policy and efficiency improvement best practices. The schedule will feature a mixture of pre-recorded and live content, giving each attendee a wide range of material for business improvement.
Amerimold Connects also will feature the announcement of the 2020 Leadtime Leader Award winner.
Registration for Amerimold Connects is currently open. Event registration and details are available at www.amerimoldexpo.com.
---
From the managing editor:
The mold building industry may be sticking close to home right now, thanks to COVID-19, but the need for training and education continues. Amerimold Connects is only one opportunity to ensure your team is up to speed on the latest technology, production tips and safety measures. First, check out offerings from the American Mold Builders Association (www.amba.org/events).
Then, reach out to your supplier and equipment partners to see if they are offering online training sessions or educational webinars. And, if you've had your eye on a new software or material type, now is the perfect time to ask for a demonstration or sample.
Don't sit idle – now is the time to position your team and yourself for what comes next.